American Hardwoods Collection: American Strength Embodied
Innate organic beauty and strength—this is the hallmark of a solid wood frame grown and produced on American soil. Both infinitely versatile and individually unique, there's a striking and simplistic quality to natural hardwood mouldings. It's one of the many reasons why our American Hardwoods collection is so special to us, and why it continues to be popular among our valued community of art professionals and appreciators.
Let's take a closer look at the distinctions that define an American Hardwoods frame, as well as what you can expect from choosing this collection of domestically crafted mouldings.
The Makings of an American Hardwood
Wood mouldings can be derived from a variety of tree species, each featuring unique grains, colors and other physical properties that contribute to their overall aesthetic. At American Frame, we are extremely selective about the quality and functionality of any addition to our American Hardwoods collection. The natural beauty of each solid wood frame is optimized by a clear coating or stain finish, and the following varieties are available:
Walnut (Ebonized, Natural or Dark)
Maple
Cherry (Natural, Grey Washed or Aged)
White Oak
Black Ash
These simplistically beautiful, solid wood frames are offered in various shapes and sizes, including canvas float frames, as well as a range of profiles and finishes to serve different applications.
Showcasing Solid Wood's Subtle Variations
Because the American Hardwoods collection is made from authentic, natural wood, they are not uniform in appearance. Rather, they showcase the gorgeous individuality of real wood grains, sometimes including small knots or color variations—just like the natural wood of the tree. This is the mark of a solid wood frame, one that distinguishes the American Hardwoods collection from various other offerings.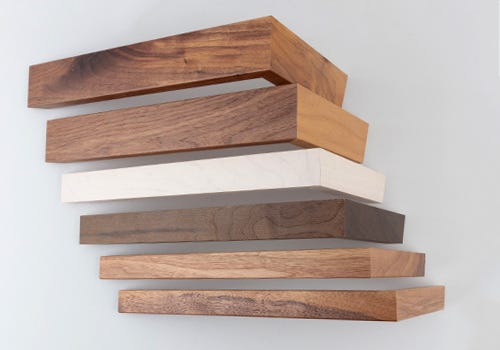 The American Hardwoods Collection showcases the natural beauty of solid wood.
For framers seeking a perfectly uniform look, real wood would not be the go-to option. In these cases, we recommend a black gesso or metal frame instead. But for those who desire the all-natural aesthetic of solid wood, our American Hardwoods collection offers the finest in quality and beauty.
The Embodiment of American Strength & Sustainability
One of the major reasons why our American Hardwoods collection is so valued is because of its proud distinction as being 100% domestically grown, milled and finished. It's a collection we've built slowly over the years, taking great care to select options that embody the tradition of true, end-to-end American production.
All of these frames are sustainably grown and harvested, and we carry two distinct lines. The first is through a partnership with Larson Juhl, a long-time respected manufacturer. These products are grown in the Cumberland Gap of the Appalachian Mountains.
Our other line, American Frame Exclusives, has been specially designed by us and provided through an FSC-certified local partner. The Forest Stewardship Council offers the highest standard of certification, one that designates the wood as being harvested in an environmentally safe manner.
All of the frames in both lines of our American Hardwoods collection are domestically grown, as well as milled, finished and cut in America. As with all of our framing products, our PrecisionCut™ technology enables us to cut these wood mouldings to the nearest 1/16 of an inch, offering the most precise fit in the industry.
American Hardwoods Framing Applications
The applications suitable for our American Hardwoods frames are many and varied. Their simple, natural and high-quality aesthetic make them highly versatile for an array of framing needs and decor.
From a pure white wall in a contemporary space adorned with stark furniture, to a more eclectic or traditional type of setting, there's no limit to where these solid wood frames display well. The white oak, maple and walnut varieties have a very reclaimed look, while cherry and black ash can support a sleeker appearance.
Options with deeper profiles are great for shadow boxes, as well as acrylic or oil pieces on stretched canvas. Any of the others can frame up to a 1.5-inch-deep canvas, and they are also perfectly suited to watercolors and works on paper.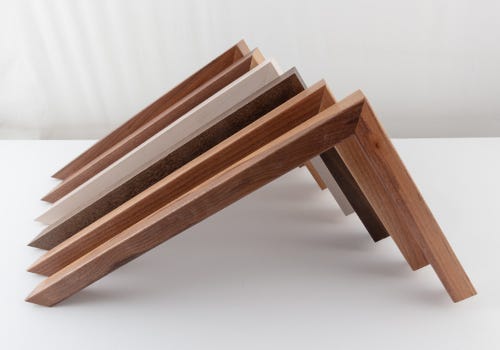 This collection of picture frames feature solid walnut, maple, cherry, oak and ash.
How to Order Your American Hardwoods Frame
In addition to their natural beauty, high level of quality, solid strength and American-made status, frames in the American Hardwoods collection are also reasonably priced. You can purchase these mouldings as part of a custom DIY kit or a Print & Frame order. They can be bought as either joined (simply place the piece within the fully joined frame moulding) or as unjoined (assemble the corners like you would with a metal frame).
American Hardwoods pair well with matting, when desired, and you can opt for whichever type of acrylic best fits your needs. For an especially high-end result, consider incorporating our Peterboro 8-ply 100% museum rag board with our anti-reflective, anti-glare Tru Vue Optium Museum acrylic. These options are sure to give your piece a pristine finish.
If you have any additional questions about the American Hardwoods collection, we're always here to answer them and guide you through your latest projects. Simply contact us to speak with an expert.