Expanded Partnership Announcement: American Frame and Peterboro Matboards
From museum professionals and artists to art collectors and beyond, anyone serious about displaying and protecting artwork and other valuable pieces knows that preservation quality matters. It's one of the many reasons why American Frame proudly partners with Peterboro Matboards, a highly experienced innovator in mat board production, to carry acid-free framing materials that meet high standards of quality.
We've now expanded our partnership with Peterboro Matboards to offer even more options for framing materials that support preservation. Shedding a light on this exciting announcement, we're bringing you up to speed on what this expansion entails—and what it means for American Frame customers.
Peterboro PPFA Class I and II Mat Boards
The Professional Picture Framers Association (PPFA) provides Comparative Standards that set a framework for making informed decisions about the value of protective framing and appearance features. In partnership with Peterboro Matboards, American Frame now offers both PPFA Class I (museum) and PPFA Class II (conservation) mat boards to meet the quality and preservation needs of the art community.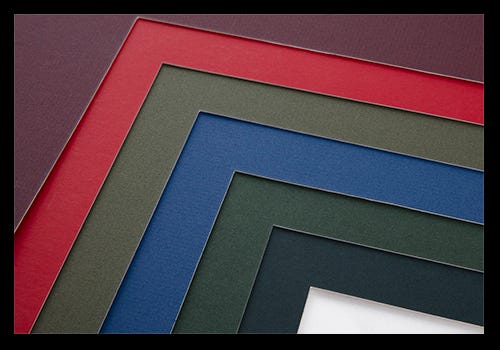 At American Frame, we've long carried PPFA Class I museum boards. Our expanded partnership with Peterboro now enables us to offer their PPFA Class II conservation boards, which support the preservation of artwork over time—with attributes that go beyond the acid-free designation. These conservation-level products are treated differently to actively protect your art for generations to come.
PPFA Class I and II designations are attributed based on the following criteria:
PPFA Class I materials and methods are the highest quality available in the retail framing market. Materials must be the most protective selections available; chemically stable and non-reactive with the framed item and other materials within the frame, providing the highest level of permanence and resistance to deterioration. Class I mounting methods would be minimally invasive, enable maximum reversibility and best serve their purpose to the framing design.
PPFA Class II materials and methods are intended to assure extended resistance to deterioration in a normal display environment, providing protection from most anticipated hazards. Class II includes the main attributes of Class I materials and methods, but minor compromises may be allowed in the framing design, the composition of materials and the reversibility of methods for practical or aesthetic reasons.
Added Color Selection for a Wider Range of Options
American Frame is adding color selection with this line of mat boards, including an expanded range of reds, blues, greens, grays and browns. Mat boards in various hues add interest, enable you to emphasize or "pull out" a specific color in your art and are fun options for framing children's art. Foil or metallic selections are particularly ideal for projects such as diploma framing, work well for a double mat and complement artwork that includes metallic features.
Protecting Your Valuable Artwork from Acid Burn
Framing materials that emit harmful chemicals have the potential to damage your artwork over time. Often, this damage materializes as actual acid burn, creating a permanent yellow or brown stain caused by acids found in the framing materials.
You can protect your artwork from acid burn by opting for products categorized as acid-free. These offerings use only completely acid-free materials, contributing to the preservation and longevity of the artwork, and supporting a safe environment for it to last. All of our Peterboro Matboards have this designation and are instrumental in keeping your precious artwork safe from the dangers of acid.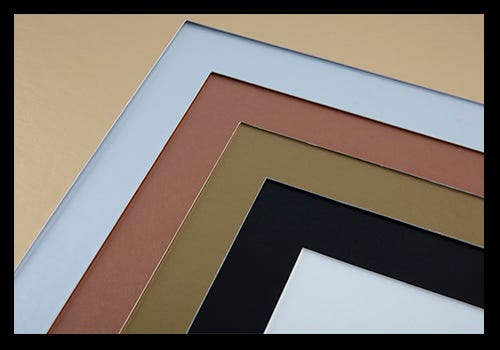 Partners You Can Trust
One of the best indicators of a valuable partnership is depth of experience—and both American Frame and Peterboro Matboards have a rich history to share. American Frame's 50 years of success, combined with Peterboro Matboards' decade-plus in business, make for a strong, knowledgeable, quality-based partnership you can be sure to trust for your framing needs.
To stay up to date on all American Frame news, announcements and more, be sure to sign up for our newsletter.