The Diverse World of Mat Boards: Comparing & Choosing Types
In the custom framing process, there's a great deal of focus on selecting the perfect frame to complement a cherished work of art or photography—but equally important is an element that may not always get the attention it deserves: the mat board. There is an incredible array of different mat board types out there, and having the right one to complement your piece can play a fundamental role in enhancing its overall presentation.
From classic choices to bolder options, as well as a range of colors, textures, thicknesses and preservation qualities, there's much to explore in the world of mat boards. Understanding the different types is essential to selecting an option that creates a seamless bridge between your piece and its frame, cultivates an attractive aesthetic and supports the requisite level of conservation. Let's take a closer look at the options and possibilities available for custom framers.
Clarifying Construction & Composition
When it comes to the materials that comprise a mat board, there are generally three categories to consider, and they break down as follows:
General purpose
Conservation
Cotton rag
General purpose materials can give you the look you want at an affordable price. So if you're working with a piece that's easily replaceable (like a print) or you intend to reframe again in a short time, a general purpose mat board could fit your project well.
Understand, however, that these standard options contain acids, which can deteriorate a work's colors and essence over time. Acids have the potential to break down lignin, a binding polymer that holds wood together. Since general purpose mats are made from wood pulp, the acids from these materials can transfer to your work over time, causing discoloration and damage.
Mat boards vary in texture and thickness to elevate your framing treatment.
That's why we recommend archival options. If you have an original piece of artwork or a cherished heirloom, you'll want to select a conservation-quality material that protects against harmful acids. Conservation mat boards leverage specific materials to shield works of art and photography from the elements that could damage them.
Our conservation mat boards from Bainbridge feature Artcare™ technology, which traps acidic gases and keeps them far away from your work. We also offer Peterboro and Crescent Select selections, all of which offer the most state-of-the-art preservation technology available.
The one specific kind of mat board that protects art and photography better than any of the others is 100% cotton mat board, also referred to as cotton rag. These mat boards have long been the top choice of museums and conservators, which is why they've also become known throughout North America as "museum" boards.
American Frame partners with Peterboro to offer cotton mat boards made from the purest form of natural cellulose, so they require minimal processing. Constructed from an annually renewable resource, these mats feature cotton fiber for extra strength and rigidity, and they adhere to the demanding specs of the Fine Art Trade Guild and Professional Picture Framers Association.
A Word About Thickness
Another defining factor in choosing a mat board type that best suits your needs and preferences is that of thickness. Mat boards are available in a range of thicknesses, including 4-ply, 6-ply and 8-ply. The greater the thickness, the more luxurious the look of the framed work is apt to be.
Consisting of four layers of mat board stacked together, 4-ply matting is the standard thickness and can be a practical choice that provides a clean, crisp, understated border around your piece.
For those seeking a balance between elegance and substance, the 6-ply mat is a compelling choice. With two additional layers, this thicker mat is a subtle step-up in terms of visual impact and depth. It imparts a slightly more pronounced border, giving your work an added touch of distinction and sophistication.
The 8-ply mat exudes an even greater air of grandeur. With four additional layers of mat board, this thick framing option creates a substantial border that demands attention. Often chosen for high-end pieces, this mat features a luxurious depth and tangible dimension to the overall presentation.
Whatever your choice for a mat board's thickness, remember that it is an artistic statement that sets the tone for how your work will be perceived.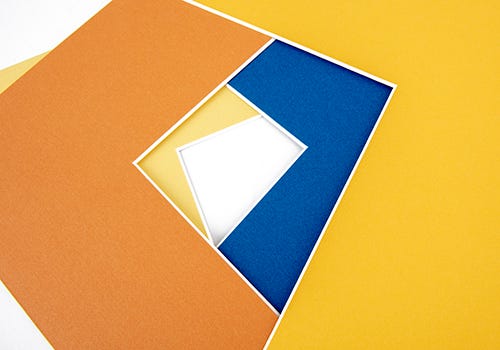 Varying colors of mat board add character to your framing treatment.
Playing with Options & Prioritizing Quality
One of the beauties of custom framing is that your choice of mat board options has the power to change the look and feel of your piece. It is an opportunity to explore an entire realm of creative possibilities.
One of the most captivating ways to unleash creative potential with mat boards is by stacking them. Combining two or more mats of varying colors, textures and plys can create a dynamic framing treatment that adds depth and character to your work. This technique not only elevates the visual appeal of the piece but also offers the chance to introduce subtle pops of color or complementary tones that enhance the overall aesthetic.
In addition, there is ample room to experiment with diverse mat board selections. From metallic finishes to elegant fabrics and intriguing textures, various options can give your piece a completely different look. Consider playing with these types of elements to create unique framing treatments that showcase individual style.
Above all, it is essential to opt for high-quality mat boards. Doing so not only protects your pieces for years to come, but also elevates your framed presentation and gives it the professional treatment it deserves. With a constant focus on quality, you can fully embrace the artistic adventure of choosing a mat board and discover the vast array of possibilities.
At American Frame, we focus on the finest, offering three top-of-the-line brands to meet our community's desire for high-quality mat boards. These include Bainbridge, Crescent and Peterboro, each renowned for its quality and aesthetic appeal. Start browsing these top brands and a wide variety of mat board options today.