Evolution of Mat Boards: Enhancing Your Artwork
From simply separating a piece of art from the frame's glazing or creating a transition between the work and the frame, to highlighting specific colors and visual elements, playing with proportions or coordinating with current decor, the use of mat boards spans a variety of functions. Mat boards are utilized with many different types of framing projects, and their artistic applications have expanded and evolved over time. Let's explore these trends as well as their impact on current offerings and how you can leverage them to enhance your framed art and photography.
Mat Board Trends Through the Years
Mat boards are offered in an assortment of properties, all of which support various aspects of purpose, style and conservation. While standard mats are typically white and four-ply, custom framers can play around with proportions, colors, depths and combinations. This seemingly simple element of a framing treatment has actually been applied in some very interesting ways over the years, and we've seen all kinds of trends emerge.
Earlier centuries saw round mats as a trending reality, and the '80s brought about the feature of high-color varieties, like pink (a characteristic embodiment of the decade's trending hues). We've seen everything from suede mat board selections to linen ones, as well as changing textures, rigidities and depths. More recent mat board trends have leaned toward neutral selections that use color sparingly, and there is a span of diversity in white shades alone. While white may be the most popular hue for matting, its variations are both numerous and wide-ranging.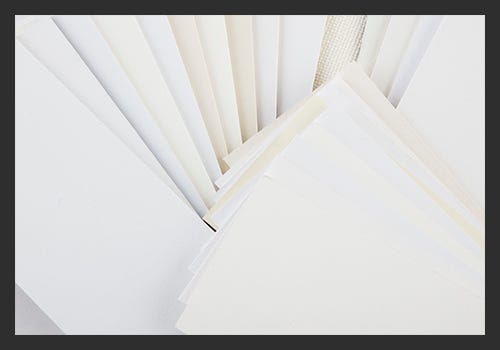 While white is the most popular mat color, there is a wide variety in shades and thickness.
One of the most noticeable movements has been the mat board trending away from all-purpose and toward conservation grade. Standard mat boards contain acids, which can deteriorate a work's colors and essence over time. Since general-purpose mats are made from wood pulp, the acids from these materials can transfer to a piece, causing discoloration and damage. Conservation-quality mat boards trap these acidic gases and keep them far away from the framed work.
We've also seen the application of multi-opening mat boards for customized framing displays. This is a mat board that features more than one cut. Because multi-opening mat boards support an attractive presentation of more than one photograph, artwork, memorabilia or other display piece, they can be used in a myriad of unique ways.
Creative Capabilities Captured by Mat Boards
Mat boards are not a necessity for framing applications, but they can contribute greatly to virtually every framing project—both artistically and functionally. For their numerous creative capabilities, they're always worth serious consideration.
For starters, you can apply a mat board to give the same piece a different look and feel. Thicker-ply mats exude a more luxurious aesthetic, while color cores can help pull out a specific hue in a piece of work. Even-sized mat borders create a classic look, by centering the artwork so that the frame-and-mat combination is the same width on all four sides. Weighted bottom mats are often used in galleries, with the mat showing wider on the bottom than the other three sides. This style is particularly attractive when the artwork's focal point is in the lower half, and it has the added advantage of accommodating the artist's signature. There are also double mat board applications.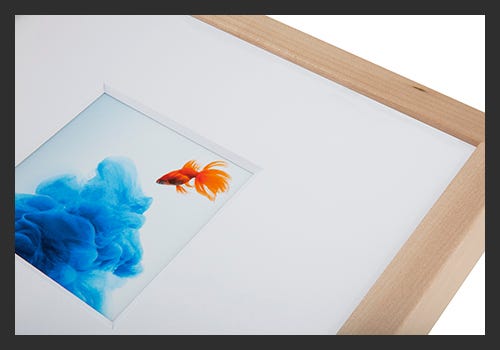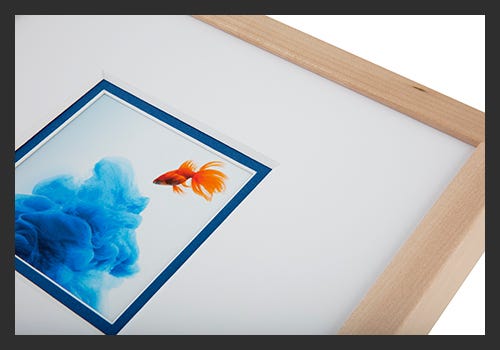 Using different mat board applications, can give the same piece a different look and feel.
Additionally, you can alter the proportion of art and how much it stands out by applying a mat board strategically. There's an opportunity to play with scale using various mat board techniques. An oversized mat board, for example, can change the scale and proportion of a work, minimizing its size in relation to the entire framing treatment and/or maximizing its presence on a wall. You can even use a mat board to showcase a different piece or size of art in the same frame.
Evolved Mat Board Offerings
In essence, the span of mat board offerings has evolved to mirror the emerging trends. Today, that means American Frame offers various mat boards to meet artists' unique and wide-ranging needs.
Our selection includes both general-purpose and conservation-grade mat boards, and we partner with well-known, top-of-the-line brands in the industry, including Peterboro, Bainbridge and Crescent. All of these mats are manufactured by their own brands, located in North America.
American Frame's mat board selections comprise four-, six- and eight-ply products. We can also accommodate a need for oversized options, like those measuring over 30x38 inches. And our proprietary PrecisionCut™ technology enables us to cut your mat board materials to the nearest 1/16 of an inch.
To receive more valuable information on custom framing, as well as news, offers and announcements from American Frame, be sure to sign up for our newsletter.