Securing artwork to mat board, mounting board
When you're framing, properly securing your artwork, photography, or work on paper to your mounting board or mat board is crucial. Knowing how to mount a photo or artwork is essential to good visual presentation, and to long-term preservation and safety.
As always, using the right picture framing tools is important. Fortunately, you've come to the right blog. American Frame has the right picture framing materials and tools to secure your artwork properly through any of the following techniques:
Securing artwork with adhesives
Dry-mounting
This is a professional, heat-activated method of adhering artwork to a backing board, using a specially formulated adhesive board. The board is placed in a special press, with pressure then being applied by a vacuum to secure the artwork against the board. As the temperature rises, the adhesive is activated and the artwork is adhered to the backing board.
The standard mount is permanent, and economical.
We strongly recommend an archival mount on preservation board for most framing situations. It's acid-free and can be undone, if necessary, but only by a professional.
Dry mounting is commonly used for open-edition prints and posters, and photography.
Hinging with Tape
Hinging is often used when items of significant value are being framed because the process can easily be undone, if necessary. With hinging, artwork is attached to a backing board or mat with hinges consisting of small pieces of tape. This technique has little to no adverse effect on the long-term preservation of the artwork.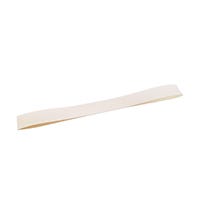 Linen tape can be purchased by the roll or a 15" strip
With hinging, tape should be applied to the reverse or backside of the artwork, never to the front. By applying tape to the top of the artwork, it can float and flex within the frame treatment.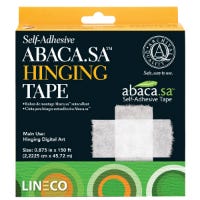 Abacaself-adhesive hinging tape
When hinging, we recommend using an acid-free linen or paper tape, neither of which contain potentially damaging acids. The alternative, clear household tape, may be acidic.
Securing artwork without adhesives
Polyester Mounting Corners
Archival, pressure-sensitive, clear mounting corners are best for securing smaller photographs, prints, postcards, trading cards, stamps and other downsized items.
To apply the mounting corners, just press onto the mounting board, then slide the artwork into place.
Mounting corners allow for the natural expansion and contraction of paper without adhesive coming in contact with the artwork.
Polyester mounting corners are made of clear archival polyester, are acid-free, and contain no harmful plasticizers.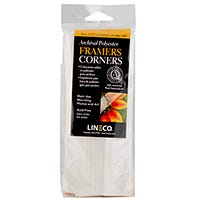 Framers corners are ideal for mounting smaller pieces
Mounting Strips
Mounting strips are used for archival mounting of artwork and photographs to mat board or mounting board. With mounting strips, adhesive never comes in contact with artwork.
Application is simple. Just attach the strip to the mat or mounting board, then slide art through the mylar.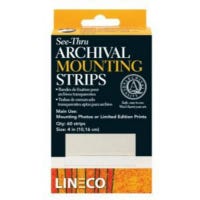 Archival mounting strips for adhesive free mounting