How to Frame Paintings in Your Home
When you've created or received a painting that bears personal meaning, sparks interest or brings joy, it's worth framing and displaying beautifully in your home. And whether you're a professional artist, an avid hobbyist, a true collector or simply someone who purchased or was gifted a special piece, framing your painting can be quite a pleasure.
Custom framing is often the best option for paintings displayed at home, as artists tend to work in sizes that are not standard. In this case, off-the-shelf products from big box stores that don't cater to specific size specifications won't support your needs. If you're displaying a painting on paper, framing is a must. And even when it comes to stretched or deep canvases that don't necessarily require a frame, opting for one can give the piece a more finished and elevated look.
To help you understand the elements involved in selecting the best framing treatment to elevate and preserve your painting, here are some valuable tips and insights from our framing experts.
Tying Purpose to Setting
With any framing project, we always recommend focusing on three essential factors: purpose, style and budget. In this case, purpose will correlate directly to the area of your home in which the painting will be displayed. Why does this matter? Well, environment and aesthetic play an important role in choosing a framing treatment that will tie everything together.
Consider, for example, how differently you'd expect a painting to appear in a formal dining room versus a child's bedroom. Or how a framing treatment might vary between an office or library and a personal yoga or exercise studio. Each type of room exudes a unique feel and purpose, so recognizing those distinctions is one of the first steps to effectively framing a painting in your home.
Addressing Cost & Value
Budgets are important, as are the real and perceived value of the painting you're intending to display in your home. Therefore, it's helpful to think about how these factors will impact your selection of frame and materials.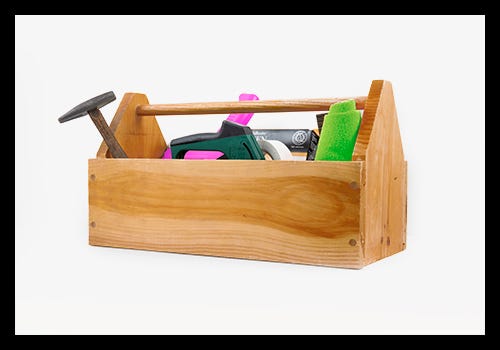 A well stocked DIY framing toolbox will save you time and money.
One of the best ways to acquire high-quality, professional-grade framing treatments at a lower price point is by opting to DIY. This gives you the best value for your dollar without sacrificing the quality of your frame or the overall appearance of your painting. And you don't have to fear this process—because while it may seem complex, it can actually be both simple and enjoyable. At American Frame, we've made DIY framing accessible for framers at all levels of experience, and we're always here to guide you along the way.
Regardless of whether you frame the painting yourself or utilize a professional service, your final choices and treatment selections should integrate not only budgetary considerations, but also personal importance or value. Will this painting be the first visual a person sees when they enter your home? Perhaps you want to treat it more specially than one slated to be hung elsewhere. Is it a meaningful gift you wish to preserve for years to come? Then maybe you're willing to spend more to achieve the quality and preservation outcomes you're looking for. Think through these details as the framing process unfolds.
Blending Style with Decor
Part of framing a painting for your home involves taking the setting's style into consideration, but keep in mind that decor often evolves over time. And both your personal style and the style of the painting will have an impact on the style of framing treatment you ultimately select.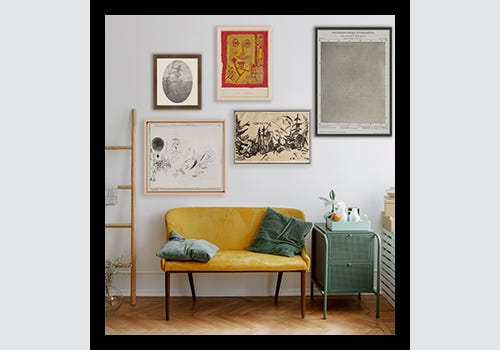 For a collected-over-time approach to your gallery wall consider using neutral frames in similar shapes and sizes that will never go out of style.
You should also be thinking about whether the piece will stand alone or function as part of a larger gallery display. In one case, you may want to play around with matting choices to increase the size and presence of your painting on the wall, while in another, it might be necessary to match the framing style to that of other pieces in the gallery. Play around with these ideas and work in your personal preferences for blending the piece's style with your room's decor.
Choosing the Frame & Mat
If you're looking for recommendations on the most ideal frames and mats for paintings displayed in the home, know that it will depend on the type of painting. From watercolor to oil and acrylic, there's a unique variety of selections that work best for each one—plus lots of ways to get creative!
With watercolor paintings, for instance, frames with simple, clean lines or small patterns usually work better. Because of the delicate composition of watercolors, we recommend they be matted in light, neutral colors. And if a significant percentage of the painting is white, a light-colored mat with a darker inner mat in a color that complements one within the artwork could work nicely.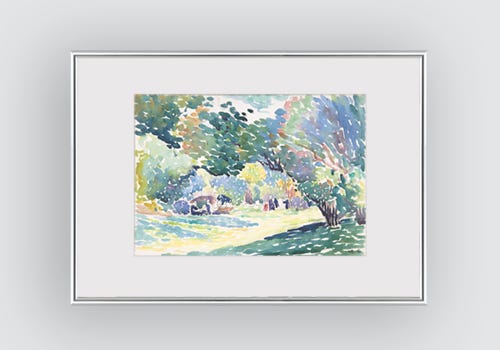 Since there is so much movement in this watercolor, a simple white mat and silver metal frame were used to not detract from the artwork.
Frames range in materials from wood to metal, spanning many different styles and colors. When it comes to matting options, there is everything from a classic white to bolder hues that will affect the mood or type of color emphasis in the finished piece. If there's a particular hue in the painting you're looking to emphasize, use these mat color options to explore. There are linen mats, double mats and a variety of thicknesses to achieve just the aesthetic you're seeking.
As far as stretched canvas paintings go, be sure to choose a frame that is deep enough for the piece. Here's just one example to consider.
Applying an Acrylic
Acrylic plexi-glass is lightweight, shatterproof and acid-free, preventing harmful substances from damaging your painting. Where you're planning to hang the piece will have an impact on the type of acrylic you should select.
If your painting will be exposed to sun, you'll need an acrylic with UV protection. If it will hang over a fireplace with spotlights on it, your best bet is an anti-reflective acrylic, like Tru Vue Optium. No matter where you envision your painting living, it's necessary to make sure you consider the effect of lighting and glare, and choose an acrylic accordingly.
Ultimately, framing your painting should be an enjoyable experience with lots of freedom to choose the materials and options that speak to you and your home. Use these tips to help inform the custom framing process, and have fun exploring creative options that match your tastes and decor.