7 Expert Tips for the Most Striking Family Photo Wall
Your most precious moments in life deserve to be prominently displayed and protected for years to come. Creating a gallery wall for your home or office can be an excellent way to memorialize special family moments and bring a room to life. Below, we delve into how to display your family photos like a pro.
1. Determine a Theme
Conceptualizing and arranging the perfect gallery wall takes time. While not necessarily a permanent fixture, this is a project worth getting right the first time—think "measure twice, cut once." A gallery photo wall is your chance to define your style while highlighting your most memorable lived experiences or to tell the story of your family history.
Some potential ways to group photos thematically:
Children

Travel destinations

Family pets

Hobbies or activities

Family traditions

Major milestones or rites of passage
The planning phase is an iterative process and will likely involve going back and forth between looking through your photos and conceptualizing theme grouping possibilities. Take your time and weigh your options. Examine colors and how the photos will look side-by-side. Your theme selection will ensure a cohesive look from picture to picture, frame to frame.
2. Make Your Photo Selection
Photo selection is everything! Take ample time browsing through those old family photos in that hat box on the top shelf of your closet or more recent pictures stored on your main computer. If you feel that you don't have enough material to fill a wall, consider reaching out to close family or friends who may have photos to add to the collection.
The best family photos hold special significance and can call up warm feelings of love, happiness and admiration. Explore grouping your photos in creative and unexpected ways. For example, try arranging two family photos taken two decades apart next to each other for juxtaposition! Whatever you choose, it's sure to be a visual adventure and feast for the eyes, thanks to your thorough planning.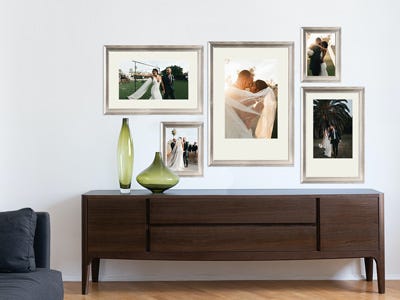 Gallery wall of wedding photographs in our silver wood frame 403237
3. Consider a Mixture of Portrait & Landscape Framed Photos
It goes without saying that your photos should already be framed when designing a gallery wall. When it comes to framing, it is equally important to pair the right photo with the right frame—portrait or landscape. Consider mixing up portrait and landscape options for a more stylish gallery wall experience that provides both depth and whimsey.
In the age of the smartphone, portrait photos are more common due to the way the phone is typically held; however, landscape photography offers the chance to capture more of the background behind the subject. A healthy mixture of both styles can create the perfect effect for your family gallery wall.
4. Select a Layout: Grid or Salon Arrangement
Once you've chosen a theme for your gallery wall and the photos you'd like to display, determine how you would like to arrange them. A grid arrangement tends to be more linear, while salon arrangements feature multiple pieces hung at different heights and formations. A great way to select a layout is by mapping it out directly on the wall or on the floor with painter's tape.
The "floor method" is best for visualizing the concept and involves the following steps:


Measure the entire dimensions of the wall.

Locate a place on the floor big enough to replicate the dimensions.

Use painter's tape to create an exact size "replica" of the wall.

Lay the photos down within the parameters.

Move things around and tweak the arrangement until it fits perfectly.

Don't forget to take a photo of the concept so that it can be replicated on the desired wall.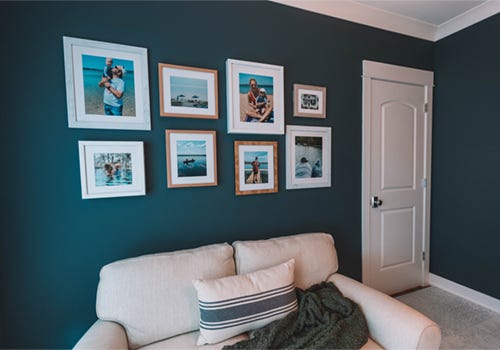 Gallery wall of family vacation photographs.
5. Stick to Two or Three Frame & Mat Styles
Avoid using the same frame for every piece. Think about using some vintage frames you already own and mixing them in with new quality frames for a more lively or untraditional look. Choose a frame palette that will complement your photos and match your personal style.
Make your mat selection wisely, and try not to overcomplicate the decision. Two or three mat options are all you need. When used properly, mats can really elevate the look of each photograph. The thicker or deeper the mat, the more your photo will appear to be floating.
6. Leverage the Right Glazing Option to Elevate Your Photos
It's important to consider the lighting of the room when planning your gallery wall. How much natural light fills the room during the day? Are there harsh overhead lights shining at night? Glare is an often overlooked component when it comes to creating the perfect family photo wall.
Think about upgrading to Optium Museum Acrylic when considering custom framing options. It is unmatched with its amazing clarity and uncompromised protection. Some of the benefits of this glazing include:
Virtually eliminates reflections and glare

Blocks up to 99% of UV rays to protect your family heirlooms from sun damage for generations

Optimal light transmission brightens colors

Enhanced surface supports greater durability and easy cleaning
Optium acrylic not only enhances your gallery wall by eliminating reflections, but also helps to protect your memories for generations to come. Light damage is one of the most common forms of damage to photos and art over time, and museum acrylic blocks 99% of damaging UV rays.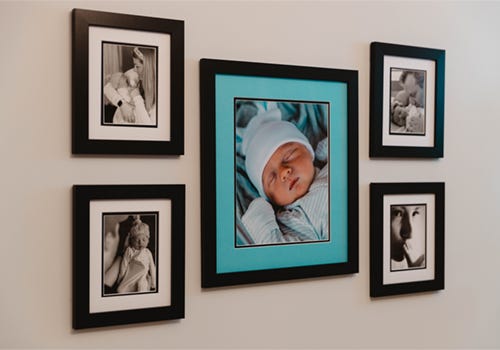 Newborn photographs in our black wood frame 8411 with double mats.
7. Use Technology to Your Advantage
Advancements in technology have made many areas of our lives more accessible and easier—even with the process of creating the perfect gallery wall! Be sure to use technology to your advantage to help bring your vision to life.
Here are a few resources to get you started:
The "Measure" app on newer iPhones is handy for taking accurate measurements. As a bonus, it also has a built-in leveler that is actually more accurate than analog levelers (with the green bubbles).

There are many apps you can download that allow users to portray works of art at real scale, in a home or any space. Consider downloading some and giving it a try!
If Walls Could Talk (They Can, Sort of)
The saying "If these old walls could talk" is somewhat misleading. Walls can, in fact, talk—well, sort of. A gallery wall tells a story: weddings, birthdays, numerous family vacations, graduations and more. Each photo is a glimpse into the lives of the people who reside there and the many adventures only time and good company can provide. Every photo hung is a treasured reminder of how far you've come and the legacy you leave behind.