American Frame Celebrates 50 Years in Business
Image above; our Standard Metal Frame Collection from an ad in 1978
American Frame launched the custom framing industry, and now in 2023, our company is beyond excited to honor and celebrate 50 momentous years in business. This milestone achievement marks not only our organization's rich history and family-centered story, but also our unwavering track record of quality, expertise, service and commitment that customers have come to rely on and trust throughout the years.
A Leader and Innovator in the Industry
Picture frames have been around for hundreds of years, but American Frame changed the playing field for artists. We made it both possible and affordable for artists to be prolific in the way they exhibit and sell their work. From founder Ron Mickel's first encounter with a frame that could be custom cut and secured with corner hardware, American Frame has been empowered to revolutionize the picture framing industry.
The very idea that custom picture frames could be sold in pairs like stretcher bars and sent directly to the customer was a complete gamechanger. It set up an entire industry with leveled-up customer expectations and has evolved into the experience of designing one's own custom frame with the added support of an experienced partner.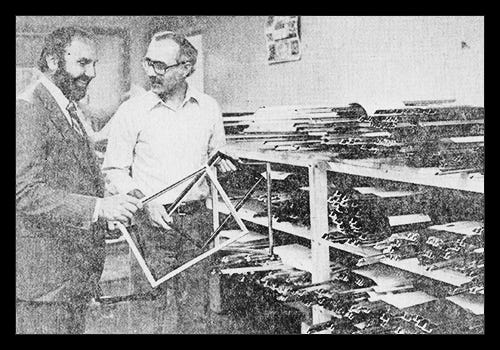 Orders, Ready to be Packaged, Await Shipment
Founder Ron Mickel, right, and former plant manager Mike Cromly look over assembled frames
Picture from The Toledo Blade, 1979
Artists and do-it-yourself framers have loved the control American Frame products provide over the final presentation of their work—and the cost-effectiveness of such an offering. This model has scaled to all kinds of art appreciators, collectors and arts-based businesses.
A Strong System of Values
Supporting the success of American Frame's 50 years in business is our organization's strongly held values, which have paved the way for how we have grown and thrived.
We've always felt that people need a great place to work, and have aspired to create that environment as a way to give back to the community. Seemingly overlooked details at other companies, like air conditioning at the plant and access to affordable health care, were actually novel ideas for us to implement at the time. And today, we strive to remember where we came from, never losing sight of our values—even when doing so has become the easy route for other companies over time. We understand that there's no substitute for taking care of what matters: our customers, our employees, our community and our environment.
American Frame is proudly family owned and operated. Ron's daughters, Laura Jajko and Dana Dunbar, carry on with the same passion, drive and commitment as their father,occupying top positions in the company. Recently, Laura's husband Reid Jajko has joined as CEO to help lead the company into its next 50 years.
Dana Dunbar, left and Laura Jajko, right, with their father, Ron Mickel, founder of American Frame
We are also a truly American company. Headquartered in Maumee, Ohio, and offering mostly American-made products, we've worked closely with museums, galleries and artists throughout the U.S. for decades, constantly reinvesting in American workers and the U.S. economy.
We understand that when you spend time, money and effort to create or acquire art, it's important to partner with others who share your passion—people who've made the same emotional investment you have. As America's most comprehensive and longest-serving supplier of custom picture frames, mat boards, DIY framing supplies and fine art printing services, we've been making that investment since 1973.
An Eye Toward the Future
With 50 years under our belt, American Frame has been through it all, from marketplace evolutions to the birth of online companies and everything in between. Through it all, we've remained committed to true quality and customer service. As customers build their brands around our products, we work hard to be the trusted partner they can count on for custom framing treatments that truly elevate their work.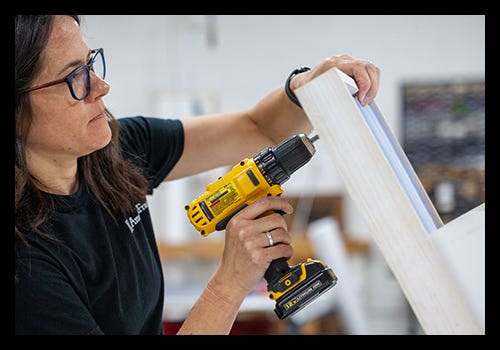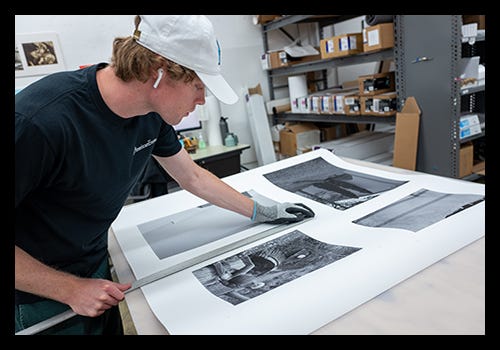 In the past 50 years, our services have expanded to include full service framing as well as fine art and photography printing
And while we may have the years and experience of a veteran organization, we maintain the mindset and energy of a startup. We recognize that people shop differently today than years ago, and we continue to focus on the art community's evolving needs in our business plans.
As customers join us in celebrating this 50-year milestone, they can also look forward to new and upcoming shifts aimed at bringing them professional, quality frames at affordable prices. Stay tuned for announcements on free design services, new product launches and new and expanded partnerships. At American Frame, art has always been our heart, soul and reason for being, and we remain ever as dedicated to helping artists present, preserve and protect their work.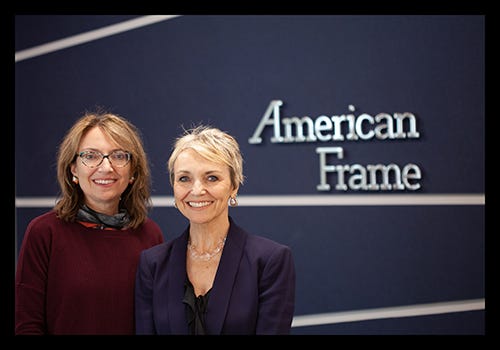 Co-owners of American Frame, Dana Dunbar, left and Laura Jajko, right