Watercolors: Helpful framing hints
There's a distinct quality to works of art created with watercolors, a medium characterized by its fluidity and versatility. From simple and subtle pieces to dramatic and striking ones, the art of watercolor painting is often a balance between skillfully wielding the medium and embracing its delicacy and unpredictability. However challenging and rewarding the process, each final piece deserves a framing treatment that reflects its inherent beauty and preserves the integrity of the materials.
Given the uniqueness of watercolor paintings among the range of mediums out there, framing these works requires a careful approach. Whereas certain treatments can diminish the quality and value of a watercolor piece, the right choices can elevate its appearance and show the painting in its best light. Use the following hints from our framing experts to help select the optimal custom framing treatments for your display-worthy watercolor pieces.
1. When in doubt, opt for simplicity.
Choosing just the right custom frame to showcase a work of art in watercolors comes with its challenges, and it's all too easy to overpower a piece with choices that hog the spotlight. Frames that are overly ornate or colorful have the potential to detract from your piece and adversely impact the final aesthetic.
A framing selection that is too loud for attention-grabbing is likely to pull the viewer's eye toward the frame instead of the real star of the show—the watercolor piece housed inside it. That is why it's usually best to go with frames that feature simple, clean lines or small patterns. In the end, you want to support and enhance the watercolor painting, not overshadow it with a flashy frame.
2. For proper frame sizes, leverage the one-third method.
Yes, a framing treatment can be too big or too small for the watercolor piece it's displaying. An oversized choice can minimize the work's impact, while a too-small frame can create a disproportionate result, especially if the framing system includes a mat.
So if you're not sure how to approach this sizing predicament, consider using the one-third method. A commonly utilized and effective technique, the one-third method asserts that the perfectly sized frame will equal about one third of the total surface area of the painting it holds.
3. When it comes to matting, lighter is better.
Many of the framed watercolors you see in galleries and museums are matted in choices of the lighter, more neutral variety. That is because works in watercolor have a delicate composition, and vivid or striking mats can diminish the overall appearance. In fact, opting for mats that are too dark or colorful may turn away potential buyers very quickly. Ultimately, the most complementary matting for watercolor pieces are options in various shades of white, cream and soft, light-colored hues.
If a significant percentage of your artwork is white, consider going with a double mat. You could choose a light-colored outer mat and a darker-hued inner one that complements a specific shade within the work of art. This helps to create cohesion and keep the focus on the watercolors in the painting.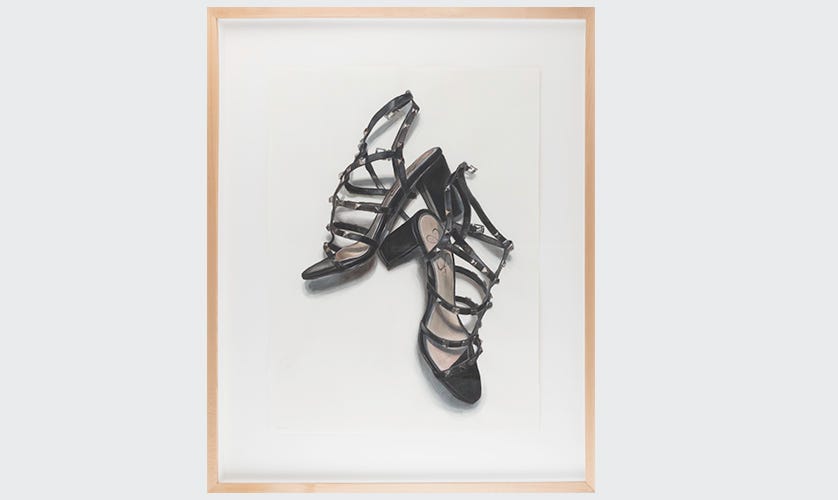 Simple framing treatments with light colored mats work best when framing watercolors
4. Be sure to factor in extra overlap.
With most art, a small overlap onto the artwork of ⅛ inch on all sides is needed to secure the paper within the frame. This overlap prevents the art from falling through the mat opening. However, watercolor paper has a tendency to wave, so a larger overlap is recommended—more like ¼ inch to ⅜ inch on all sides.
This added overlap will prevent the paper from pulling away from the mat. If you sign your artwork, make sure you factor this into the planning so as to avoid having your signature end up so close to the edge that it's covered or intruded on by the mat board.
5. Pair deckled-edge paper with a floating mount.
One particularly beautiful way to present watercolor artwork is with a raised or "floating" look, especially when your paper has a deckled edge. Creating a raised float involves mounting the watercolor paper to a slightly smaller piece of acid-free foam core. This space or "float" between the art and the mat gives the art a recessed perspective and allows the decorative edge to shine.
In addition to emphasizing the character of papers with a deckled edge, float mounting can also minimize the effects of wavy watercolor paper.
6. Protect the piece with acid-free products.
Acid is a harmful element that can deteriorate a watercolor's essence over time. Among the best framing supplies you can buy are acid-free mats and acid-free backing. We always recommend these options for works of watercolor, as they help considerably in preserving and protecting the color in your art, as well as keeping it from denigrating over time.
American Frame is proud to offer Artcare™ products by Bainbridge, the world's foremost authority on preservation. All Artcare mat boards and backing boards are conservation-grade and help protect your work. If you prefer the look of rag, we also offer Peterboro Museum mat boards.
In addition, consider opting for an acrylic that features UV protection, which helps prevent watercolors from fading. ACRYLITE® Gallery OP3 UV Acrylic filters 99% of harmful UV rays while remaining color neutral. It is lightweight, acid-free and shatter-resistant.
7. Partner with a custom framing pro.
Honor the value of your watercolor art by taking the framing process seriously and partnering with a custom framing expert. The right approaches and selections can add both professionalism and value, and you don't have to navigate this process alone. Count on American Frame to provide just what you need along the way, from expert guidance to design recommendations and more.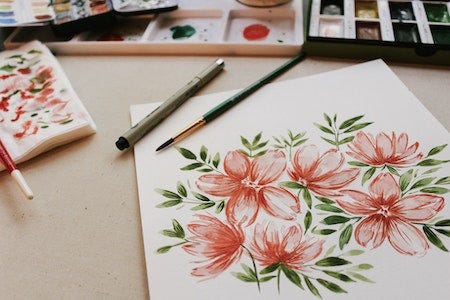 Acid free materials like Bainbridge Artcare mat boards and Acrylite UV acrylic are best to protect your artwork
We can print reproductions of your artwork, too. Our Canson Arches Aquarelle 310 paper is ideal for watercolors, especially paintings with hard-edged colors and smooth washes.
At American Frame, we're always ready to discuss your latest projects, answer questions and provide the frames and framing supplies to make your works in watercolor display wonderfully. Simply contact us to get started.