Make Framing and Reframing Easier
Inserting a spring clip into a metal frame channel
In a metal frame, spring clips are used to secure your art stack and are included with the hardware package accompanying your frame. But frequent framers or those who regularly change their frames or work on large framing projects can feel their efforts in their fingers.
Luckily, there's Fletcher's SpringMate™ framing tool. It makes inserting and removing spring clips from metal frames easy. The raised grip helps prevent damage to your backing board and other framing materials.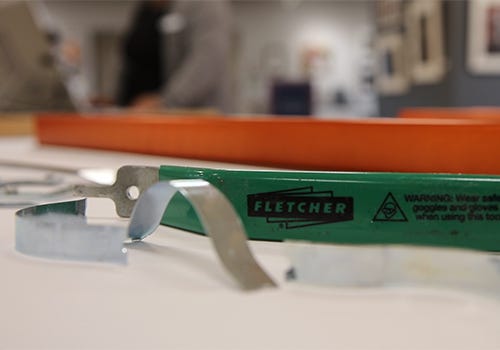 Fletcher's SpringMate™ framing tool
To insert or remove the spring clips from the frame, just slip the slotted end of the SpringMate over the spring and twist to flatten.
See the tool in action here. Or stop by our Maumee, Ohio showroom to try it for yourself. Have questions? Consult our in-house framing experts.
Ready to buy the tool? Shop here.