Artist Profile: Jorey Hurley
She's a Princeton grad (art history) with a law degree from Stanford. But Jorey Hurley has "always been at home with art." It's in her blood. All of her grandparents were artists in one way or another. Her father's a documentary filmmaker. Her mother's a sculptor. "Making art is hardwired into us," Jorey says. Today, she lives and works in the Presidio of San Francisco with her husband (who runs his architectural studio out of their house) and two young-adult daughters "who have also taken to the idea of making something every day.""I believe in the power of making," Jorey says. "Seeing ideas come to life is how art transforms." In the middle of her career as an artist, she found herself at home with two small children and no longer working as a textile designer. So, she began making a drawing every day. "Make art and get it out into the world," she kept telling herself. "I had faith the rest would take care of itself." Ten years and a few thousand drawings later, Jorey's process of "making" proved quite beneficial. Success came slowly. First, with illustrated children's books, published by Simon & Schuster. Then, with an online shop–joreyhurley.com–through which her art prints are sold directly from her studio. Today, she enjoys more commissions and collaborations. "I'm actually using my law school training more as I engage with increasingly ambitious projects. But I still draw almost every day." That, Jorey believes, is the foundation of her lasting success.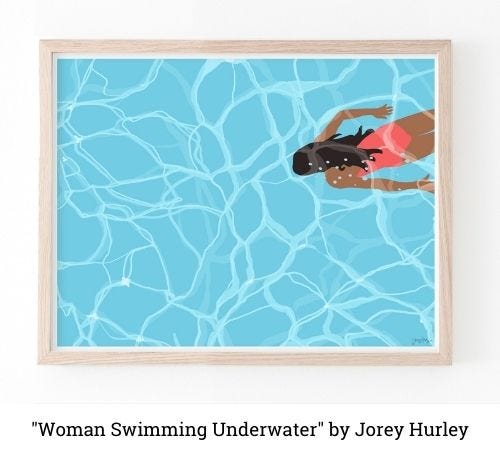 American Frame: What's your genre?
Jorey Hurley: I love abstracts and landscapes but have recently found myself gravitating towards still lifes, especially during Covid. As much as I'm attracted to the qualities of abstracts, I find the story suggested by a still life compelling.
What's your medium?
I work digitally. I've used a variety of tablets and a couple different pro versions of the iPad, and several different raster-based drawing programs. The art prints that come out of my studio are produced on a large-format printer with heavyweight, cold-pressed paper. Color is a huge part of my work. I love the ability to work digitally and still offer people the emotional part of reacting to the physical art print itself–the weight, texture, how the ink lies on the surface. I feel lucky to be an artist in this time, when there's so much more opportunity to integrate the physical and digital creative process.
Is art your occupation, or a hobby?
My occupation. Working with my husband, we've grown it into a solid business over the years, focusing on finding the right sales channels and supply partners, including American Frame.
How do you make time to create?
I draw in the evening. Years ago, when my daughters were babies, I established a routine of drawing for about an hour after the kids were in bed and while the dishwasher was running. That routine has stuck pretty well until today. I'm a big believer in the importance of routine in creativity.
As an artist, who is your biggest influence?
Definitely my mom, Nina Else. She's a ceramic sculptor. Also my paternal grandfather, Bob Else. His work included a lot of California landscapes. Beyond my family, I find a lot of inspiration in the work of textile print designers like Maija Isola (1927-2001; Finnish designer for the home furnishings and fashion company Marimekko) and Josef Frank (1885-1967; Austrian designer for the Swedish company Svenskt Tenn, as well as an architect). For years, I worked for Hable Construction, a textile design company. The process of breaking the world up into fields of solid color is always a starting point for me.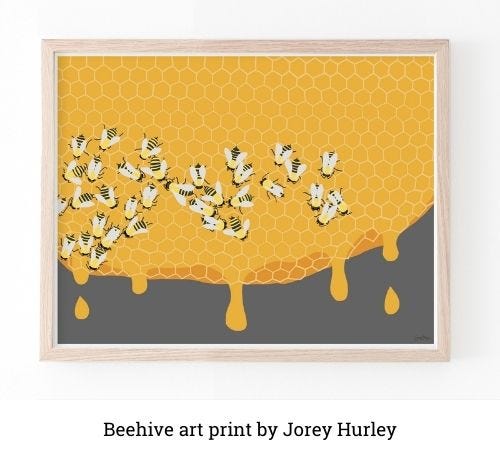 If you could meet any artist in the history of the world, who would that be?
I would love to go back in time to meet the Lascaux cave painters. I love to think about them making art in such a human way across the vastness of time.

What is your biggest challenge as an artist?
I can rush things rather than digging in a little deeper and choosing to take a risk, or challenge myself with a new medium or subject matter.
How do you break through creative blocks?
I go back to my routine of sitting and drawing something, anything, for about 30 minutes in the evening. When I'm feeling really blocked, I go back to pure pattern and draw stripes or dots as a meditation. I trust a solution will emerge.
What are you most proud of?
The relationship our studio has with our art collectors, our community of customers. Our online store provides a lot of opportunities to communicate with customers, hear what they like and what they don't, answer questions, be responsive. While I believe in the power of making, it's equally important to listen and absorb people's reaction to the art. It helps me push things forward and expand what I could do on my own.
How did you discover American Frame?
Our studio found American Frame when we were looking for a solution for one of our new collaboration products, Quiet Art, www.quiet.art. The product is printed directly onto acoustically dampening material, to cut down on reverberation in the room. We've been working on it for a while and it's taken on a whole lot more relevance with the significant increase of Zoom calls in all of our lives, and the need for decent acoustics in the home and workplace. American Frame's sustainably sourced solid maple frames worked so well that we started offering framing for all of the art. It's been a big leap forward for the studio.