Artist Profile: Caroline Pacula
San Francisco-based photographer Caroline Pacula was born in France to Dutch parents. Her father's career in the oil industry required moving the family to various locales around the world, including Indonesia, Singapore, Libya, Nigeria, Algeria. Not surprisingly, Caroline's early exposure to diverse cultures, languages, and landscapes contributed greatly to her life-long case of wanderlust. Before establishing a successful career in photography, she spent five years at Google, helping to open a series of international sales offices. The job required her to travel the world, and presented countless opportunities to practice her main hobby. "Photography is a language that can tell a story across cultures, without any barriers," Caroline says. "One of my favorite quotes is by Paula Bendfeldt: 'Travel opens your heart, broadens your mind and fills your life with stories to tell.'"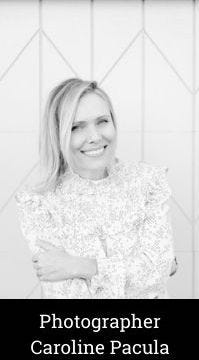 American Frame: What life experiences have contributed most to your becoming a fine arts photographer?
Caroline Pacula: I loved my job at Google. The people I worked with and the places I visited were great but I wasn't enamored with being in the corporate world. The work/life balance wasn't exactly ideal. I'd recently become a mother, but the long hours and constant travel didn't allow me to spend much time with family and friends. I continued to pursue photography as a hobby, and started posting my photos on social media. One of my friends, an interior designer, bought one of my prints for her clients. The idea of turning my passion into a career seemed doable. Around the same time, I reached out to (California-style interior design and lifestyle brand) Serena & Lily for a partnership.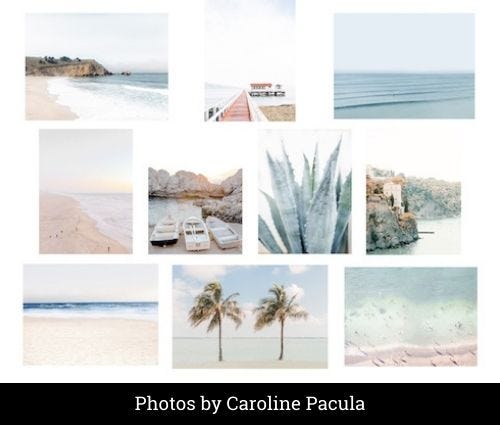 American Frame:
How would you describe your photographic style?
Caroline Pacula: I play with light, color, and scale to reveal an almost surreal image. I try to find the perfect light to frame a scene, and tell a unique narrative.

I'd spent eight years as a family and child portrait photographer, and had developed a light, airy style that I still apply in my current work. Doing portraiture was fulfilling, but not very lucrative. I spent many weekends working, so I missed a lot of my children's soccer games and family get-togethers. Slowly, I transitioned out of doing portraits.

My dream job has always been to shoot for National Geographic. Fortunately, I do something just as good, maybe better. I've been able to travel the world shooting in many amazing places, and I get to choose the narrative.

American Frame: What's your creative process? How do you go from an idea or notion to a finished print?

Caroline Pacula: I don't actually devote time to photography days, per se. My photos usually happen organically and are taken in places my family and I are visiting, or while we're on vacation. When I shoot, I take a lot of shots. I'll end up pulling about five photos that really stand out. Once I've downloaded the images, I cull through the raw files and mark my favorites. I'll edit the photos by brightening, highlighting and lifting the shadows. Sometimes, I'll remove elements from the background that are distracting or that could detract from the overall composition.

American Frame: What are your guiding principles to the business side of your art?

Caroline Pacula: Much of the success I've had is due to the relationships I've established and maintained over many years. My partnership with Serena & Lily has been so important. The reach and exposure I've gotten through them has been amazing. The partnership began when I researched whether any of my connections on LinkedIn were connected with anyone at Serena & Lily. I found an old connection from my days at Google whose wife worked there. I reached out, we had lunch, I presented my ideas to her, and they loved them.

Another quality that has helped my business is that as I get older, I have less fear. The fear of rejection is real, and hearing "no" can hurt and make you feel vulnerable. But like any fear, every time you confront it, the easier it becomes to push through next time. Taking risks can take you somewhere extraordinary.

American Frame: What are your favorite subjects/locations to shoot?

Caroline Pacula: Coastal photography, always the beach and the ocean. I love that you could shoot from the exact same spot at different times of the day and have completely different outcomes.

American Frame: What or where haven't you shot that you still want to?

Caroline Pacula: I want to learn how to take photos with a drone, but I'm not there yet. I need to learn the technical part. Which drone do I buy? It's daunting but also exciting to know there's yet another way for me to express my creativity.

American Frame: What photographers, artists, people – alive or passed – inspire you or do you admire?

Caroline Pacula: Thiago Quiuque (Brazilian photographer): I love the simplicity and colors of his work, how they make you feel, the uniqueness of his angles, the beauty of the light he captures.

Grey Malin (L.A.-based fine art photographer): I'm envious of all his helicopter rides and drone photos, and that he gets to travel the world. I wouldn't mind being Grey Malin.

Serena Dugan (founder of Serena & Lily; currently, an artist and textile designer, Sausalito, California): Her composition and use of textiles and color is just beautiful. She's not a photographer but anything she does, you can just tell that it's her work. After starting a business, she's now gone back to her roots. She's amazing.

American Frame: What advice would you give to aspiring photographers?

Caroline Pacula: Give yourself time and space to allow the creative process to happen. Today, with digital cameras, you don't need to make sure you take a few perfect photos. You can take lots of photos and explore shooting your subject from different angles. To highlight your subject, use the rule of thirds. Also, use negative space, which provides "breathing room" to give the viewer's eyes a place to rest.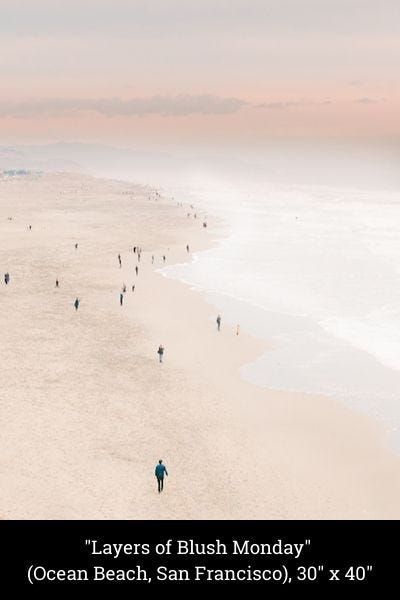 American Frame:
If you weren't a photographer, what would you be doing?
Caroline Pacula:
I would likely be an interior designer. I'm drawn to anything visual that pleases the eye.
American Frame:
How did you first become aware of American Frame?
Caroline Pacula:
I discovered them online when I was looking to source a larger variety of frames.
American Frame:
How did your relationship with American Frame develop?
Caroline Pacula:
Craig Hagenbuch (American Frame's senior manager of sales and service) has been so supportive and so helpful. He really takes his time to work with me and understand my needs as a business person. Anytime I've had concerns or issues, he's right on it, helping me solve the problem or find creative solutions quickly.
American Frame:
What would you tell other photographers who haven't yet used American Frame?
Caroline Pacula:
Their quality is top-notch, their prices are fair, and they stand behind their work.
American Frame:
What's your favorite one or two or three American Frame frames?
Caroline Pacula:
Matte White 24760
.
Natural Maple 206
.