4 Fresh Framing Ideas Just in Time for Spring
Spring is in the air, and just as the season brings new life to nature, it also inspires us to bring new life to our spaces. It's a chance to embrace the fresh air and freshen up our surroundings. For professional artists and photographers, as well as hobbyists and enthusiasts, now is the perfect time to breathe new life and creativity into your world.
As you ride the momentum of spring fever, here are four expert framing ideas to help freshen up any space.
1. Complement the Color of the Year
When it comes to reframing your space, color can make an important impact, so we look to the color experts for inspiration. And after the exceptionally high amount of time many of us have spent at home over the last two years, it's no wonder there's been an attraction to palettes that reflect a desire to reconnect with nature.
Perhaps that's part of the reason why the 2022 Sherwin Williams Color of the Year is Evergreen Fog. This "versatile and calming hue" is a "chameleon color of gorgeous green-meets-gray, with just a bit of blue." An earthy and natural tone, Evergreen Fog is described as "a simple but sophisticated wash of beautiful, organic color for spaces that crave a subtle yet stunning statement shade."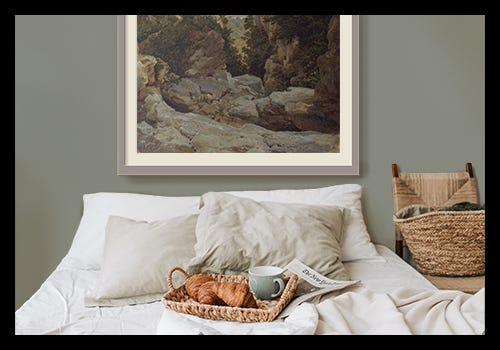 Evergreen Fog, Sherwin Williams Color of 2022, is a chameleon color of gorgeous green-meets-gray, with just a bit of blue. It works well with our 83979 Putty Wood Picture Frame and 8559.6 Photo White Mat Board.
If you're leveraging this color to rethink your walls, infusing it into your artistic pieces, or even opting for furniture in this particular shade, be sure to complement these elements with framing applications that support a pleasing aesthetic.
There is a nature-inspired palette of coordinating hues that create a modern, organic feel when paired with Evergreen Fog, including: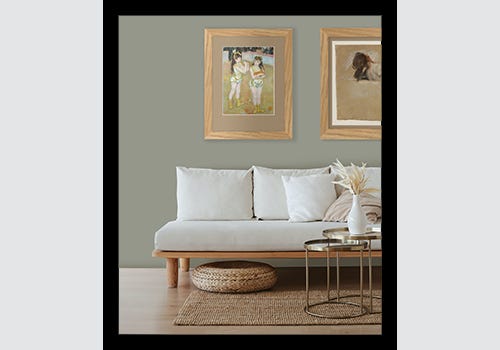 An earthy and natural tone, Everygreen Fog can be complemented by our White Oak Wood Picture Frame.
2. Put a New Spin on a Showpiece
It's become a trend in the design industry to be constantly rethinking your spaces. And while this may seem overwhelming, focusing on your frames can be a simple solution with dynamic results. Refreshing a piece of art that you enjoy and want to display is a high-impact, relatively low-effort way to level up an entire room.
When it comes to playing with framing selections, you don't even necessarily have to replace the entire treatment. You can swap out a specific component for a new and interesting look. For instance, let's say you have a favorite piece of artwork or photography that you created or acquired back in the 80s, and it was originally framed in neon colors (as representative of the decade). Making a simple switch, such as swapping in a white mat, can change the entire look and repurpose the piece to match a redesigned space.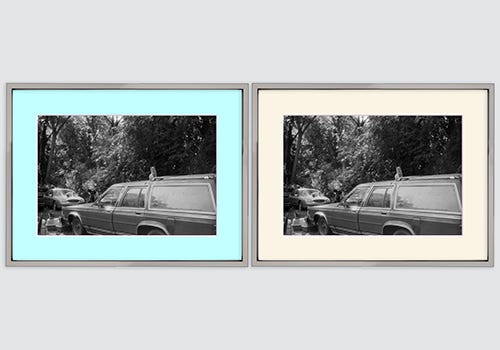 Swapping an outdated color mat board for a white mat board can quickly refresh your favorite photographs and artwork.
Or maybe you once opted for a rustic look in your home, studio or other space, which may have been highlighted by natural-looking wood frames. Phasing out the rustic, wood frames on your showpieces for classic metal ones—or vice versa—has the potential to transform the whole aesthetic.
It should be noted that if you move a piece from one location to another, it's important to consider conservation. An acrylic that features UV protection may be needed if it will be subject to damaging rays. Conservation is always an important aspect of custom framing, especially when you're working with treasured works of art and photography.
3. Accentuate Your Personal Style
One unexpected outcome of the pandemic has been a renewed appreciation for the aesthetics of our homes. From living areas to work spaces, all the time spent occupying the same rooms has moved plenty of us to rethink our environments. And just as interior design applications are more accessible than ever before, so is the custom framing process.
What was once an undertaking reserved in large part for highly invested art professionals has been reimagined and made widely available to framers of all experience levels. American Frame's easy and modern approach to custom framing affords immense opportunities for DIY projects, making it simpler than ever to give your space a redesign with fresh framing treatments.
As you delve into your design updates, apply new framing selections that speak to your personal sense of style. Incorporate your unique design choices, whether that includes colors, finishes or furniture choices. Play around with different ideas and work in your individual preferences for blending your framed piece's style with your room's decor.
Keep in mind that a certain wall color—while it may limit your options for framed pieces that work well with the shade—gives a space cache and elevates the entire look. In museums, for example, exhibits are not displayed on plain white walls. Instead, walls are divided up into specific colors that embody the spirit of the artwork presented there. Use this model in your refresh efforts to choose color combinations that capture the essence and beauty of your framed pieces.
4. Pair Classic Finishes with Unusual Elements
Explore the possibilities of complementing unusual elements with classic finishes. An obvious example is color. An out-of-the-box wall color can be well balanced by classic frame treatments in gold, silver, black, white or grey, rendering a new feel for your home, studio, office or other type of space.
Or think about using the architecture of the frame as a design element itself, leveraging its shape, depth, reflective properties, softening capabilities, etc., to coordinate an interesting, appealing look. There's more to frame mouldings than simple square or rounded shapes of wood; there are also bevel cuts, decorative finishes and metal alternatives.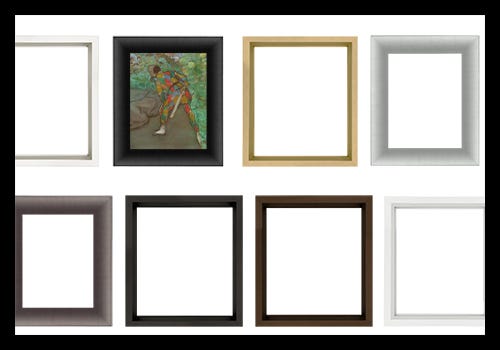 Nielsen profile 130 has a soft angled profile providing an unexpected architectural detail while Nielsen profile 225 adds shine and texture.
Check out our Fusion collection for a mix of elegance and subtlety, pairing a soft, angled profile and stylish, brushed finishes with neutral metallic tones to perfectly complement the clean, lustrous hues so prominent in today's décor. Or browse our Reflections collection, designed to mirror the emerging trends in 21st Century Modernist design. The standout specialty profile features metallic accents, asymmetric lines, bold curves and accentuating textures for a simply stunning look on strong works of art and photography.
In the end, it's all about displaying your framed pieces in their best light as you play with the design options for refreshing your space.