The Power of Color
Color affects moods, behaviors and ideas. It is both emotional and thought-provoking. It can define a person's temperament or create an energy in the atmosphere.
The language of color was birthed in early Greek literature, used descriptively to take readers away to mythical lands and legends. Through auditory and visual means, the color spectrum provides a unique experience while holding its own representation.
Color is remarkable and forms an integral part of our lives.
Selecting Color in Your Framing Treatment
Whatever your desired theme, it should serve as an aid in your color selection. Framing treatments act as an extension of your art; they can either introduce or emphasize a desired tone. It is fair to say that color has a great influence on the overall impression of a piece and the emotion felt when spectating.
Here, we're exploring each of the different colors to understand their significance in making a meaningful choice of theme.
Red:
This is a fascinating color—one that's even caught the attention of psychologists who want to understand more about its strong effect and powerful influence on the human mind.
Traditionally revered as a representation of lust or death, the color red continues to impose a strong presence, reigning in authority and emanating the concepts of aggression, war, lust and love. It is very intense.
Yet, red can also have a delicate and loving presence. It is a great color to anchor down a focal point or exemplify an accent. Its visual stimulation warrants quick decision-making, which has rendered it a "buy now" color.
American Frame offers varying shades of red in both our mat and frame products. For instance, our Code Red mat is a perfect selection for those seeking a rich statement in framing treatment. In addition, we have wood frames available in cherry tones, and metal selections ranging from bright red to merlot.
Choosing red in your framing treatment will not leave your art unnoticed. The color continues to prove a heavy influence on the human psyche by grasping one's attention at every turn.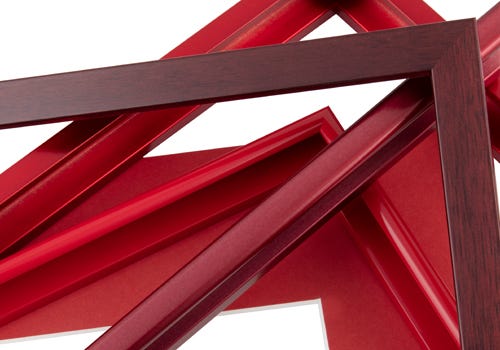 Orange:
With a name originating in the 16th century and seen prior to when the fruit itself was cultivated in China, orange has done anything but make a quiet entrance. Impressionists like Claude Monet ate this color up, as seen in his painting "Impression, Sunrise."
Orange is high in visibility and a great color to emphasize a specific part of your design. It is used to draw attention to potential danger.
This color is available in both our matboard and metal frame selections, and we invite you to order samples to see for yourself how great it is.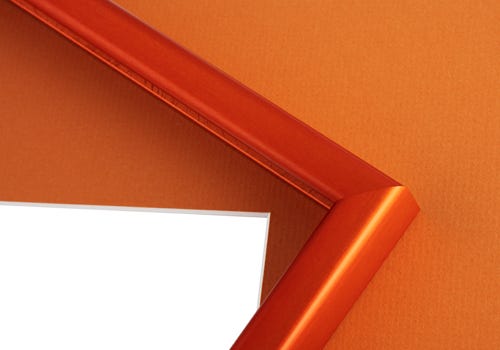 Yellow:
This is the color of sunshine! Yellow evokes happiness, intellect and energy. Historically, this color has promoted value and beauty. In Richard Le Gallienne's late 19th century essay, "The Boom in Yellow," he says, "One hardly realizes how many important and pleasant things in life are yellow."
This color produces a warming effect, arouses cheerfulness and stimulates mental activity. Yellow is very effective for attracting attention.
At American Frame, we offer a variety of yellow matboards, each with a unique tone.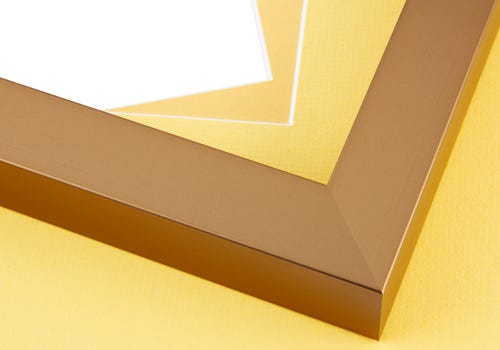 Blue:
In "The Secret Lives of Color," Kassia St Clair states, "Westerners have a history of undervaluing all things blue." She goes on to say that "During the Paleolithic and Neolithic periods, reds, blacks, and browns reigned supreme."
Historically, the color blue corresponded to outcasts and barbarians, and in other cultures it represented sadness.
Its value was appreciated by Abbot Suger in the 12th century. He was an important figure in the French Court who believed that there was divine meaning to colors, especially blue.
Like the color green, blue invokes an overall sense of calm for the viewer, benefitting the mind It is the color of the sky and sea.
When used in combination with warm colors, like red or yellow, blue can aid in the creation of vibrant designs.
This color is available in both frames and matboards.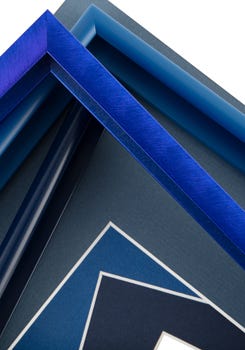 Black:
Like white, black is an expression of light. True black reflects no light.
Our culture is mesmerized by this color. It is mysterious, inviting the emotion of fear and thoughts of the unknown. Historically and to this day, it has been associated with mourning and the underworld.
Black is a very powerful color. Across the board, in a simplistic manner, it makes a very large statement. Offered in all of our products, black is a solution that fits all.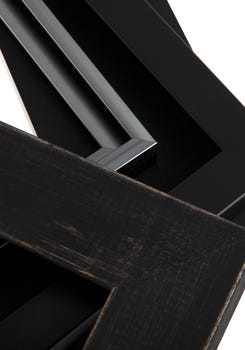 Black frames and mat boards
White:
This color bears deep roots in history. Traditionally a color that has corresponded to money and power, the color white was a product of wealth. In fact, in French culture, it was suggested that the interior walls of homes were painted white as a cleansing of society.
Today, this color is more recognized for its uplifting and pure presence.
White is a very clean color. It maintains a simple look, and is available in both warmer and cooler tones in our mat board and frame selections.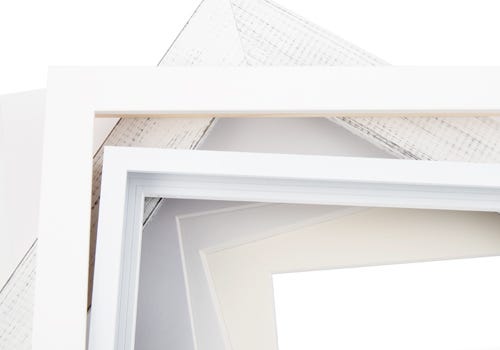 White frames and mat boards
We invite you to reach out to our customer service team for any additional inquiries you may have about color selection. We are happy to help.