The Skilled Craftsmanship Behind Antiqued Gold- and Silver-Leafed Frames
Antiqued frames are mouldings that undergo a unique manual process of applying metallic leafing to the surface of the wood in an overlapping fashion. This is all done by hand, requiring a high level of skilled craftsmanship. The effect of antiquing in either gold or silver leafing is both distinctive and beautiful, and these types of wood mouldings are ideal for framing traditional paintings or media, as well as wedding portraits, documents and gallery displays.
To help custom framers better understand the antiquing process, as well as how and why gold and silver leafing appears the way it does, we are explaining the ins and outs of this framing option in a little more detail. Let's start with a deeper dive into the craft itself.
4 Levels of Antiqued Gold & Silver Finishes
There are four levels, or finishes, associated with the process of creating a metallic, antiqued aesthetic on wood framing:
Real Gold Leaf: This is a highly revered, top-of-the-line finish characterized by its delicacy and distinction. The leafing is a fragile, thin gold metal that will never tarnish over time. American Frame's selection of antiqued wood frames focus exclusively on this technique of leafing.
Composition Gold Metal Leaf: Applied using a glue or glue/water mixture, this level typically includes an added component of copper or silver to the metallic finish, which means it has the potential to tarnish. An older frame with natural tarnish on it has likely been finished in composition gold metal leaf, not real gold leaf. With newer frames, tarnish or patina is sometimes purposely added to the process to create an antiqued appearance.
Hot Stamped Foil: This level utilizes a foil that comes in rolls. The foil is heat-activated and does not require any adhesive, drying time or finishing time. It is a less fragile and less expensive option, and it usually has a harsh, shiny effect on frames. There are various shades of metallic foil available, with gold being the thickest, most robust option.
Metallic Paint: This finish is simply spray-painted or brush-painted onto the wood frame to create the antiqued metallic look.
2 Types of Wood Frame Gilding
Gold finishes on wood have long been used in the framing world. Wood frame gilding involves applying layers of gesso and varnishing clay as a finish to the frame. In true gilding, the work is painstaking, time-consuming and detailed, applying several coats of very thin layers. The finer the layers of these materials, the smoother the finish's luster becomes. This is true for flat profiles, waves or textured and carved frames.
There are two ways to perform the wood frame gilding process:
Water Gilding: A highly coveted, top-of-the-line method, water gilding involves adding water to the adhesive. This approach is associated more with hand-crafted frames.
Transfer Gilding: With this method, there is no water involved. Glue is applied to the surface and allowed to try until it's tacky to the touch (not cured, just dry). Then the gold leaf is applied to the tacky glue. Transfer gilding is associated more with mass-produced frames.
Gilding can create a beautiful frame aesthetic and a desired effect for those who are seeking this type of look.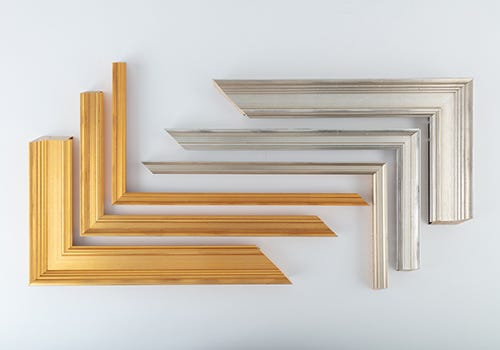 Antiqued silver and gold leafed picture frames, from Larson Juhl's Academie Collection
The Allure & Distinction of Gold & Silver Leafing
Gold and silver leafing on wood frames is performed by hand to create a beautiful desired effect. The mark of a high-quality frame completed with this type of finish is the visibility of lines where the individual leaf layers overlap.
When the craftsperson takes sheets of leaf and applies them to the frame, they must account for the wood frame expanding and contracting so as to see the red earth clay or white gesso underneath. It's practice to finely overlap each sheet, which leaves a bit of an edge line.
In some frame techniques, scrap pieces of leaf are applied in a collage-type pattern, which means you'll see many overlapping lines over the entire place. When the frame is leafed sheet by sheet, there will be fewer lines, the spacing of which depends on the size of the sheets applied.
These lines are NOT a defect. In fact, they are actually a desirable effect—one that reflects the highly skilled craftsmanship necessary to achieve this type of frame. It elevates the value of the frame and signifies a significantly higher-quality product. If you look at a frame and do not see any lines, you know it has undergone a painted or hot-stamped foil method, not a true gold or silver leafing process.
A Higher Standard of Quality
All of the antiqued frames available from American Frame involve true, hand-applied leafing, never mechanical stamping or spray paint. We offer six different varieties of antiqued gold- and silver-leafed wood frames.
Gold Leafed Frames
Featuring the non-tarnishing nature of real gold leaf at an affordable price point, these frames have a slender profile and understated appeal, including subtle details and overlapping lines that reveal the skilled craftsmanship of the hand-applied leafing. Easy to assemble and install, our antique gold-leafed frames are ideal for framing documents or traditional paintings, and they work particularly well for gallery groupings. Our collection of antiqued gold-leafed wood frames come in the following varieties that you can see for yourself: 403235, 203235 and 573235.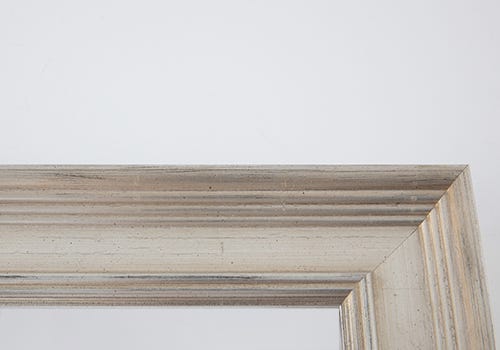 Our widest silver leaf frame, 573237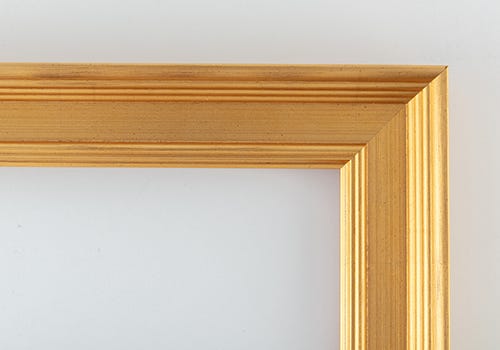 Our widest gold leaf frame, 573235
Silver Leafed Frames
Capturing a distinctive antique look, our silver leafed frames are hand crafted, not foil stamped. Economically priced, they add a unique touch and feature a slight black brush on the edges. These frames are well suited to traditional paintings, especially oil paintings and watercolors, as well as wedding photography, pen-and-ink drawings, documents and gallery displays. They are transitional in nature, so even if your aesthetic is very modern, this type of frame works well. That's why it's such a hot-selling frame across the entire industry. Our collection of antiqued silver-leafed wood frames come in the following varieties: 203237, 573237 and 403237.
If you have any additional questions about the antiqued gold and silver leafing process, we're always here to answer them and guide you through your latest projects. Simply contact us to speak with an expert.