Laura and Dana: American Frame Sisters
Every year, the first Sunday in August is National Sisters Day.
In honor of National Sisters Day, sisters Laura Jajko–American Frame president–and Dana Dunbar–American Frame CEO and CFO–share some sisterly insights. They are pictured above in the Ohio State Senate Chambers on a recent tour of the State Capitol building in Columbus, Ohio.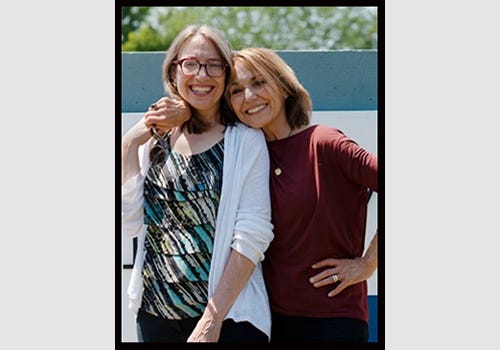 Dana Dunbar, left, and Laura Jajko
Describe your sister in ten words
Laura: Thoughtful. Dedicated. Fun. Family-focused. Community-minded. Smart. Loving. Trustworthy. Brave. Creative.
Dana: Creative thinker, unstoppable energy and commitment, believes in people's potential.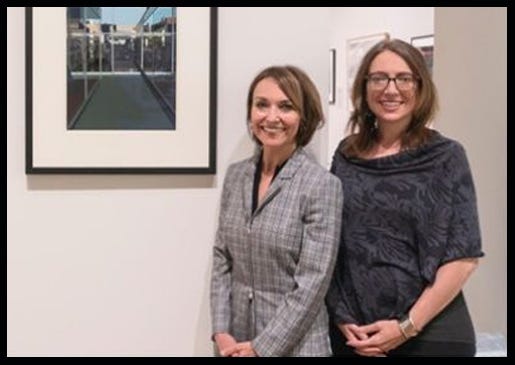 Laura and Dana, with American Frame-d and matted artwork exhibited at the Toledo Museum of Art
Laura and Dana as kids
Dana: We have a five-year age difference, so I always looked up to her. She was a rock star growing up.
Laura: Dana was always around. She was lurking in the shadows wondering what was going on. "You again? Leave me alone."
Dana: She had to babysit me.
Laura: My parents were doing their own thing, so I was in charge a lot. I learned to be bossy from the get-go. Early training in being in charge.
Dana: Very true.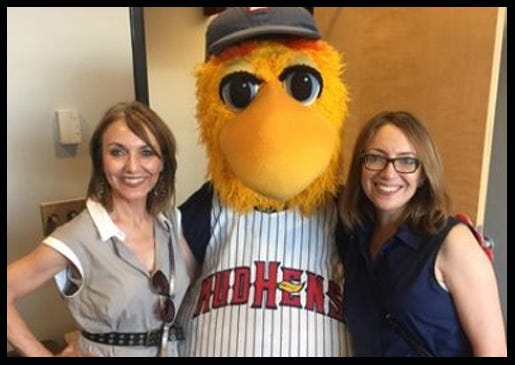 With the Toledo Mud Hens mascot, Muddy
Favorite memories
Laura: When I went away to college (Ohio State), before cell phones or email, Dana wrote me letters. I still have them.
Dana: Really? You still have the letters?
Laura: Yes. It was really cute. I'd get a letter once a week. That's when I think our relationship started shifting from babysitter, older sister/younger sister, to more of a friendship.
Dana: My favorite memory is when Laura named her daughter after me. I realized the significance, that our relationship was bigger than birth order or genetics. She calls her daughter "Dana" every single day. What's a greater gift than that?
As co-owners of American Frame, what has impressed you most about your sister?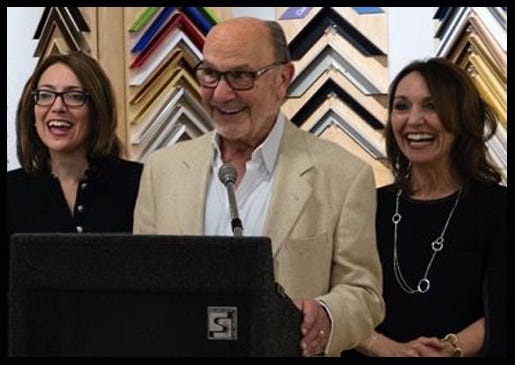 With their late father, American Frame founder Ron Mickel
Laura: Dana's relentless. She's got an amazing operational mind, and she's creative. She's detail oriented. Not only can I trust her, everybody else can, too.
Dana: Laura's got a never-ending belief that we can do it, a sense of optimism. She's the real force behind the leadership in our organization. She's always prepared, and understands the importance of what she's doing. She doesn't take it lightly. That gives us the confidence to follow her lead and do what we need to do.
How did being sisters help you and your company get through the pandemic?
Laura: During Covid, a lot of bad stuff happened –the passing of our father (Ron Mickel, founder of American Frame), having to temporarily close our business and lay off most of our employees, and restructure. We got through it and now, we're not afraid of anything. We're like, "Bring it on."
Dana: We know whatever we're going through, we have the wherewithal, the resources and the ability to get through it. During the pandemic, we had to close our business. How do you run a closed business? We never learned how to do that.
Knowing that you're there helps me not be afraid. We've got each other. We've said this to each other all along: "No way could I do this without you. There's no way."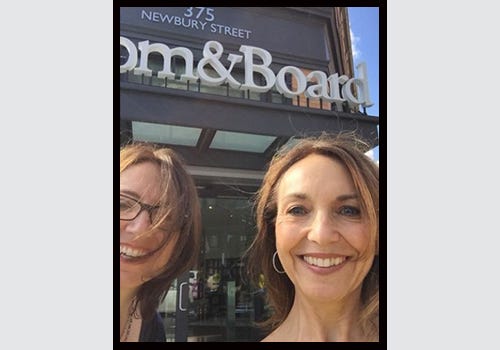 A sister selfie, taken in Boston at Room&Board
About the future
Laura: There's nothing but opportunity out there. Today, you can do anything online. Build a house. Design a car. Design a custom picture frame. The time is right for us to scale up, and Dana and I are committed to that.
Dana: Ten years ago, we had to convince customers through our advertising and marketing that this is an easy process, and we'll take you through the process. We don't have to do that anymore. People understand. Now we can talk about what makes American Frame special. Our goal is to be the preferred partner for artists, photographers, any business wanting to frame their artwork. So many of our customers are artists who rely on us to be their supplier so that they can exhibit their work. They're in the forefront of our minds every day.
Favorite frame? Favorite artist?
Dana: Laura's favorite frame would be metal, for sure. Not sure exactly which one.
Laura: The Tiffany.
Dana: And her favorite artist would be our mother. Did I get that right?
Laura: Pretty much. I don't know what Dana's favorite frame is because she has very eclectic taste.
Dana: I don't have a single favorite. All the frames are my favorites. It depends on which looks best with what I'm trying to frame.
Laura: Our mom was my best teacher. I wasn't formally educated in art and art history, but I grew up in our mother's house and that was the best education.
For mom's 70th birthday, Dana, Mom and I went to New York for a weekend. Mom loves the museums. By the third day, Dana and I were 'museumed out'. We were at the Met and we were flying through the space. Dana and I had walked ahead of mom. She pulled us back, pointed to a painting and said, "This is a Rubens. You do not breeze by a Rubens!!" Mom lectured us and taught us about how to look at different types of art that maybe we weren't interested in looking at. She knew these paintings and she knew what to look for.
Being raised by someone like that teaches you to learn to see and appreciate what you might not initially like. That's how art speaks. If we just looked at what we liked, we wouldn't learn anything.
Dana: I love the work of Alice Neel. Her portraits really resonate with me.
Laura: Besides my mom, it's hard to pick a favorite artist. I love the abstract expressionists. I love de Kooning. The photographer Diane Arbus. I love Banksy. I love street art. And I collect student work.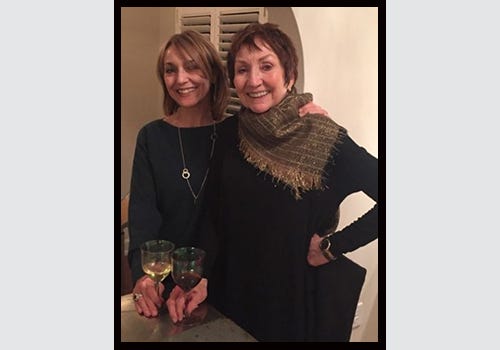 Laura with her mother, Elaine Mikel
What trait does your sister have that reminds you of your father (Ron Mickel, American Frame founder)?
Dana: Laura's grounded in family. Dad loved his family. And you and dad never missed an opportunity to talk about business. You had that in common—that passion for what you do.
Laura: I think you have his temperament. Not dad as a young man but as an older person. Your temperament is measured, like his.
Dana: He liked to get outside in his yard. Work the land. I enjoy that, too.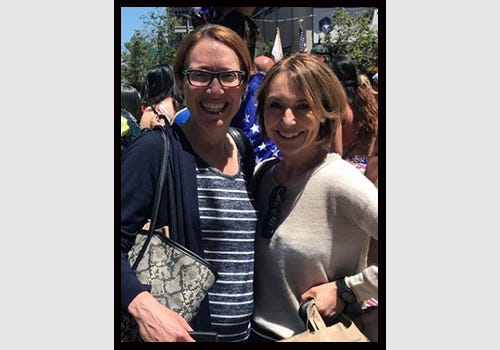 Dana and Laura, in San Francisco
How does being sisters benefit the company, and your customers?
Laura: What we do is really important. Everybody working with us and for us understands that. It goes back to our core values. Trust, excellence, teamwork, respect and empathy. Does it show through to the end result, a beautiful product that the customer expects when they expect it, how they expect it? They trust us with their artwork, whether they print it with us or put it in a frame and display it. Our mission is to provide excellent custom framing products and services while advancing a socially responsible company that gives back to the arts. If customers care about their art and the world we all share, they'll feel good about working with American Frame.
Dana: We're two women at the top of our company. We lead through collaboration. We don't go around dictating what has to happen. We look to the experts who are on our team. We've been successful using empathy, respect, collaborative leadership. It's exciting to do something of significance that you're passionate about. There are other sisters who work in our company, not just us. We have three sisters, the third just joined the company. Now, my daughters work with us. Sisters rule, if you ask me.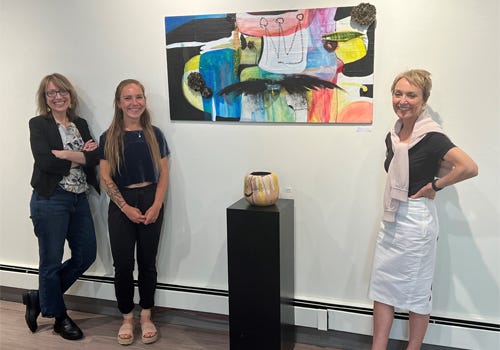 Laura and Dana supporting Laura's daughter Michaela Jajko, Detroit-based mixed media and ceramic artist at her recent exhibit at the Plymouth Art Center, Plymouth, Michigan