Celebrating Women in Business at American Frame
As we celebrate International Women's Month, there's no better time to recognize American Frame as a 100% women-owned business. Owners and sisters Laura Jajko and Dana Dunbar proudly honor American Frame's 50-year history, including its designation as a 100% women-owned business.
In honor of this month's celebration of women, we're highlighting the unique role American Frame plays as a pillar in the industry, and how its status as a women-owned, family-run, second-generation business has impacted its ongoing success.
What 100% Women-Owned Means to American Frame
In May of 2017, Laura and Dana executed a transition agreement with their father, founder Ron Mickel, to formally acquire the company and move to a 100% women-owned status. The transition enabled American Frame to remain in the family while supporting the move to full female ownership.
Laura and Dana are incredibly proud of this status, among the many other values-driven decisions that have contributed to the company's five-decades-long history of success. Being 100% women and family owned means they retain full creative control, always operating with customers and employees at the forefront of their decision-making.
It's highly important to these women owners to be confident in developing and executing their vision, as well as setting an example for other businesses in the community and within the larger economy. Often when people think of a second- or third-generation family business, they think of the father-son relationship. But Laura and Dana break that stereotype. They quite literally grew up in the business, and they are committed to staying true to its longstanding values—despite external circumstances—fully recognizing that American Frame's team, customers and community at large depend on this.
As American Frame is both a manufacturer and retailer, this duality presents unique challenges, particularly as a women-owned business. There's a critical need to be excellent at both, whereas most companies focus on one or the other. In addition, American Frame is an independent business, and owners Laura and Dana have dedicated their careers to the arts through this company.
What 100% Women-Owned Means to Our Customers
To American Frame's community of valued customers, the company is not just a piece of a portfolio or an asset in a list. Laura and Dana are in it fully, boots on the ground every day, working to be the highest-value provider of PrecisionCutTM custom picture frames plus all the accessories and services that go along with it.
A great deal of effort and investment goes into the people aspect of the business, from having a great customer service team and a plant that cares, to offering free design services for customers via the physical and virtual showrooms, and prioritizing face-to-face interactions.
Dana's entire family is involved, with daughters operating in accounting and customer service, and her husband working as the purchasing manager. Laura's husband is the company's CEO, and her daughter has worked for the company as well. While some people may have different opinions about being in business with family, Laura and Dana firmly believe that when you have family committed to the mission, its meaning is magnified. They're in it to make it work, and that's a reality that the American Frame customer benefits from at every company touchpoint.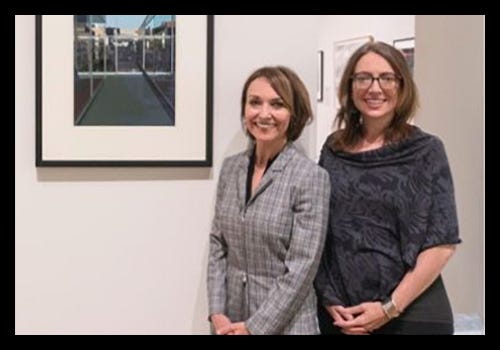 What 100% Women-Owned Means to Our Employees
Being a women-owned business certainly has its impact on the shaping of company culture. But whether positive culture elements at American Frame are a product of being women-owned or owned simply by conscientious humans is not what matters. What's important is that the culture represents a genuine concern for all team members.
As is their tradition, that concern started with Laura and Dana's father, who always felt it was important to have a nice place to work. This is why they built a business in Arrowhead Park (Maumee, OH), and offered benefits before doing so was a national standard. They continue to expand the breadth and depth of company benefits, recently partnering with a professional employers association to use the latest technology in the interest of employees.
Laura and Dana place great importance on working to be fair and understanding leaders, and they place a high priority on the working environment's aesthetic. While this is fundamental to the image of an art-focused company, it is also a contributor to fostering an enjoyable work space for American Frame employees. In addition, they like to infuse lots of opportunities for culture-focused fun and connection, including things like birthday celebrations, holiday events, costume and theme days, and more.
Members of the American Frame team have come to appreciate the empathy shown by their women leaders. Whether an employee is dealing with a sick child or parent, or another family situation, they can feel understood and cared for with options like leave time or remote work. Laura and Dana recognize that everyone struggles with family situations and tough personal issues at one point or another, and they don't want members of their team to have to circumvent bureaucracy in order to take care of themselves. They choose to lead from a place of empathy and values, two of the major contributors to this women-owned business's ongoing success.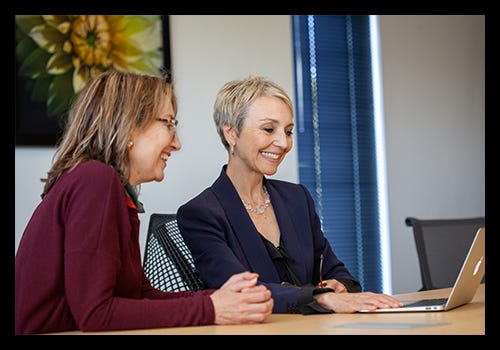 On the Reality of Being a Woman in Business
Laura and Dana were raised to believe that even though women have often been cornered into conventional roles in life, they could do anything. And with each passing generation, it's been exciting to see how women continue to fill so many roles traditionally unavailable to them.
In serving as a role model for other women in business, Laura recognizes the reality and challenge one's womanhood presents in this arena. "If you're a woman and you have a family, you tend to be the primary caretaker. It can be hard to ask for and accept help," she says. "But it's OK. You should ask for and accept help."
"Being in this seat today is very different than 20 years ago. When you're given flexibility, you're not bound by the business day. Bending the 'rules' of corporate America makes for a grateful team that is willing to give more. Having the latitude to raise my kids and work made me more committed to showing success in the workplace—many times at my own expense. In retrospect, if I had to change anything, I would ask for and accept more help."
She also advises women in business to "be a woman but forget that you are one. Be the best leader, best team member, best expert you can be. Don't focus on gender. It can be easy to get caught up in stereotypes and perceived limitations. What we're trying to do is break them."
Dana strongly holds the opinion that every employee has the opportunity to mentor, no matter the career stage; we all learn from each other. She faces challenges with optimism and encourages others to do the same. "Look for the opportunities. 'There's no crying in baseball' and there's never a dull moment in business. When you're faced with a challenge, work through it with a focus on success. The possibilities for positive outcomes are endless when your mind is in a place where creativity can soar."
In addition to their ownership roles at American Frame, Laura and Dana are active leaders within the community. Laura serves on the Arts Commission and Bowling Green State University Arts Leadership Council, and Dana, who serves on the Ottawa Hills, OH council and TMACOG's Board of Trustees, is focused on water quality and pedestrian safety.
For both of these women, longevity has been a great measure of success. American Frame's 50-year mark has been coming for a long time, and has meant the world to this women-owned business. At the end of the day, they say they're only here to benefit others as a business. "If you're not here to benefit others, you're not a business."