Get Precise Dust Cover Edges in Seconds
A dust cover trimmer in use
Dust covers are an easy, effective way to protect your framed artwork or photography in a wood frame. But without the right tools, trimming them can leave jagged edges or excess paper, compromising the look of your piece.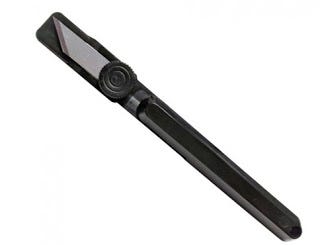 A dust cover trimmer
Luckily, American®Frame has the perfect solution: Our dust cover trimmer makes easy work of trimming your dust cover to size, resulting in a polished, professional finish that keeps dust and other damaging particles out.
The trimmer features a guide that glides along the edge of the frame, ensuring a perfect cut every time. Simply attach the paper to the back of your frame, crease the excess, align the trimmer with the edge of the frame, and draw the tool down each side. The result will be a precise trim in just seconds. We also include five blades and further blades can be purchased here.
Best of all? The trimmer is reversible, making it perfect for right and left-handed framers.
Have framing questions? Our framing experts are just a call away.