Artist Profile: Polly Norman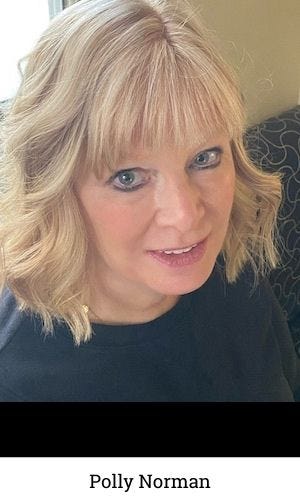 Polly Norman (
née
Sandvik) was born in Minneapolis and grew up in a family of artists, musicians and writers. She studied art, dance and piano. In college, she studied medicine, attending Abbott-Northwestern School of Nursing, before specializing in newborn intensive care.
After she married, Polly Norman volunteered for her sons' schools doing public relations photography and writing. This led to a career in studio photography and professional writing for various publications. She eventually ventured into fine art photography and painting.
She began photographing objects through a Pennsylvania glass block, which served as a unique filter for her black and white photos, which she then colored. Her work took off. She was eventually represented by several galleries and her work was included in museum shows and collections. She began combining segments of her abstract photography with digital art. Polly now works primarily in digital media.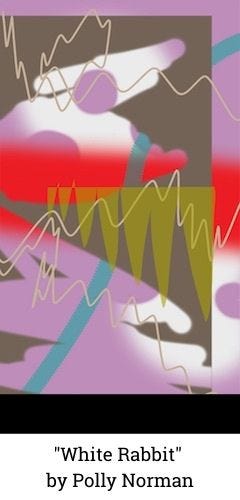 American Frame: What is your genre?
Polly Norman: Abstract.
American Frame: What is your medium?
Polly Norman: New Media (digital).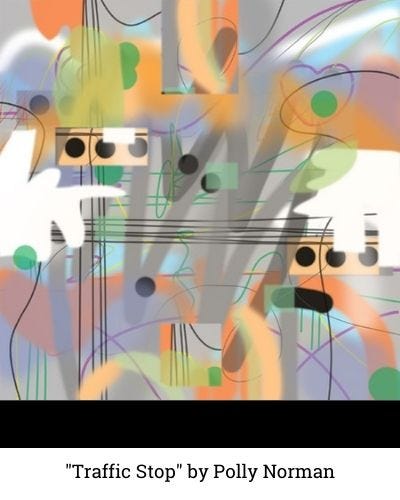 American Frame: Is your art your occupation or a hobby?
Polly Norman: Occupation.

American Frame: How do you make time to create?
Polly Norman: I schedule it in. I reserve times to create on my calendar.

American Frame: Who is your biggest influence as an artist?
Polly Norman: Wassily Kandinsky, Laszlo Moholy-Nagy, and Lenore "Lee" Krasner.

American Frame: If you could meet any artist in the history of the world, who would it be and why?
Polly Norman: Lenore Krasner. I love her work. Unfortunately, her relationship with Jackson Pollock (they were married) somewhat overshadowed her contribution for some time.
I think women artists were often overlooked in the early 20th century art world. I would want to ask her how that made her feel, and what she did to promote her work.
I would also want to know how she went about her process of art making, from gathering ideas to executing them.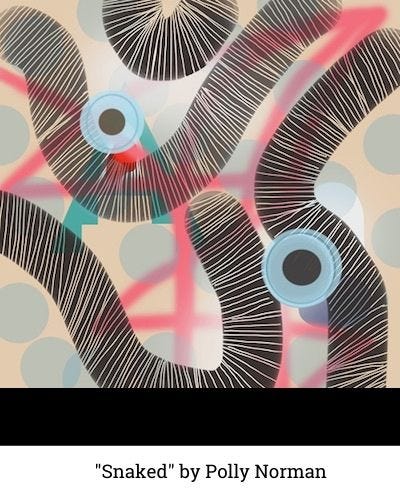 American Frame: What is your biggest challenge as an artist?
Polly Norman: My goal for my artwork is to make images that are unique. Perhaps being quite like no one has ever seen before, which is a challenge. Working in a non-representational style helps, but there are so many great artists creating so many different images. It's hard to not duplicate at least their style. Also, being an abstract artist requires starting from nothing and trying to create something significant. That is a challenge.
American Frame: How do you break through creative blocks?
Polly Norman: I step away from the work for a while. Also, one of my mentors suggested you should always be working on three pieces at a time. One nearly finished, one that is about halfway finished and one you are just starting. Work on one of them, then rotate so your eyes stay "fresh" on the work.
American Frame: What are you most proud of?
Polly Norman: My imagination.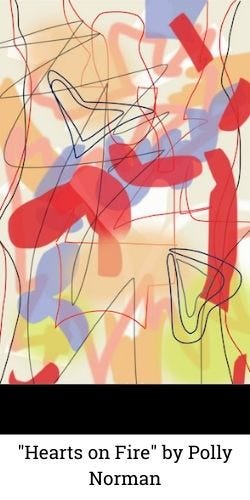 American Frame: How did you discover American Frame?
Polly Norman: Internet search.
American Frame: What do you love about working with the American Frame team?
Polly Norman: Very accommodating. I have American Frame almost exclusively print and frame my work for gallery shows. The materials and workmanship are superb. And if there is a problem, the team is there to help you fix it.
American Frame: What is your favorite frame that we carry?
Polly Norman: I use
matte black wood picture frame #8411
for my works in gallery shows. It's elegant and simple so the focus is on the artwork, not the frame.
If I had to pick a favorite frame, it would be a very ornate frame like
N116
. I love silver and gold together and the fact that it's so sculptured.
American Frame: What advice would you give artists?
Polly Norman: Keep your mind open when coming up with ideas. Look at other artists' works and find what you like. Ask yourself, what do I like about it? This will help you discover your bias toward certain styles and processes. Then when you go to work, set an intention, make a plan, and alter the piece as it "speaks to you" and perhaps leads you in a different direction. Let the art speak for itself. Let the art lead you and trust your instincts on what to do to complete it.