Artist Profile: Deb Schradieck
Deb Schradieck is a lifelong, naturally talented artist, who began focusing on watercolor in 2009. Working from her own photographs, she favors a precise and realistic style that enhances the color and light of the original subject matter.
Earning her Bachelor of Arts degree in Illustration from Massachusetts College of Art, and completing classes at the Worcester Art Museum in Worcester, MA, Deb is a juried Artist Member of The North Shore Art Association and the Rocky Neck Art Colony in Gloucester. She is also a top-producing real estate agent working in the Cape Ann area.
Deb resides in the South End of Rockport, MA, fulfilling a longtime dream to live and work on Cape Ann, a place she fell in love with when visiting years ago. She gets out on the water via boat to spend time with some of her favorite subject matter. Here, the landscape is a limitless source of inspiration—from the working waterfront and myriad of boats to seasoned buildings on crowded streets.
With her camera close by, Deb seeks the "golden hour" of extreme light in the early morning and just before sunset, riding her bike or motoring her dinghy around the harbor to identify just the right composition. She remains fascinated by reflections in water, like the way light bounces up on the hull of a boat, and by the light-and-dark contrast of wood pilings under a dock.
American Frame connected with Deb to explore her artistry through an enlightening Q&A that offers a closer look at this talented artist's approach, including insights and advice straight from the source.
Pen and Ink Drawing
Q: What is your genre?
A: Landscape, harborscape and streetscape in watercolor, as well as homes and buildings in pen & ink.
Q: What is your medium?
A: Watercolor; pen & ink (home portraits and architecture); oil painting on occasion.
Q: Is your art your occupation or a hobby?
A: It has been a hobby, but I am transitioning it to my occupation. (I also currently work as a realtor.)
Q: How do you make time to create?
A: I work on art very early in the morning and in the evenings, rather than watch TV. Plus, I fit it into any free time I have. My "other" job is flexible.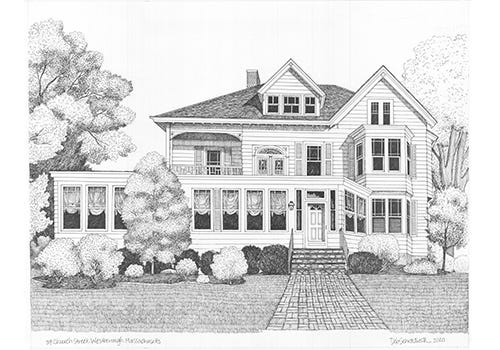 Pen and Ink Drawing
Q: Who is your biggest influence as an artist?
A: Locally here in well-known Rockport, MA, I am surrounded by great artists, and they influence and inspire me the most. If I had to pick one, it would be Gloucester artist Jeff Weaver.
Q: What is your biggest challenge as an artist?
A: My biggest challenge is continuously finding subject matter that is recognizable locally, evokes an emotional connection from the viewer and puts a fresh spin on the most popular scenes and subjects. I'm trained as an illustrator, and very much focused on being able to sell my work. I paint what I think others will like, as well as what I find interesting and beautiful.
Q: How do you break through creative blocks?
A: I get outside and look for inspiration on beautiful Cape Ann.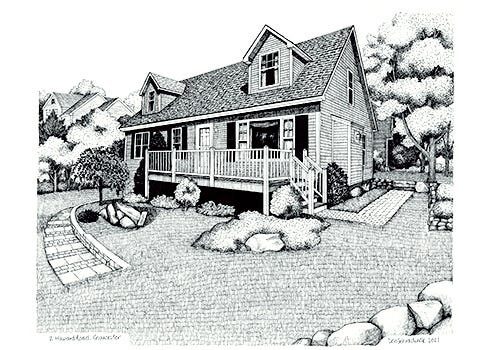 Pen and Ink Drawing
Q: What are you most proud of?
A: I am proud of my pen & inks, and how far they've come since I first started doing them in 1987. I can make any house look good! People always ask, "How long does it take you to do one?" The answer is five or six hours for most; I do them in one day.
Q: How did you discover American Frame?
A: Google, a long time ago.
Q: What do you love about working with our team?
A: American Frame is my go-to for all kinds of framing. The customer support is great. My husband appreciates the outstanding packaging in which frames are shipped. We reuse most of it. He easily puts the frames together with the artwork. With watercolor and pen & ink, they all need not only a frame, but also non-glare glass, a mat and a backer, plus assembly with a dust cover and wire. Therefore, I need frames that don't cut too far into my profit, and American Frame is reasonably priced.
Q: What is your favorite frame that we carry?
A: I use AF104 for most of my pen & ink home portraits, along with a CS9902 white mat with a black core. This works well every time. I don't believe in introducing color on a black and white drawing.
Q: What piece of advice would you give to artists reading your story today?
A: One reason my pen & inks work so well is that I have literally done hundreds and hundreds of them. You can get really good at something if you just do a lot of it, always striving to improve. The side benefit for me was that my drawing skills dramatically improved as well.
For additional information about Deb Schradieck or to view more of her work, you can visit her website.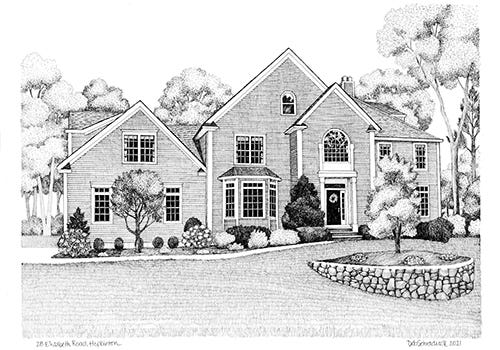 Pen and Ink Drawing