Artist Profile: Ann Latinovich
The work of internationally recognized portrait, flora and fauna artist Ann Latinovich has been featured in many galleries and institutions including the Art Institute of Chicago. She's done projects with Chicago's Blackstone Hotel, the historic Water Tower, Oak Street Design and on Michigan Avenue.
Latinovich has also lectured as a visiting artist at the Art Institute of Chicago, Tyler School of Art (Philadelphia), and in Italy, to students of Stonehill College (Easton, Massachusetts).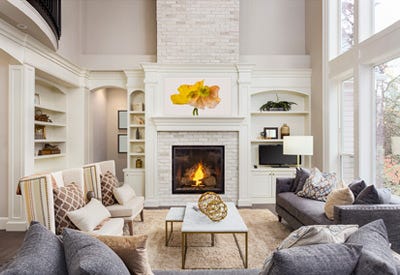 By Ann Latinovich
American Frame: What is your genre?
Ann Latinovich: For almost 20 years, I've specialized in fine art portraiture with a dedicated practice of creating artwork featuring flora and fauna.
What is your medium?
I work in a variety of mediums including painting, photography, digital, and sculpture. Much of my work is mixed media. I'm often combining different techniques and mediums into single works.
Is your art your occupation or a hobby?
I've been self-employed as an artist for over 25 years.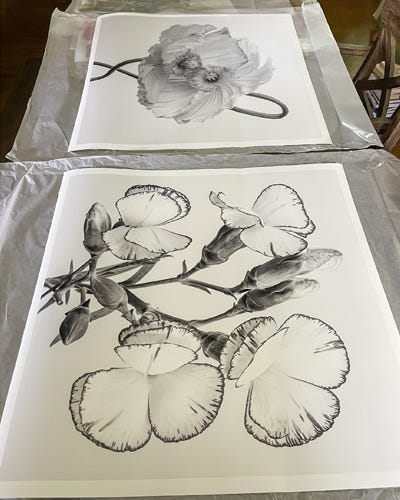 By Ann Latinovich
How do you make time to create?
The real question is, how do I make time for anything else? Family comes first. I'm a mom to three sons who are my biggest blessings. Outside of my life as a wife, mom and friend, creating is my go-to.
Who is your biggest influence as an artist?
Many styles of art call to me but anything still life from 1600 to 1800 from Northern Europe, Rococo and the Impressionist period really strike a chord. These artists specifically have influenced me for a variety of reasons: Mary Cassatt, François Boucher, Susanna Coffey and Jenny Saville. I find a lot of inspiration in music and film and have recently been inspired by composers Makiko Hirabayashi, Danny Elfman and Rhiannon Bannenberg. Anything by Maya Angelou inspires and uplifts.
By Ann Latinovich
If you could meet any artist in the history of the world, who would that be and why?
Maya Angelou excelled at offering what I think many artists strive to express in their work. Ultimately, no matter the medium she worked in, she carried a message of hope, resilience and love. While she became most famous as a writer, editor, essayist, playwright, and poet, she worked across many disciplines and was a singer, dancer, actress, composer and director. She was brave and bold. Her voice was powerful and certainly lives on.
What is your biggest challenge as an artist?
I'm going to guess it's similar to what many other artists might answer: Getting the work out there.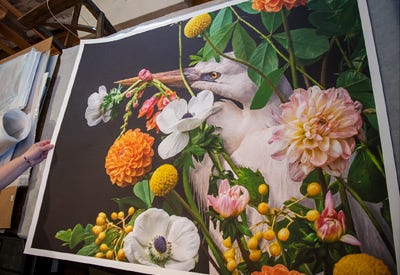 By Ann Latinovich
How do you break through creative blocks?
Having a daily meditation practice offers insight into staying present. I think the universe is willing to share ideas at the drop of a hat provided we're open to them.
What are you most proud of?
The body of work I created during Covid/quarantine will always hold a special place in my heart. I worked around the clock for a solid year on it and look forward to exhibiting it moving forward. I imagine the catalog will be something I'll hold with pride and gratitude.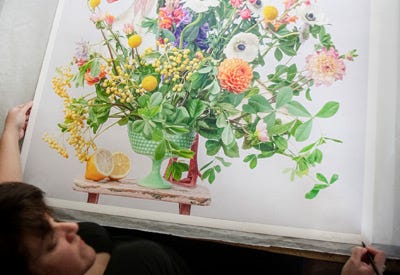 By Ann Latinovich
How did you discover American Frame?
Years ago, we were looking to create prints of original mixed media works. We stumbled onto American Frame's website and figured we'd give it a try. The quality of our first order was impeccable. That sealed the deal.
What appeals to you about working with our team?
American Frame has always been prompt to respond, helpful and at the ready. Quality has always been our biggest concern. American Frame never disappoints. I work incredibly hard to create work with meaning and impact and strive to provide our clients with heirloom quality works that are intentionally created to last. The color is always spot on. And the paper, thick and rich.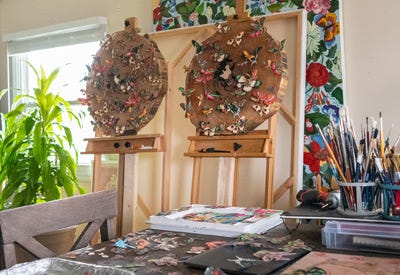 By Ann Latinovich
What advice would you give to artists?
Dream big and never stop. Listen and look, a lot. Take time to be still. Read voraciously. Embrace challenges. Believe in yourself and gather gumption. Take chances in your work and explore. Use your voice (in whatever medium that manifests) and be you. The caveat, of course, is that it all takes time, so perhaps most importantly, practice patience because it's all a long, glorious and curious road.
Connect with Ann here: