Is the Show Right for You?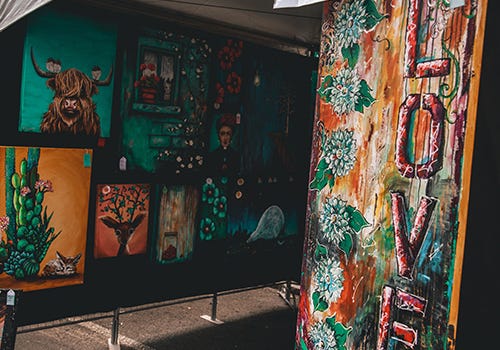 A display wall at an art fair
Art fairs and shows can be a great way to sell your art. They let you meet face-to-face with potential buyers so you can tell them about your work and answer any questions they may have. People are much more apt to buy from those they like, so the ability to put a face with the art makes a purchase much more likely. Plus, the urgency of the event means shoppers can't deliberate long. They've got to decide whether they want to buy before they leave, so they're more likely to purchase art that interests them as soon as they see it.
But art shows also require a huge investment of money and time for artists. You may have to travel, you'll probably need to clear your calendar for the weekend, and you'll definitely need to spend money up front to print and display your work.

That's why it's important to choose the events in which you participate carefully. Here are a few things to consider before committing to one.
Who's the audience?
Before you say "yes" to an art fair or show, do your research. Who's coming? Is it likely to draw gallery owners or other industry experts with whom you'd like to connect? How many people usually attend? Are they there to buy, or are they friends of the artists who aren't likely to pull out their wallets? What's the price range of pieces that sell? Can you afford to price your art comparatively? Some of this you can find out from the organizers, but it's also wise to visit the event yourself and talk to artists who participate. They'll give you the true picture that someone intent on filling booths may leave out.

How much will it cost you?
This is a huge factor to consider. How much money will you need to invest in prints to sell and in frames and mats for the pieces you want to showcase? Are you likely to see a return on your investment in sales or exposure, or would your time be better spent elsewhere? Talk to other artists about the pros and cons of the show before you decide to enter it.

Choosing the right services, however, is one way to save money. Our archival-quality photographic and fine art printing services are competitively priced and designed for darkroom and museum-quality results, so you can sell attractive prints for nearly as much as some artists charge for originals.

Is it a good fit?
Not every opportunity is ideal for every artist. If you specialize in wintry photographs, for example, you may not do well at a fair held in the summer, when shoppers are gravitating toward beach landscapes. It's also important to ask yourself if the event's brand image aligns with yours. If you want to be seen as a fine artist, sitting between quilts and rag dolls at an arts and crafts fair probably won't accomplish that. If the show has a theme, like a season or holiday, you may want to opt out if you don't have enough work that fits it. During a recent Christmas art fair, for instance, one booth had little art depicting Santa and fir trees but plenty starring witches and jack o'lanterns. It's not surprising that those prints weren't selling in that environment.

Where's your booth?
Once you've decided the event is right for you, angle for a good location. Try to stay away from booths offering art similar to yours. After viewing three different collections of black and white landscape photographs, potential buyers may pass yours by. If your art isn't in protective poly bags or under glazing, it may be wise to avoid a spot near the food and drinks, where spills are more likely. Try to optimize your spot so you can stand out in the crowd.

Need to get ready for your art fair fast? Try our new Art Show Kits.