Announcing Our Virtual Showroom: Live Design Assistance at Your Fingertips
Whether you're a seasoned artist or photographer, a part-time hobbyist, or someone who simply appreciates the beauty of framed work, there are times in the custom framing process when pros and first-timers alike could benefit from some personal guidance and design assistance. To support our cherished art community in meeting this need, American Frame is excited to announce the opening of our virtual showroom.
Bringing the same valuable service provided at our Maumee, OH, showroom, our new virtual offering enables you to have a similar one-on-one experience from anywhere in the country. Work directly with our framing professionals to talk through your options, get expert recommendations, and create the framing treatments that perfectly suit your style and needs.
Simply schedule an appointment and tell us a little about your project so our experienced team can curate personalized design choices just for you. This is a completely free service, and there are no limitations on it. You can take advantage of the opportunity to get assistance with any piece—from artwork and photography to posters, collages, and more—and to receive guidance on things like using framing tools and accessories as well as placing an order.
To give you a closer look at what this process looks like, here's some helpful information on how it works.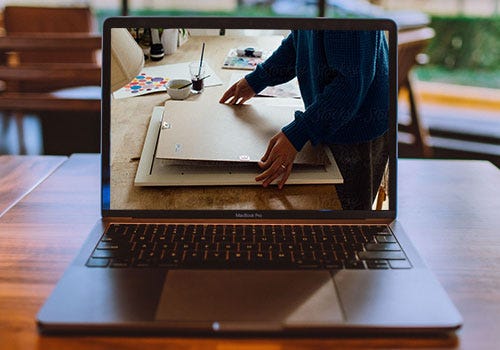 Get one-on-one picture frame design assistance from anywhere in the country
Booking the Appointment
The first step is setting up your appointment, which you can easily do by visiting our contact page or showroom page. Then pick the date and time that works for you. Each appointment is a half-hour block, which can be scheduled Monday through Friday in the Eastern Time zone. You also have the option of booking multiple appointments for more than one project.
When you submit the booking form, be sure to give as much detail about your project as possible. The more background you're able to provide, the better your designer can prepare for the upcoming appointment—and the better an experience you'll have.
Pre-Appointment Information
Once your appointment is confirmed, you'll receive a confirmation email. This will include the date and time you've scheduled, as well as details on how to connect virtually to your appointment.
Prior to your scheduled appointment, we will also reach out to you by email to collect more information about the project.
What to Expect at the Consultation
During your scheduled one-on-one video call with an experienced designer, you'll have the opportunity to talk through some or all of the following areas:
Framing options: materials, colors, sizes, depths, etc.
Matting options: whether you'll need/want one, plus various colors, textures, thicknesses, etc.
Acrylic options: how the various types protect your piece and which, if any, are best suited to your project
DIY kits vs. pro services: whether you prefer to assemble your framing treatment yourself or send in your art to have it custom framed by our professionals
Assembly guidance: instruction and tips on how to use framing tools
Accessory recommendations: information on featured products, cleaning tools, mounting adhesives, etc.
Q&A: answers to any questions you may have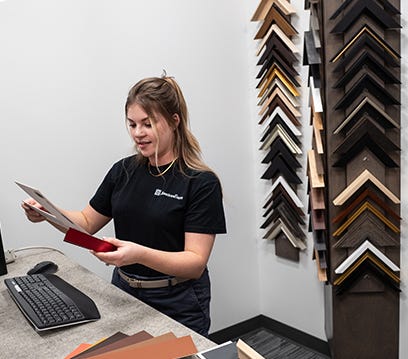 Your designer can show you product samples or demonstrate how to use a framing tool during your virtual appointment
The designer can hold up product samples for you to see more clearly, giving you a better feel for the various materials, colors, sheens, sizes and thicknesses, and so forth.
Within this session, our team can also help you order the best products for your project, streamlining the purchase process for you. They are able to add products to your shopping cart as you make selections throughout the discussion, if desired.
Ultimately, the consultation is all about helping you feel confident with the decisions and process surrounding your framing project, and simplifying the effort for you. It's a true showroom experience combined with the convenience of virtual access, available to anyone in the United States.
Our Maumee showroom has been a tremendous success and value for decades, so we are incredibly excited to be able to offer the same type of experience for people no matter where in the country they are located.