Unboxing Ready-to-Ship Frames: Product Insights for the DIY Framer
We recently introduced a new line of frame kits, which come with everything you need for your DIY framing project. Ideal for your next exhibit, gallery wall, favorite photograph or cherished work of art, each Ready-to-Ship product includes a custom frame, plexiglass and backing board.
For a closer look at why customers appreciate these high-quality frames at an affordable price point—and all ready to ship quickly—we're "unboxing" the collection with some notable insights about this new line of frame kits.
What Is a Ready-to-Ship Frame?
Every frame kit from American Frame's Ready-to-Ship collection has been curated by our design team for a gallery-worthy display. These kits are available in 8" x 10" and 11" x 14" standard sizes for ease of use at a discounted price, and they arrive with all the components you need for a DIY framing project:
Custom frame
Museum-quality plexiglass
Foam core backing board
For customers interested in pairing mat boards with their Ready-to-Ship frames, these can be ordered separately as pre-cut or custom-cut options.
Ready-to-Ship frames are handcrafted in our Maumee, Ohio, factory and produced from the highest-quality materials. They ship quickly to arrive at your door within days.
What Types of Frames Have Been Curated for the Collection?
With a focus on offering framing products that our art community is sure to love, our designers curated these kits directly from our selection of top-selling frames in the American Hardwoods collection, and included our most popular metal frame, the Nielsen 93 in Matte Black.
Curated Wood Frames
Frames from the American Hardwoods collection embody innate organic beauty and strength—the hallmark of a solid wood frame grown and produced on American soil. They are made from authentic, natural wood and optimized by a clear coating or stain finish, showcasing the gorgeous individuality of real wood grains. All of these frames are sustainably and domestically grown, as well as milled, finished and cut in America.
Our selection of Ready-to-Ship wood frames arrive with a raw finish, which means they are precisely mitered and joined without extra fill in the frame corners. These standard-sized frames are manufactured with this type of unfinished corner (and slightly visible nail heads on taller and deeper mouldings). It's an intentional, eco-minded design decision for a beautiful, natural product line.
Curated Metal Frames
The metal frame option from our Ready-to-Ship collection is produced by Nielsen®, the inventor of the classic "gallery" frame and the leading manufacturer of metal mouldings worldwide. Nielsen has been making frames for over 40 years, and its manufacturing process includes an anodization process that makes the frames highly durable and mar-resistant. A unique electrostatic paint system applies multiple coats to each frame, which means coverage is exceptional—as is resistance to scratches and scuffs. These frames are made entirely in America, all from 100% recyclable aluminum.
The Nielsen 93 frame from our Ready-to-Ship collection comes unassembled and can be put together using a screwdriver.
Both types of curated frames for our Ready-to-Ship collection are paired with standard acrylic and an archival mounting board to create a kit that features high quality at an attractive price point.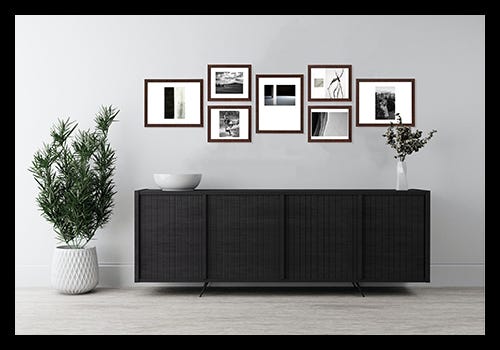 How Are Such Quality Frames Made So Affordable?
The frames featured in our Ready-to-Ship collection are of no less quality than our beautiful custom-cut frames. Ready-to-Ship frames are handcrafted and custom-made, with a high level of quality and value. And yet, we are able to provide them at a discounted price and ship them quickly. That's because they are offered in standard sizes.
Of course, there are plenty of retailers who sell standard-sized frames. But in so many of these cases, the extraordinary measure of quality is not there. This particular line is unique in that it offers truly custom-quality frames in common sizes (8" x 10" and 11" x 14"). Because of that, these frames are available for 30% off their regular prices.
Customers can save even more by applying a current coupon, garnering savings up to 50%! Or, for those who buy in bulk (10 or more frames) for projects like a gallery wall, there is a volume discount to be applied. And since every kit in the collection is ready to ship, you receive your order in half the time of a custom product.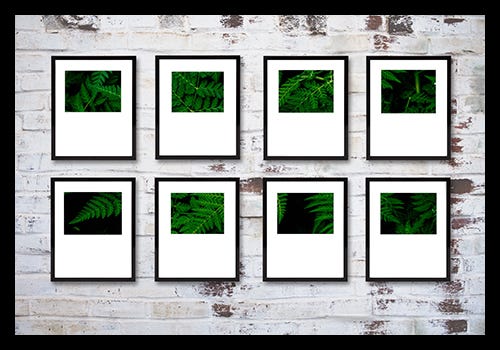 Is the Collection Right for Your Needs?
With the available standard sizes, Ready-to-Ship frames are ideal for displaying printed photos, setting up a gallery wall or even giving as gifts—in singles or multiples. Deeper frames can sit on a desktop and make for an appealing modern display, and the extra deep profiles are perfect for shadowbox projects.
You can choose from the different solid wood varieties, including Natural Walnut, Dark Walnut and Natural Maple, as well as black metal. Opt for the size and depth that meets your needs.
To experience these Ready-to-Ship frame kits for yourself, check out the full collection.