Point Drivers Make Framing Faster and Easier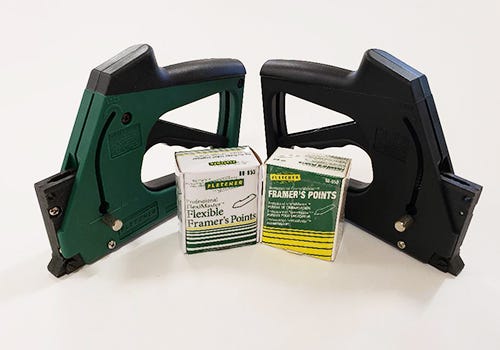 Want to make securing your art stack inside the frame easier? Invest in a point driver. They're used instead of the spring clips that come with your wood frame and make light work of assembling large or numerous picture frames.
Used exclusively with wood frames, point drivers feature a one-touch trigger that drives a framer point instantly into a frame's rabbet to securely hold your art stack or canvas. Point drivers are also useful when your rabbet depth is much greater than your art stack and spring clips are not long enough.
American®Frame offers point drivers from Fletcher, which has lead the industry in setting performance standards for points and drivers since the 1980s. Fletcher point drivers are favored worldwide by professional and DIY framers.
Fletcher point drivers have enough spring-adjusted power to match the density of your wood frames. A rear stabilizer keeps the point driver upright. The ergonomically designed rubber grip handle eliminates hand fatigue and increases comfort and ease of use. Points go in perfectly flat to avoid ripping or denting framing materials. The lightweight design and full-grip trigger provide comfortable firing of points. One point is fired at a time without jamming or double feeding for professional results.
Fletcher FramerMaster points are stiffer than other points and provide greater holding power, so your art stack stays securely in place.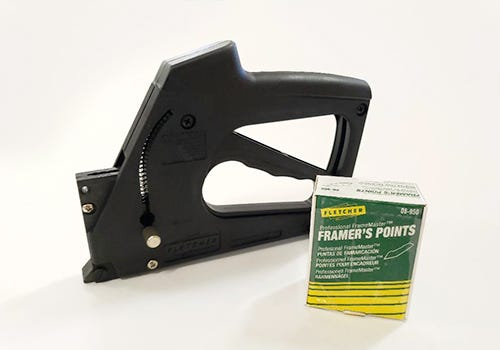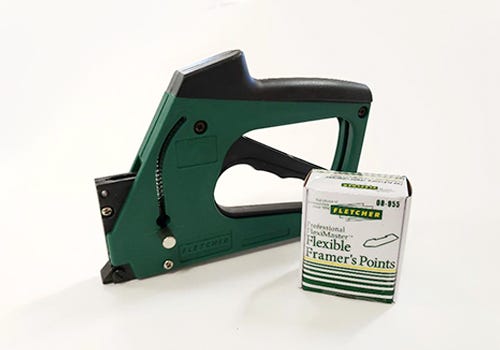 Use with FlexiMaster points F3040.
An easy-to-load magazine holds a stack of 170 wax-free points.
Each type of point driver is designed specifically for its designated points and cannot accommodate others.

For help using Fletcher point drivers, watch our How-To video.

Near Maumee, Ohio? Stop into our showroom for a demonstration of either point driver.

Have questions? Ask our in-house framing experts.