On the Wild Side: Artist Inspired by Love of Animals
There's always something wild in Kathy Moore Wilson's studio.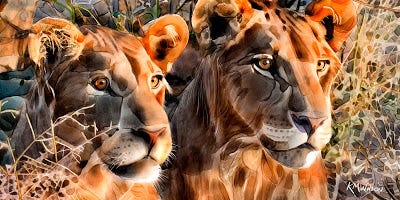 "Thelma and Louise" by Kathy Moore Wilson
From roaring lions to sleeping wolves, her mixed-media paintings depict the animal kingdom in stunning detail.
"I have always been drawn to animals," she said. "To be frank, there are times when I feel that I communicate better with animals than with some people."
Wilson's work with her own Pendragon Art Studios, for which she creates paintings and drawings mostly inspired by wildlife, is a marriage of her two lifelong loves: animals and art.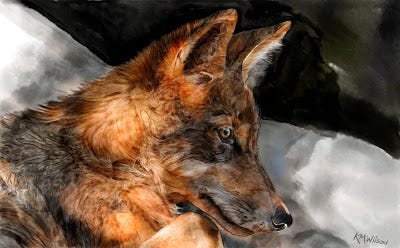 "Dharma" by Kathy Moore Wilson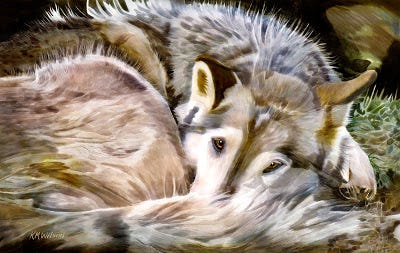 "Accalia" by Kathy Moore WIlson
"I think I realized that I loved to draw from the moment I picked up a crayon and drew a line with it," she said. "There is very little that I love more. But it took me many years before I considered making a living at it."
After graduating from college, Wilson worked as a cartographer, which included a brief stint freelancing for National Geographic magazine before working as an animator for a graphic design company for many years. She was first inspired to try her hand at cartography by her father, a drafter.
"When I took cartography in school, it was before digital tools were being used, and we were taught to draw maps with rapidograph technical pens," she said. "I swear, picking up one of those pens and beginning to draw with them was amazing to me. The points of the pens were so very fine that you could achieve an incredible level of detail. I loved working on topographic maps and drawing the texture of hills using little dots of ink."
Texture is still an important part of Wilson's work. When she works with pen and ink, she likes to use textured watercolor paper to mimic fur, feathers, and rough elephant skin.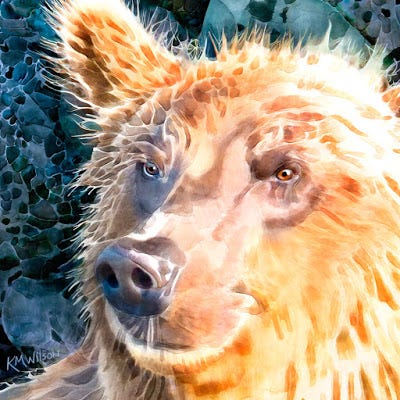 "Elinor" by Kathy Moore Wilson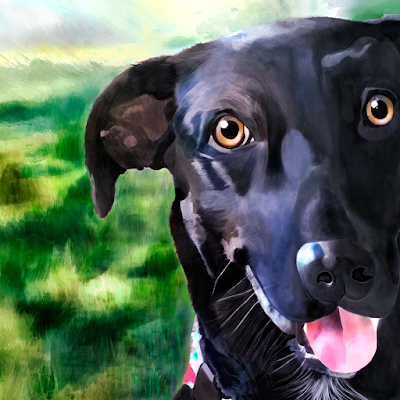 "Chance" by Kathy Moore Wilson
"Most of my work is very detailed," she said. "I tend to like to get up close in my reference photos and paint the little details in a face, in the fur, in the eyes of my subjects."
Her attention to detail doesn't stop there. Wilson said she normally names the animals she's drawing as she works on a piece.
"I like to think I am getting to know the animal I'm drawing," she said. "One of my favorite quotes by the artist and educator Robert Henri is 'Paint the flying spirit of the bird rather than its feathers.' I take it very personally. I make up stories about the animal as I'm painting. I guess it helps me focus."
Wilson decided to move to producing art for herself full-time a couple years ago. In the midst of a cancer scare, she was laid off from her job, and decided to finally follow her lifelong dream of creating her own art.
"It has taken me a long time to get to be a full-time artist," she said. I really must say that I have never been happier. I love doing the work that I am doing right now. "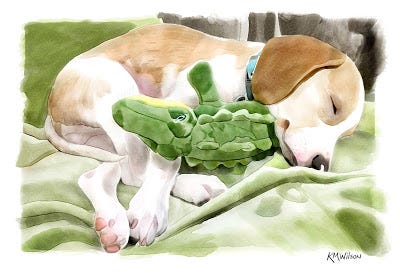 "Bodhi and his Alligator" by Kathy Moore Wilson
She draws inspiration for her works from television shows about nature, visits to zoos and animal parks, and photos she buys to re-create. And since quality reproduction is such an important part of her business, she relies on American®Frame for fine art printing.
"American Frame was recommended to me by an artist whose work I greatly admire, Cynthia Decker," she said. "I was impressed by the variety of substrates available and was very happy to see that American Frame prints on Arches watercolor paper, which is my favorite printing surface for my digital watercolor work. I nearly always embellish my prints with additional watercolor or colored pencil, and I have been extremely happy with the results."
She also said American Frame's fast shipping recently helped her make a tight delivery deadline over the holiday season.
When she's not bringing animals to life in her studio, Wilson enjoys spending time with her husband and dog, Maisy. She's also a resident artist at Artist & Makers Studios near her home in Rockville, MD.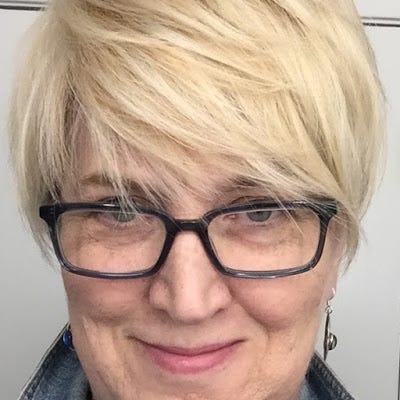 Kathy Moore WIlson
"Being an artist can be a mostly solitary experience," she said. "I love knowing that I have my friends and fellow artists at Artists & Makers to provide feedback and support. It has been a wonderful experience getting to know these artists."