Leslie Adams: Capturing Personality in Art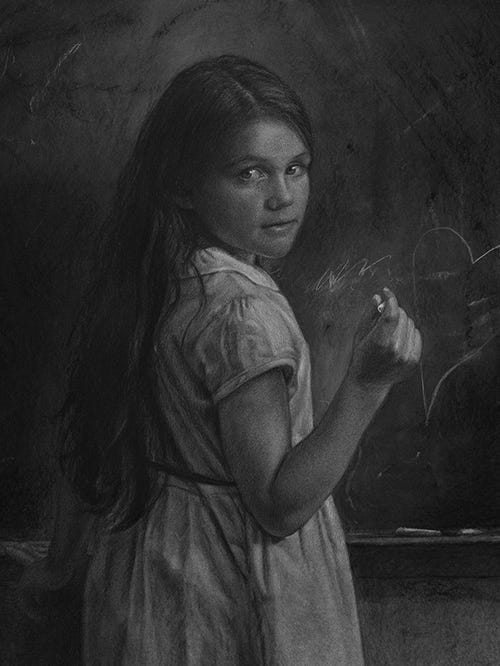 Handwritten Dreams, Self-Portrait at 8
Leslie Adams focuses on faces.
The Toledo-area artist has been painting commissioned portraits for over 25 years.
"A great portrait must convey the essential character and essence of the subject, their spirit and attitude, their energy and intention.," she said. "After all, a hundred years from now, no one will know if I painted the Governor's eyes the right shade of blue…. but, what I want that viewer today and a century from now to see and feel is the warmth and sincerity in those eyes…the gentle humor and humility in that smile. Their energy. Their passion."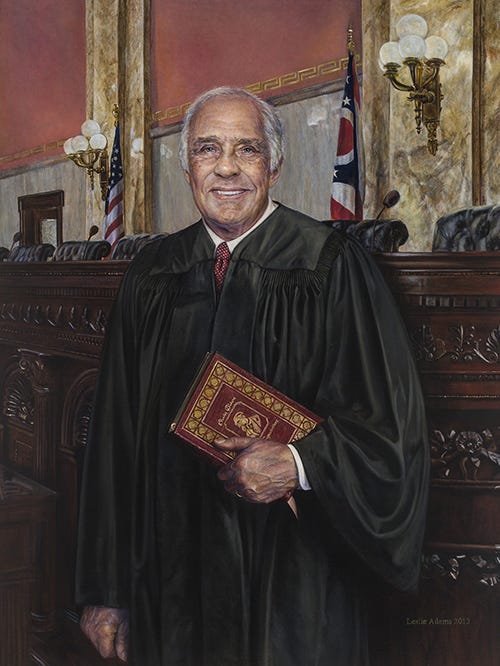 Portrait of Judge Robert Duncan, Supreme Court of Ohio
Throughout her career, Adams has painted heads of state, Ohio Supreme Court justices, college presidents, and other community leaders. Her constant goal, she said, is to bring her subjects' personalities to life through layers of paint and her favorite medium, charcoal.
"It's superb for capturing form, texture, and energy; whether it's the light falling on a young girl's cheek, the feel of madras plaid, or the restless movements and behavior of the subject," she said.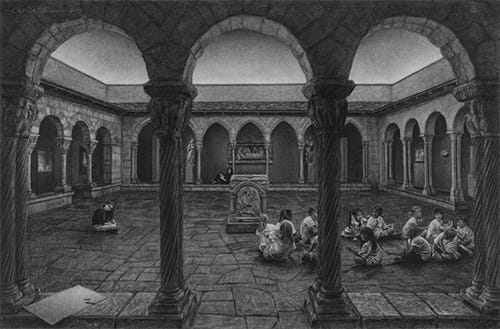 The Cloister, Toledo Museum of Art
Growing up, Adams was inspired by the rich art history of the Toledo area.
"As a child, the Toledo Museum of Art was my playground," Adams said. "Within its walls and among its treasures, I was given the opportunity to be surrounded by great art as well as the extraordinary privilege of beginning my formal art education. It was this introduction that prepared me for my advanced study in the fine arts."
She went on to the University of Toledo, where she studied with Professor Diana Attie. After receiving a Bachelor of Fine Arts degree in Printmaking and Drawing, she won the Grand Prize in the first International Drawing Competition, sponsored by the Warhol Foundation for the Visual Arts. That prize included the coveted Warhol Scholarship, which enabled her to attend the prestigious New York Academy of Art and earn a Master of Fine Arts degree in Figurative Art.
She returned to the place that first sparked her love of art – the Toledo Museum of Art – to complete her series Drawn from Life.
"I loved watching the children drawing in the galleries - exactly like I did as a curious little girl - knowing they were creating their own memories of the museum just as I had," she said. "My hope is that, as those little girls become young women, they will know that their dreams can come true and that it is within reach for a woman to be a successful professional artist."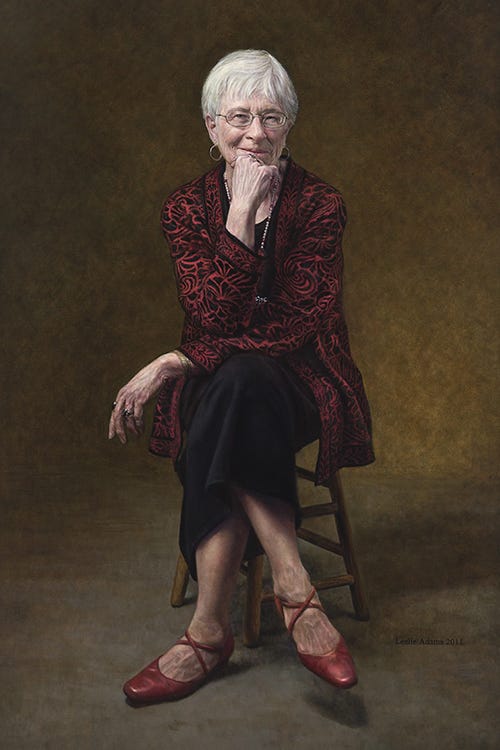 Portrait of Lynne Loftis, President and Director, Ella Sharp Museum of Art & History
She said the most rewarding part of her job is meeting and portraying some of society's most important leaders, especially women in positions of power.
"As an artist, I am thrilled that the walls of my studio are adorned, more and more, with portraits of strong women who are leading our civic, cultural, and academic institutions," she said. "These women change our world. They break glass ceilings; they inspire. As I collaborate with each of them, they teach me about perseverance and risk, about dedication and commitment, about struggle and sacrifice, about discipline and tenacity. I share that wisdom with the students who visit my studio or exhibitions and with the many young women who apprentice with me."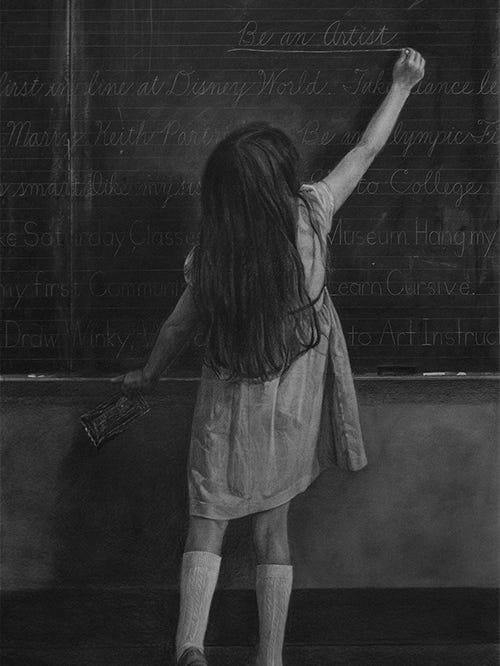 Handwritten Dreams (left panel)
Currently, Adams is busy working on her upcoming solo exhibitions, Leslie Adams, The Measure of a Life and The Handwritten Dreams Project. She's also completing commissioned pieces for institutions throughout the country including NYU Langone Medical Center in New York, the University of Michigan Medical School, the Supreme Court of Ohio, and the National Cathedral School in Washington, DC.
Her family has been using American®Frame since its inception, she said.
"We have always been impressed by the quality and high standards of this incredibly run family business,' she said. "As a professional artist, I have used American Frame throughout my career in different capacities. From original artwork to prints, I have found profiles that fit my needs."
She urges new framers to invest in framing treatments worthy of their best pieces.
"Consider the frame for a piece of artwork to be a reward and, therefore, an investment," she said. "Hours, weeks, and months may be spent on a drawing, painting, or printing and those works deserve to be both protected archivally and presented beautifully."
See more of Leslie's work here.