Framing Children's Art: Three Examples
For parents, grandparents and the entire family, children's art is precious and priceless. It serves as a milestone into the child's development, insight into his or her personality, and can be so darn cute.
Make the artist proud: Display it proudly.
Here's how to display children's art. Rather than relegating it to a desk drawer or filing cabinet, showcase it. Custom picture framing for your kid's artwork is a wonderful way to add a highly personal touch to your home. When framed, it can also make a wonderful gift that can be enjoyed for years by the entire family. And, it shows the artist how proud you are of their work.
When custom framing children's artwork, the colors in the art can be played up with a colorful frame or mat combination, or a neutral gallery style frame. We recently framed pieces created by young artists using American Frame picture framing supplies.
1. "Self-portrait" by Ella, age 4 (watercolor)

For this piece, we decided to accentuate the colors with mat boards, which Ella helped pick out. This kept her involved in the process and made the framing treatment even more personal, special and meaningful. Purple is Ella's favorite color in this piece, so we used our Imperial Plum mat board, and added our Marigold mat to accentuate the warmth of the other colors. We finished it off with our Spanish White mat board, to ease the viewer's eye into the frame. Because Ella's self-portrait is being added to a gallery wall featuring works all in black wood frames, our Black Wood Frame was used.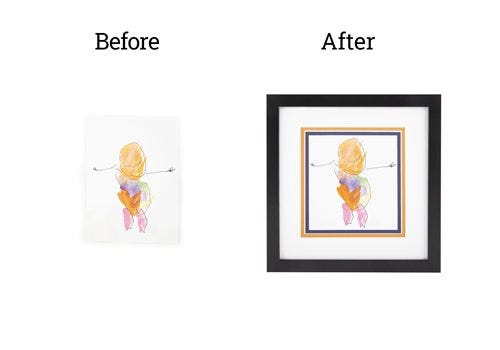 2. "Untitled" by Jase, age 6 (acrylic on canvas)
This colorful piece is on canvas, so we gave it the gallery aesthetic. To keep the focus on the art, galleries often frame pieces in sleek black, white, or natural wood frames. These simple, modern frames elevate children's artwork to true home décor. We chose our Black Wood Frame with an angled bevel front to draw your eye towards all the wonderfully expressive lines in this piece.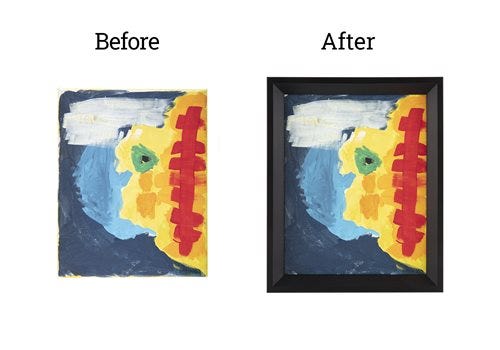 3. "Mom" by Ella, age 4 (watercolor)
We love the cool tones the artist chose for this piece. We continued with a similar color palette with our Purple Haze Metal Frame. We added our White Art mat for some "breathing space" between the artwork and frame. This mat board is one of our favorites because it features a black core, which serves as an additional "outline" and pulls out the subtle black lines in the artwork perfectly.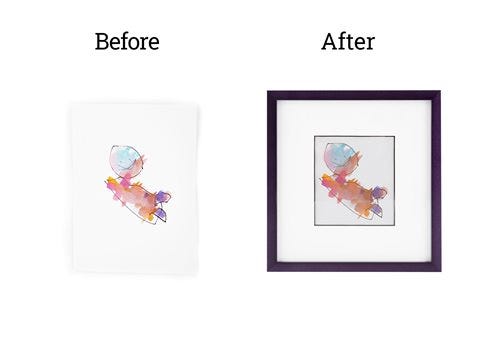 Framed artwork is a great gift. Framed children's art is a priceless family heirloom, and can be part of a great art display in your home.