Fix Dinged Frames in Seconds
The wood-tone markers included in the Picture Frame Touch-Up Kit
Moving your picture frames may cause scratches or dings. And if you're on your way to a gallery show or art fair, a nicked frame could make a bad first impression on a judge or potential buyer.
Luckily, the solution to a scraped frame fits in your bag. American®Frame's Picture Frame Touch-Up Kit includes nine wood-tone markers in hues designed to disguise nicks, scratches, and other imperfections in wood frames.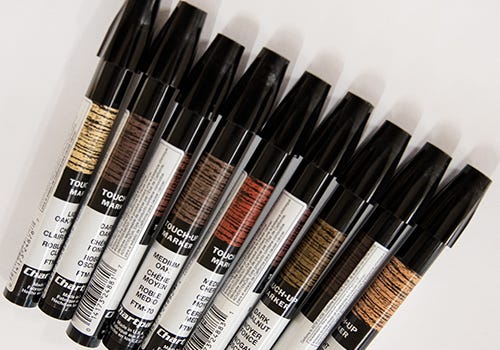 The range of colors
The available tones represent a range of popular wood frames, including light oak/maple, medium oak, dark oak, red mahogany, light pine, medium cherry, dark cherry, walnut, mahogany, and dark walnut.
Each marker has a long-lasting ink supply and a large, firm chisel tip. Markers come in a clear vinyl pouch that makes it easy to see all nine at a time so you can quickly find the one you need.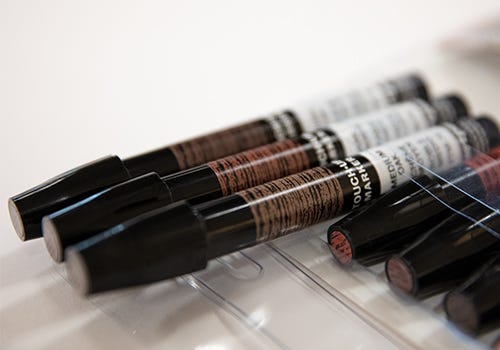 Close-up of the markers
Pack the entire set, or slip one or two markers into your pocket to match the wood frames you're bringing to your next event. They'll let you quickly erase any damage that may happen to your frames, so viewers can focus on your work. As an added bonus, these markers can also be used to touch up wood furniture around your home or office.
For other ways to keep your art safe, browse our selection of poly bags and corrugated corner protectors.
Have questions? Our in-house framing experts are here to help. Contact us.