Corrugated Corner Protectors: Ship Your Art Safely
Framed artwork is happiest when it's perfectly still, on display for the world to see, whether presented in wood picture frames or metal picture frames.
But every so often, framed artwork changes addresses.
Here, we'll tell you how to ship artwork properly, to make sure it isn't damaged en route.
The secret: corner protectors.
They're one of many picture framing supplies we proudly offer at American Frame that can improve your D.I.Y. framing game from good to great.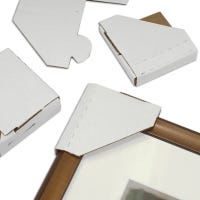 Corrugated corner protectors
Corner protectors can protect framed artwork from nicks and scratches during moving or while in storage.
They're made of 200# white cardboard and prevent damage from sharp corners and scratching. Stacking frames is no problem.
For the most secure fit, our corner protectors adjust to two thicknesses, 3/4" and 1 3/8".
They require no tape or glue, and can be removed and reused.
To order yours, click here.