About My Canvas Float Frame...
An American Frame customer asked:
"I just received a canvas float frame from you and noticed there are only four holes in the back to screw into the stretchers. In the past, the canvas float frames I've received had eight holes. Why did this change?"
And we answered:
"In the past, we shipped our wood canvas float frames with eight or more holes to attach to the stretcher bars. We will now create fewer holes, in order to better follow the recommendations of the PPFA (Professional Picture Framers Association).
Fewer contact points holding the stretcher bar to the canvas float frame allows for better give of both the bars and the canvas picture frame during expansion and contraction. This helps prevent sagging and/or tightening of your canvas, and helps maintain the longevity of your art."
At American Frame, we constantly strive to maintain the highest standards of quality and craftsmanship. That includes adhering to the guidelines about how to frame a canvas as established by the PPFA, an organization that "serves the art and framing community worldwide."
Printing and painting on stretched canvas continues to grow in popularity due to the warmth, texture and dimension canvas adds to art and photography.
A wood canvas float frame, or "floater" frame, is an attractive option to a frame stretched canvas. Canvas floats are aptly named for the space or "float" between the art and the inside edge of the frame, which gives the art a recessed perspective. This frame treatment attaches to the canvas from the back instead of covering part of the artwork with a lip on the front. This allows 100% of the artwork to be visible to the viewer. Canvas float frames are often seen in contemporary settings because of the inherent sophisticated and graceful separation between frame and surroundings.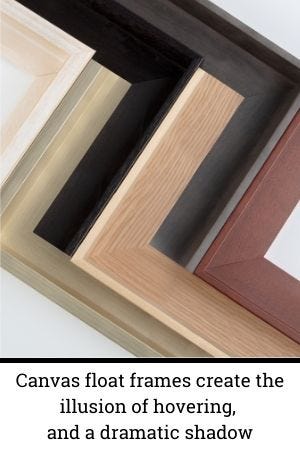 Our wood canvas float frames include black, white, options with faux metallic finishes, as well as solid maple, cherry, oak and walnut.
Note: Float frames are not recommended for works on paper.