Never Stop Learning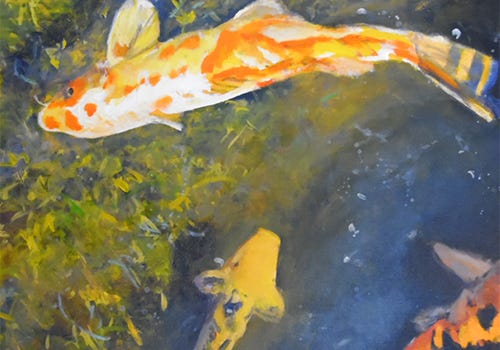 By Aaron Bivins
Aaron Bivins is always focused on improving.
The former Toledo Public Schools junior high art teacher paints in a variety of media, from acrylic and watercolor to pencil, and portrays anything from nature scenes to portraits, all to keep challenging himself and growing as an artist.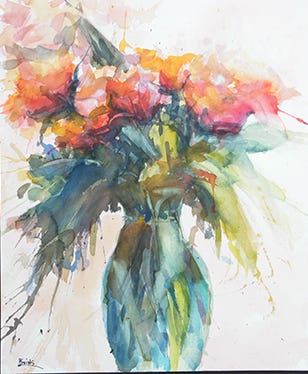 By Aaron Bivins
"I'm never comfortable and satisfied with each painting I do," he said. "I critique the piece by asking myself could I push the envelope and change something in my process and risk messing up the next piece. That's how I've continued to grow."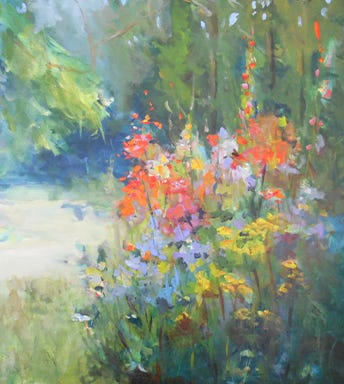 By Aaron Bivins
And his constant desire for improvement has paid off. He's racked up a lengthy list of awards, including First Place at the Crosby Gardens Festival of the Arts, Best of Show at the Toledo Artist Club Art Auction, and many, many more. He's also a member of several professional societies, including Associate member of the Ohio Watercolor Society, the Northwestern Ohio Watercolor Society, where he formerly served as president, and the Toledo Artists Club.
"I like to paint it mentally from start to finish," he said. "When I actually start the painting, I work very quickly because now it's all in my mind. All I have to do is do it and hope for the best. I just remember that I'll be making many adjustments along the way."
Born in Alliance, Ohio, Bivins used to doodle characters he saw in cartoons as a child.
"My inspiration was one of my older sisters who always drew cartoons," he said. "Being the competitive person that I am, I started doing the same. And after a while, I got better than she was."
Bivins said his desire to keep improving first appeared when, as a teen, he entered a magazine's drawing contest.
"You had to select either the pirate or the bulldog," he said. "I drew the bulldog and sent it in. I knew I was a winner. However, when I got the response back, they indicated that I didn't have an aptitude for art. So that gave me the passion to work harder."
After graduating high school, he studied Art Education at the University of Toledo and stayed in the Toledo area, where he spent his career teaching art and creating his own. Right now, he's focused on creating work for the upcoming art show season, including land and waterscapes ranging from 6x8 inches up to 12x12 inches. He also donates several paintings a year to charity auctions for various causes.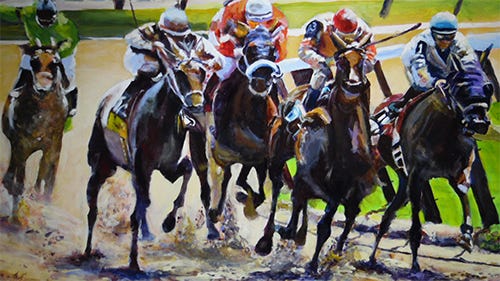 By Aaron Bivins
"My goal is always to be a little better after completing my next painting," he said. "Whenever I'm teaching or doing a painting demo, I'm reinforcing what I know and taking a lot of chances and breaking a few painting rules. That's how you get better."
He said he's been using American®Frame for 25 years and loves their fast shipping and affordable frames. He particularly loves the Gold Wood Picture Frame.
"I always tell people that if you ever have any framing or printing questions, stop out to the Maumee Showroom or give them a call," he said. "They can help you out."
When he's not painting, he says he's usually thinking about his next painting and planning how to keep improving.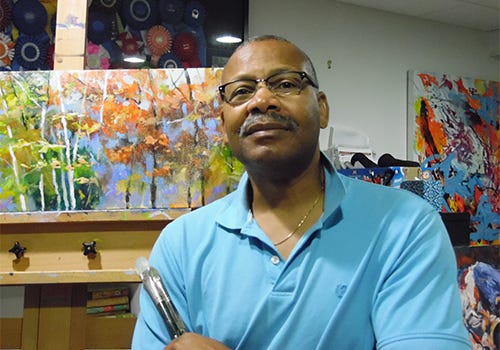 The artist in his studio
"When I'm not working on a painting I'm thinking about painting a picture and mentally going over my painting process," he said. "That includes the materials that I use and also if I should change or adjust the way I handle the different media."
See more of Aaron Bivins' work on his website.