It's true, pastels should have this acrylic in front of them.
When it comes to presenting works in pastels, no protective frame system is complete without Tru Vue® Optium Museum Acrylic.
But first, some beautiful history.
For centuries, charcoal and powdered minerals such as ochre and chalk have been used to make media that are used to make art. Some of the earliest works created with this meda include the Paleolithic cave paintings at Lascaux in the south of France, and preparatory drawings by Leonardo da Vinci and Michelangelo.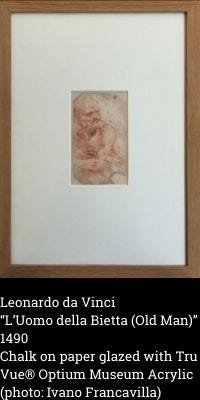 In the 17th and 18th centuries, pastels in a range of hues were being used in works of art more comparable to painting. Masters of the medium then included Robert Nanteuil and Maurice Quentin de la Tour of France; and Rosalba Carriera, a Venetian painter and one of the most successful women artists of all time.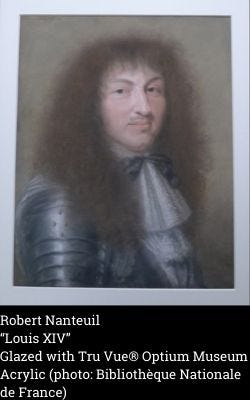 How pastels are made
Pastels are a mixture of pure powdered pigments with water containing a binder, such as gum Arabic. From that mixture a paste is made. The paste is dried and formed into sticks. Change the ratio of pigments to binder and the color vibrancy and intensity changes. Techniques like blending and scruffing controls tones and shading. The dry application of pastels allows for a rich interplay between medium and the support material on which the pastels are applied. Today, Rubén Belloso, a pastel painter from Seville, Spain, creates realistic works using this technique.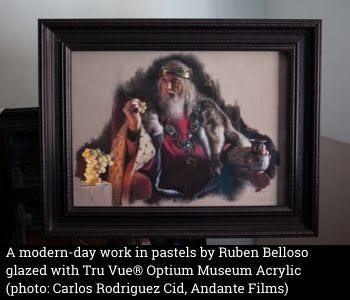 Currently, the paintings, pastels, and drawings of Amos Ashanti Johnson celebrate African and Black American cultural heritages. His works feature meticulous draftsmanship and commemorative or symbolic portraiture.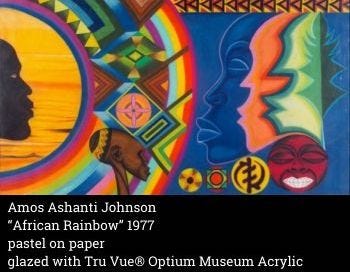 A challenge to frame properly
Brilliant colors; the flexibility to create both crisp and blurred details; and delicate and subtle texture: These are the reasons both artists and collectors love pastels.
However, because the medium is almost always applied dry, pastels do not bind securely to its support material. "Pastel is the lightest, most fugitive of techniques," said the French philosopher Paul Desjardin in 1889, "like the pollen of a lily, or the dust from a butterfly's wing that an artist scatters and fixes on paper."
Fixatives can be added to pastels, but many artists feel they reduce brilliance, change tone, and flatten texture.
To avoid damaging the composition, proper protection through glazing is recommended.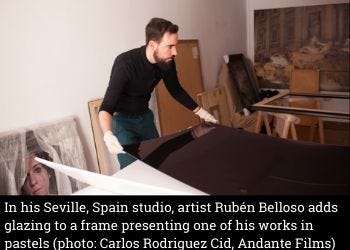 During the cleaning of conventional glazing products, static charge may damage charcoals, pastels, artwork with delicate surfaces, lightweight papers, and textiles. "Friable" media – those that easily crumble – may separate from their support material or take on a powdery form.
Because of its high static charge, acrylic glazing is typically avoided. Historically, glass – specifically laminated glass – has been preferred. However, laminated glass can generate a static charge that can take up to 11 seconds to dissipate, long enough for damage to occur.
The best solution for works in pastel
Tru Vue® Optium Museum Acrylic has an anti-static coating, so any static charge dissipates immediately and stays dissipated. The coating is permanent so it can't be wiped away and doesn't need to be reapplied. Based on independent testing, glazing with an anti-static coating is much safer for works in pastels and charcoal.