How to Hang a Triptych
First, let's define "triptych."
A triptych is a series of three photographs or paintings hung side by side by side in separate panels. Together, the three panels can depict a single scene. Or, they can each be of different subject matter that share a unifying them. (In the example, the black inkblot is the uniting subject matter.)
Framing a triptych.
Typically, the framing treatment on all three panels of a triptych will be exactly the same. This helps to fuse the three separate pieces and make them feel like a single larger piece of art. For our triptych frames, we chose the Brushed Satin Nickel Metal Frame without a mat. The frame's cool-toned nickel color contrasts with the vivid colors in the artwork. Also, the generous depth of the frame (it sits over an inch off the wall) commands the viewer's attention.
How to hang a triptych.
You don't want too much space between the three panels because it would disrupt the composition flow. We recommend three to six inches between each panel. The vertical center of the artwork should hang 57" to 60" off the floor.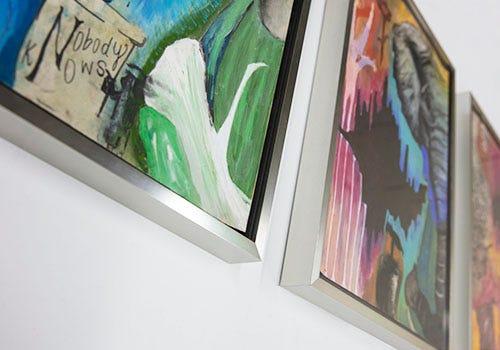 Close up of the Nielsen 117 Brushed Satin Nickel Metal Frame
But first, we recommend…
…cutting pieces of kraft paper that are the same sizes of your frames. On each piece, mark where your hanging system will be, including the spot where the wall nail will be placed. Then, using painter's tape, tape the kraft paper pieces to the wall. Make sure they are level and spaced appropriately. This will allow you to "see" how your frames will hang in your space before hammering any nails into your wall. Once you're satisfied with the arrangement, drive a nail through the spot you previously marked, take the kraft paper down, and hang your artwork.
At American Frame, we've got all the picture framing supplies and tools for hanging a picture frame, and experienced professionals who can tell you exactly how to hang a picture for the best and most visually appealing results.
Planning on hanging more than three pieces? Read our blog post filled with tips to hang a gallery wall.