How to Frame and Display a Triptych or Diptych
Throughout history, innumerable triptych and diptych works of art have been created—and this form of display continues to be popular in various applications, from artistic showpieces to home and workplace decor. Given the nuance involved in displaying a triptych or diptych, we're exploring this particular type of framing in more detail, with tips and information on how to frame and hang your own pieces.
What is a triptych or diptych?
A triptych is a series of three photographs, paintings or drawings, all hung side by side in separate panels. A diptych has the same basic premise, except that it comprises two panels instead of three. Together, the three or two panels are unified in depicting a single scene.
Alternately, each panel may be of different subject matter that share a connecting theme. In the triptych shown above, for example, the black inkblot is the unifying subject matter among the three separate works of art.
It is common for each of the triptych or diptych pieces to be the same size, and there should be an element of cohesion between them so that, when hung together, they create a unified display.
What kind of framing treatment works best?
Generally speaking, the framing treatment on all three panels of a triptych, or both panels of a diptych, are exactly the same. Applying matching frames helps to fuse the three separate pieces and make them feel like a single, larger piece of art.
Because most artists don't work in standard sizes, off-the-shelf framing products are often not a fit for triptych and diptych pieces. With custom framing, you access products that meet your work's individual size specifications, and quality selections can add both professionalism and value to your display. As with any type of artwork, the best framing choices for a triptych or diptych are ones that both protect the art and enhance its aesthetics, elevating both its perceived and real value.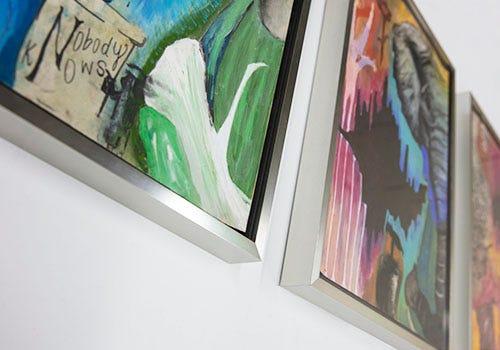 For our triptych pieces, we chose the Brushed Satin Nickel Metal Frame. The frame's cool-toned nickel color contrasts with the vivid colors in the artwork. In addition, the frame's generous depth, which has it sitting over an inch off the wall, commands the viewer's attention.
What's involved in hanging a framed triptych or diptych?
When it comes to displaying your triptych or diptych on the wall, it's important to avoid having too much space in between each of the panels, as this could disrupt the composition flow. We recommend allowing three to six inches between each one, as well as ensuring the vertical center of the artwork hangs 57 to 60 inches off the floor.
Aligning the framed pieces onto the wall in a straight, evenly spaced formation may seem tricky, but we have some pro steps to make this process simple:
Start by cutting pieces of Kraft paper to match the exact sizes of your frames.
On each properly measured and cut piece of paper, mark where your hanging system will be, including the spot where the wall nail will be placed.
Using painter's tape, tape the Kraft paper pieces to the wall, making sure they are level and spaced appropriately.
Once you are satisfied with the arrangement, drive a nail through the spot you previously marked.
Take the Kraft paper down, and hang your artwork in its place.
This easy method will allow you to visualize how your frames will hang in the space—plus make adjustments for proper leveling and spacing—before hammering any nails into your wall.
At American Frame, we've got all the DIY custom framing supplies and tools for hanging a triptych or diptych, as well as experienced professionals who can tell you exactly how to hang a piece for the best and most visually appealing results. In fact, you can receive one-on-one frame design assistance from anywhere in the country through our virtual showroom. Simply schedule an appointment and tell us a little about your project so our experienced team can curate personalized design choices just for you.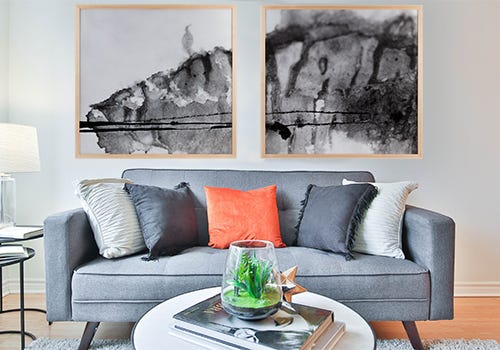 For our diptych pieces, we chose the Natural Maple Wood Frame. The frame's warm maple color provides a nice contrast to the black and white photography.