History in the Making: Wood County Museum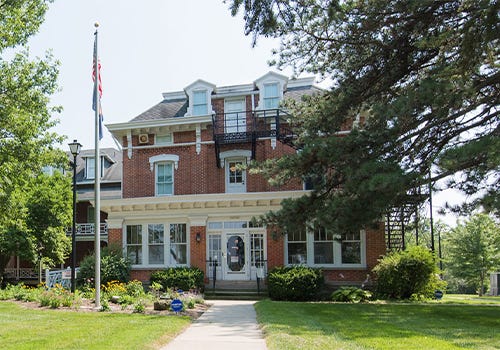 The Wood County Museum
Holly Kirkendall oversees a true historical treasure in Bowling Green, Ohio. The Wood County Museum's mission is to "make connections between the past, present, and future by capturing stories and cultivating memories" of Wood County and the County Home.
Holly is a native of Maumee, Ohio (where American Frame is headquartered). She earned a bachelor's degree in American history from Kent State University and a master's in history (with a focus on public history) from the University of Toledo. She previously spent five years at the Henry Ford Museum in Dearborn, Michigan.
Wood County Museum was founded in 1975 in the former Wood County Infirmary, which once provided shelter to the "underserved" – the elderly and those with developmental disabilities – on a 160-acre working farm.
Today, the museum is a non-profit, 501(c)(3) organization that cares for the collections, installation of exhibits, marketing of programs and events, educational outreach, and facilitation of the county's tax appropriation dollars for repairs and improvements to the buildings and grounds.
American Frame: How have historical museums changed?
Holly Kirkendall: Professionalization has changed things considerably. There's a misconception that the Smithsonian and other big national-level museums are the only ones working at professional levels. That isn't necessarily true. Small and medium-sized museums like ours are also using methods set forth by the American Association for State and Local History to unify the purpose of museums. Let's face it, people have a lot of options for how to spend their time and money. Cultural institutions want them to visit. If a museum like ours is going to be viable, we've got to be relevant.
What's the biggest challenge you face in presenting a collection?
The challenge is always, and I think most museums would agree, financial. There are so many things we'd love to do. But there are cost limitations. There's also never enough time. I'm limited in what we can plan. Museums aren't typically heavily staffed. There's just not enough time to do everything you want to do.
What have been the highlights of the seven years you've been there?
In 2017, we had record attendance for our World War I exhibit, which occupied two floors of the building. Then, we had an exhibit about popular culture in America in the years between the wars, from 1918 to 1939. It highlighted the art, music, fashion, and literature of that era.
When did you first become aware of American Frame?
"For Comfort and Convenience" was a photography exhibit we did in 2018. It focused on 88 county poor farms (also, "poorhouses"; government-run facilities to provide housing for the dependent or needy) that existed in Ohio until the 1930s. We hired a photographer to shoot, in their current condition, all 120 former poor farm sites in the state. American Frame did a great job framing all 120.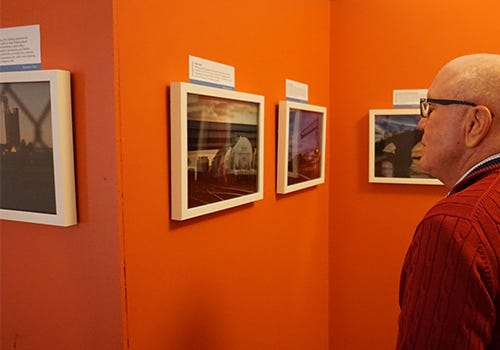 Art on the wall at the "Utopia" show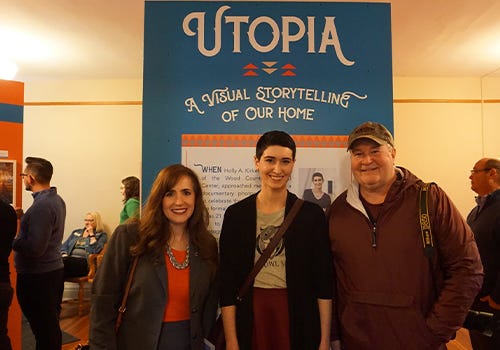 Taylor Houpt Ayres at the "Utopia" show
American Frame also did the framing for our current exhibit, "Utopia," featuring works by local photographer Taylor Houpt Ayres. Her shots of area landscapes, cityscapes, barns, and fields tell a great visual story. American Frame presents her work perfectly.
What's most important when you work with a framer?
When I put together an exhibit, I think about the audience. Who are we speaking to, what is our message The framing needs to look great, of course, because we're drawn in by the visual. If I'm working with an outside artist, having respect for their work is important. Preservation is also important. We've invested significantly, and our budgets aren't huge. You want the frame, and the art, to be around for a very long time. American Frame and their archival-quality work helps make sure they are.
What's next for the Wood County Museum?
Over the next year or two, we're looking at developing new collection spaces. Conservation-quality collection storage would really help in creating great exhibits.
We listen to our audience to find out what they want to see, and try to present a creative, engaging product once they walk in the door. We're in a great location. We get people from all over the state, from all over the country, from all over the world to come to this building. And like all museums, we're always trying to expand our reach.