Former Teacher Has Passion for Paper
Once, Steven Wipfli gave art assignments to his students. Now, he gives them to himself.
"I give myself daily challenges," he said. "I improvise with color, shape, design, and imagery. I am constantly on the lookout for new materials, techniques, and subject matter. I delight in the universal joy and satisfaction of making something with my hands."

Wipfli retired from Ottawa Hills Junior-Senior High School near Toledo in 2015. While there, he taught Art, Digital Photography, Graphic Design and AP Studio Art. After retiring, he devoted himself to his mixed media art full-time. He said he uses the same visual problem-solving skills he developed as a teacher in his art, which incorporate a variety of colors and textures in their depiction of landscapes and other natural elements.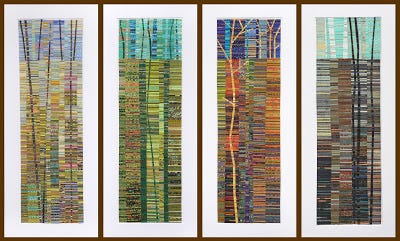 Wipfli was inspired to try his hand at that kind of art after visiting a quilting exhibit, then visiting an international paper store in New York City. Soon after that, he was collecting different kinds of paper and weaving them into his art like fabrics.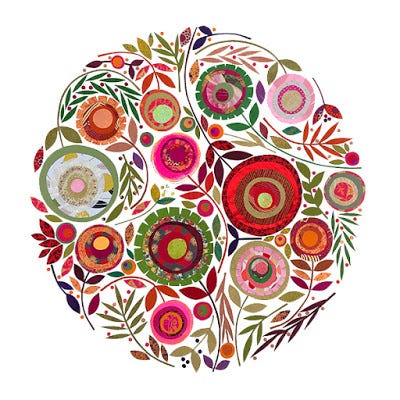 "I find relationships in the patterns, colors and textures," he said. "I piece together small bits to make larger structures. I have never grown tired of paper collage. The material choices are infinite, the textures and colors are exciting and inspiring."
These days, he frequents an exotic paper store in Ann Arbor, Michigan and is constantly on the hunt for paper that inspires him.
"I am constantly on the lookout for any kind of paper products that I could incorporate into my work," he said. "I have used art papers, gift wrap, scrapbooking supplies, bookbinding products, packing materials, ribbons, fabric, beads. I'll use anything that can be glued onto a flat surface."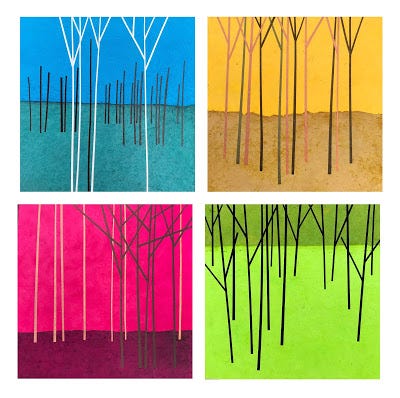 His focus on landscapes and other natural elements comes from his fascination with the shapes and repetition found in nature, he said.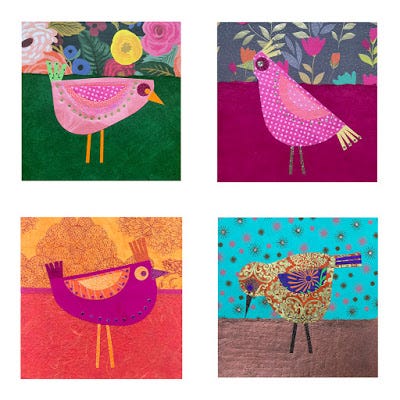 "I love the duality of earth and sky and the horizon line where they meet," he said. "I am often inspired by the Midwestern landscape which presents one vast, ongoing horizontal line, broken by verticals of trees and architecture."
In his work, Wipfli said, he tries to interpret those shapes in his own abstract style, weaving in his love of colors and textures.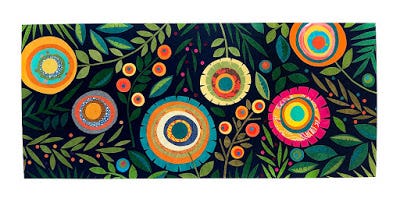 "I hope that my viewers enjoy the play of color, shape and repetition in my work, organized through a tight, geometric, modernist sensibility, and the colors, textures and patterns of found papers," he said.
Wipfli said he's ordered thousands of frames and framing supplies from American®Frame over the years, and favors neutral metal frames, usually in black.
"The American Frame staff is professional, detailed and friendly," he said. "Because I live in Toledo, the convenience of the AF showroom for checking out samples and for order pickup can't be beat. The quick turnaround for orders is a wonderful luxury."
His biggest tip to other American Frame customers, he said is to measure their art "twice, even three times" before ordering their frame to be sure it fits.
When he's not creating art or searching for the perfect paper, Wipfli spends his time volunteering, visiting museums, and cooking.
Next, he said, he wants to keep giving himself more challenging artistic "homework," including focusing on larger and larger pieces, and more time hunting down interesting paper.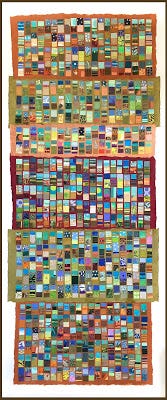 "My initial pieces were quite small," he said. "I have made hundreds of 5" x 5" collage greeting cards and framed pieces of similar small sizes. But I find larger scale work satisfying and challenging. I also am becoming interested in more representational work: whimsical birds, floral arrangements and landscapes."