Creative Custom Framing Gifts for the Loved Ones in Your Life
From holidays to birthdays and every gift-giving occasion in between, there's a desire to find something truly special for the loved ones in your life. Often the most valuable gifts are those that are chosen thoughtfully and from the heart—that speak directly to a person's favorite moments, memories, achievements, passions and dreams.
For such meaningful tokens, custom framing is a perfect choice. And we're here to guide you with a host of framing ideas for the cherished giftees on your list. Regardless of their personality or pleasure, there's sure to be a creative custom framing application that suits their needs. Use the following list to help curate just the right gift for the many different loved ones in your life.
For the Newlyweds
If you're seeking to gift something beautiful to the newly married couple, there's more than one way to leverage custom framing for this momentous occasion.
Wedding photography: From posed portraits and family photos to impromptu group and individual shots, custom frames can bring these memories back to life for the blissfully wedded. Consider antiqued gold and silver leafed frames for a distinctive and beautiful display the newlyweds can appreciate for a lifetime.
Wedding vows or sound wave art: Marital vows are a living covenant, and what better way to celebrate them than by preserving and displaying them in a custom frame? Alternatively, you could have the song from their first dance or other meaningful wedding moment turned into sound wave art, elegantly framed for endless enjoyment.
Honeymoon pictures: Some of the most enchanting and exciting moments happen after the wedding, when the couple embarks on a honeymoon. Photos captured during this special time can be custom framed to remind the newlyweds of their happy adventures.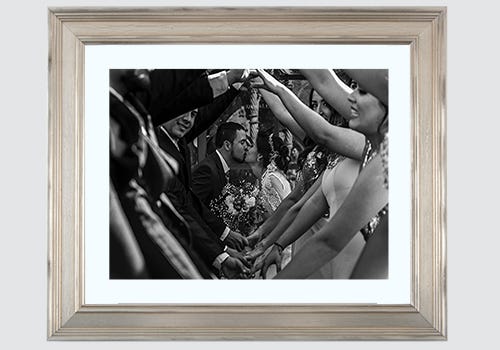 Antiqued silver leaf frames create a distinctive display for your wedding photography.
For the Free-Spirited Friend
Looking for a gem of a gift for that free-spirited friend? Find something that speaks to their soul, and have it custom framed so they can enjoy it for years to come. Some inspired ideas include:
Concert memorabilia from a favorite performance
The race bib from a meaningful marathon, triathlon or other type of race
Event tickets from sports games or festivals
Travel photos that showcase fond journeys
Photography of a favorite place
A poster from a particular park, concert or event
From single-frame displays to collage or gallery-type ones, there are so many creative ways to gift custom framing for a free-spirited friend. If you're aiming to showcase several photos or items in one beautiful arrangement, think about going for a multi-opening mat board. There's also the option to create a shadow box, assembling meaningful trinkets and photos that encapsulate your friendship or highlight a shared vacation or hobby.
Frame a photograph from a favorite concert to enjoy the memories for years to come.
For the Graduate
For the loved one who has recently graduated from a school or institution, get that diploma or certificate out of the filing cabinet and onto display. Surround it with activities, leadership awards or other special documents and photography to commemorate the hard-won achievement. Leverage matting—available in various colors, thickness and textures—to elevate and enhance the visual effect.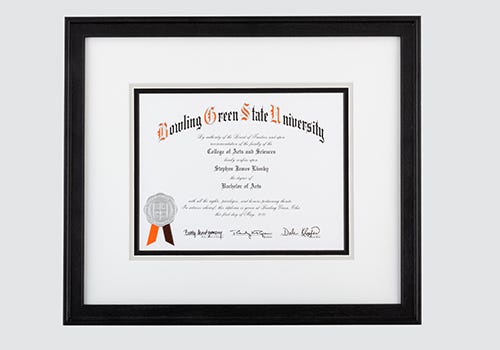 Don't let a hard earned diploma sit in a drawer or closet. Frame it and display it proudly.
For the Art Enthusiast
Whether you're gifting for an experienced collector or simply someone you love who happens to love the arts, there's a multitude of ways to use custom framing to your advantage.
Perhaps it's a piece of art on stretched canvas. Be sure to find a frame with the proper depth to accommodate the thickness of the canvas. Or maybe there's a print you know they'd love to have framed for display. Match the medium to the framing treatment to ensure you give the gift of a high-quality aesthetic. Watercolors, for example, tend to work best with light-colored matting and very simple frames.
Have a simple art card or small print from an amazing art show they attended? Consider a frame that includes especially wide matting for added presence on the wall. For essentially any asset that is relatively cost-effective, there are ways to enhance the presentation and elevate its visual appeal.
Of course, there's always the option to enable your art-loving loved one to choose their own frame for a treasured piece of art—with the gift of an American Frame gift card.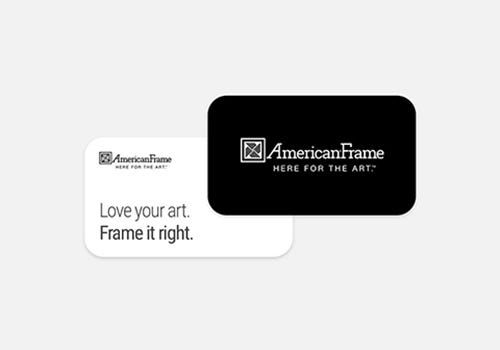 No matter the occasion, American Frame gift cards always make the perfect gift.
For the Artist
Just as with the art enthusiast in your life, the artist on your gift list may be the appreciative recipient of framing treatments that preserve and display their unique, personal works. Even beyond the frames themselves, however, you might consider gifting them the tools they need to excel in their passion and business. Check out this list of framing accessories and essentials for the artist in your life.
And remember, artists have their own favorite artists. So your artistic loved one may love a framed piece from someone they admire. When in doubt, the American Frame gift card makes it easy for your giftee to select the framing treatment of their own style and choosing.
For the Business Colleague or Client
It can be tough to find the ideal gift for a workplace colleague, client or friend. But framing treatments can be utilized in a number of ways to offer the perfect present. Consider framing expressive items like:
A special certification
An endearing team photo
A print of a local artist
Here, once again, the gift of an American Frame gift card can come in handy for the client or colleague on your gift list.
For the Traveler
When gifting for a loved one who walks in the direction of their wanderlust, the sky's the limit for custom framing applications. Most obvious are framed photos of their most memorable travels—from hiking summits to beachy sabbaticals—or simply a professional shot of their favorite place to go. You might even opt for framed memorabilia such as train or airplane tickets and display-worthy souvenirs.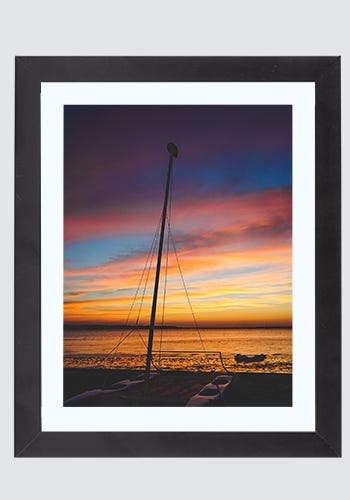 Frame a photograph from a recent vacation to cherish the memories.
For the Parents or Grandparents
Last but certainly not least, there's no shortage of creative ideas for gifting custom frames to the parents and grandparents in your life.
Family photos: You probably have more of these published online than you know what to do with it. For an extra special gift, take the time to print and frame your favorites from a cherished trip or the many memorable moments over the years.
Framed children's art: Grandparents are sure to swoon over anything the kiddos put together. Let your little genius shine by displaying their work in a custom frame for the Grands to enjoy.
For new parents or grandparents, there's nothing much sweeter than a custom-framed birth announcement, set of footprints or display of maternity and newborn photos. For added inspiration, read about four of the most meaningful framed gift ideas for new parents.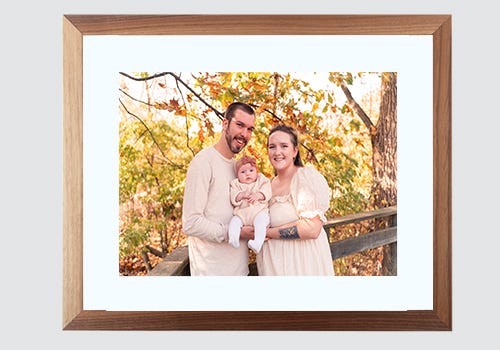 Family photographs make perfect gifts for new parents as well as grandparents.
No matter the recipient for whom you're seeking a creative custom framing gift, you can rest assured that American Frame is here for you. Need a little extra guidance? Receive one-on-one frame design assistance from anywhere in the country through our free virtual showroom. Simply schedule an appointment and tell us a little about your project so our experienced team can curate personalized design choices just for you.