Artist Profile: Paul Verdell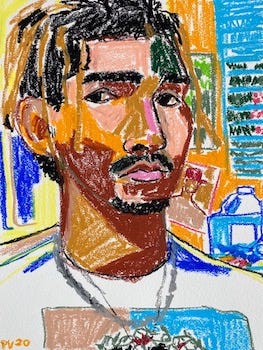 Self-Portrait by Paul Verdell
During World War II, Pablo Picasso was unable to procure oil pastel sticks, his medium of choice. After the war, he persuaded a French manufacturer of fine art products to start producing them. The sticks have remained popular since the time Picasso used them to create many of his most prominent works.
Today, at 29, artist Paul Verdell uses oil pastel sticks – he calls them "grown-up crayons" - to make distinctive, strikingly dramatic, colorful works of art.
Verdell was born in Long Beach, California. At age 13, his family moved to Fremont, Ohio. He attended Bowling Green State University, where he earned a bachelors in fine arts. He now maintains a studio in Toledo.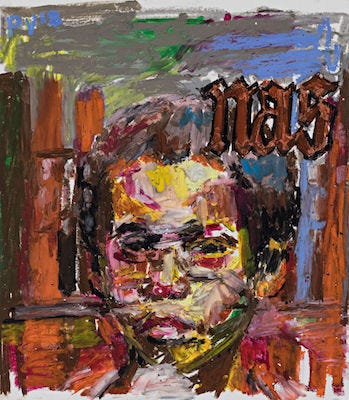 Illmatic by Paul Verdell
NOTE: This interview was conducted in May 2020, in the midst of the Coronavirus COVID-19 crisis.)
American Frame: What were your earliest memories of your interest in art and being an artist?
Paul Verdell: When I was trying to draw cartoon and anime characters on Saturday mornings.
How would you describe your style?
I don't know yet. These days, I'm heavily influenced by impressionism and postimpressionism.
How did your current style develop?
It evolved over time. It started with smaller oil pastel drawings and gradually became larger paintings in oil stick.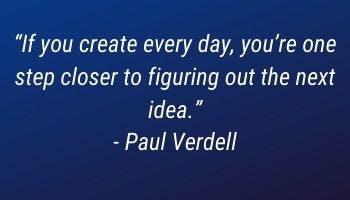 A quote by Paul Verdell
Why is making art so important to you?
I like the documentation aspect of it. Right now, I'm doing a lot of portraiture. I enjoy making a stamp in time.
What media do you work in?
Oil pastel, oil stick, and oil paint.
Is art your business or your hobby?
Both.
When and how do you make time to create?
When I was working (at the Toledo Museum of Art) before COVID-19 hit, I'd try to find time during the day. If I worked in the afternoon, I'd make art in the morning. If I worked in the morning, I'd paint in the afternoon. But now, I'm painting all the time.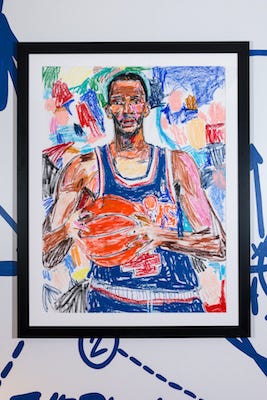 Ron Harper by Paul Verdell
Terrell Brandon by Paul Verdell
When you're not creating, how do you spend your time? What else interests you, and how do those interests impact your art?
I like to read, listen to hip-hop, watch '80s and '90s gangster films. Hip-hop has influenced my color palette a lot, especially '90s hip-hop, when the clothing was really colorful. I think about brands like Fubu, Coogi, Tommy Hilfiger. I also think about impressionist works I see at the Toledo Museum of Art.
Who has been your biggest influence as an artist?
It changes often. My favorite artist right now is a modernist portrait and abstract artist, Beauford Delaney (1901–1979). I'm also really into Alice Neel, Kerry James Marshall, Henry Taylor, Danny Fox, and Willem and Elaine de Kooning.
If you could meet any artist in the history of the world, who would it be and why?
Probably David Hammons. I've always been interested in conceptual art that isn't as linear as painting, with paint or sculpting with clay. I'd ask him how he knows when something "works."
What is your biggest challenge as an artist?
Right now, it's making large-scale paintings. Always a battle.
How do you break through creative blocks?
I try to make something every day, even if it's bad. If you create every day, you're one step closer to figuring out the next idea.
What are you most proud of?
Having artwork in the arena where the Cleveland Cavaliers play (Rocket Mortgage FieldHouse), and being able to afford my own studio.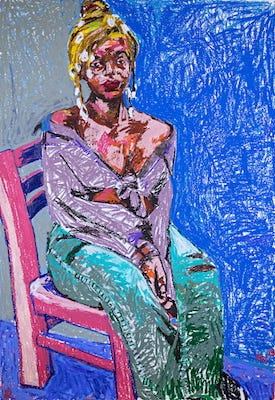 Erickka and Pink Chair by Paul Verdell
How did you discover American Frame?
I heard about American Frame while I was going to BGSU for my bachelors in 2015.
What do you love about working with the American Frame team?
They're very friendly and willing to help. I like going to the showroom (at the American Frame headquarters in Maumee) to get advice on what frame would make my artwork pop.
What is your favorite frame American Frame carries?
I love the wooden frames. I used them on two paintings and they made the biggest difference.
What advice would you give artists reading this?
Be authentic when making your work. Don't worry about what the next person is doing.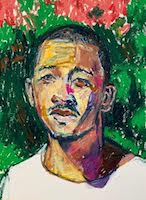 Dijon by Paul Verdell