Artist Profile: Gregory Lang
A highly successful painter whose work has been published and distributed to over 70 countries worldwide, Gregory Lang has been painting and sketching landscapes for most of his life. Born and raised in Connecticut, he spent a great deal of time in New York City galleries and museums. He was constantly sketching, painting, or working on some artistic project, and his earliest artwork reflected his environment.
Gregory briefly studied architecture, a particular love of his, but knew it wasn't the profession for him. He moved to California and, to support his creative endeavors, worked in art galleries as a fine art consultant. He began at a San Francisco gallery in Union Square in 1993. With a penchant for selling art, he soon took a position as President of the world's first virtual art gallery. Simultaneously, Gregory launched a fine art publishing company for emerging artists, which involved two large retail galleries in Silicon Valley and a sizable budget. During this busy time of his life, his own artwork was put on hold. He became more involved in the tech world and consulted for several startups, eventually landing a position with a B2B e-commerce firm.
In 2001, Gregory decided to get back into the arts, opening his first gallery in San Francisco's historic North Beach neighborhood on Grant Avenue. He cleaned up an old Italian deli and turned it into an emerging artists gallery, representing about a dozen fine artists. He also introduced his urban abstract series of cityscape paintings, which became incredibly successful. He signed numerous publishing contracts, including with the London department store John Lewis.
After seven years of running the gallery and painting, Gregory made the decision to turn his full attention to his painting career. In 2007, he left San Francisco for the North Coast of Sonoma, where he found a quiet cabin in an old growth forest. This property became the inspiration behind his most recent series of landscape paintings.
American Frame connected with Gregory Lang to find out more about his career and inspiration. Our insider Q&A provides a closer look at Gregory's work, artistic approach, and personal insights.
Q: What is your medium?
A: Oil, acrylic, and charcoal mostly.
Q: Is your art your occupation or a hobby?
A: My career.
Q: How do you make time to create?
A: I turn off my phone ringer—and apologize a lot for not being able to keep up with friends and family.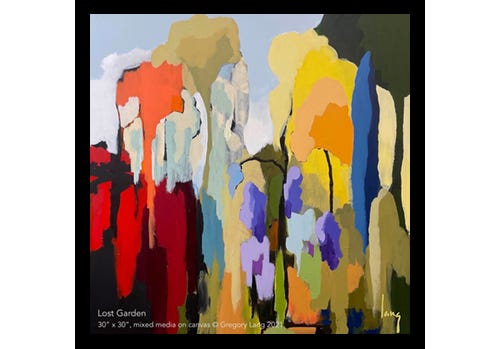 Lost Garden by Gregory Lang
Q: Who is your biggest influence as an artist?
A: I'd have to say Claude Monet. I have probably studied Monet more than any other artist, and I never tire of looking at his work.
Q: If you could meet any artist in the history of the world, who would that be and why?
A: Fun question, though hard to answer, as there are so many. I consider architects to fall under the artist category, so I guess I would have to say the believed architect of the Great Pyramid of Giza, Hemiunu. I would love to meet such a brilliant designer and hopefully answer some long-baffling questions about the Great Pyramid.
Q: What is your biggest challenge as an artist?
A: Keeping to a schedule and maintaining a consistent level of productivity.
Q: How do you break through creative blocks?
A: I don't experience this; it has never been an issue for me. My creative faucet always seems to be running.
Q: What are you most proud of?
A: I don't think I am there yet. I like that people recognize my work and attribute me as the originator of the urban stretch style of painting, but I hope the best is yet to come.
Q: How did you discover American Frame?
A: Online research.
Q: What do you love about working with our team?
A: The responsiveness and helpfulness—and great quality frames!
Q: What is your favorite frame that we carry?
A: I like the Antique Silver Canvas Float Frame and the Matte Black Canvas Float Frame.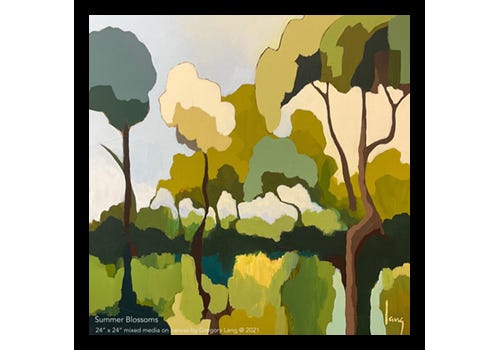 Summer Blossoms by Gregory Lang
Q: What piece of advice would you give to artists reading your story today?
A: Well, every artist has their own goals. For me, I have to work hard at learning to walk away from a painting or creative project that isn't happening. Sometimes you just have to give up on something for a while and start something new. I tend to get fixated on a work, and if it's not happening, I just need to put it aside for a while. I have wasted too much time on work that never turned out the way I wanted it to.
For additional information about Gregory Lang or his gallery in St. Helena, CA, you can visit www.gregorylangstudio.com.
Abstract Number 141 by Gregory Lang