Artist Profile: Barbara Plezia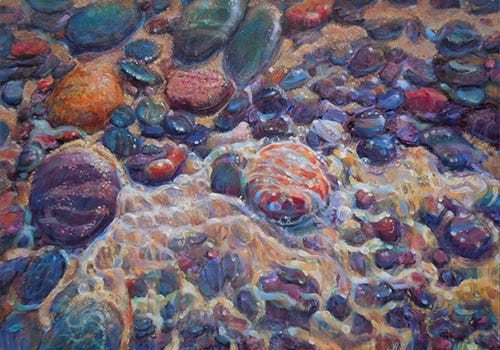 "Pudding Stone-Whitefish Point" oil and acrylic
Growing up on a large farm in Bay County, Michigan, artist Barbara Plezia got plenty of creative inspiration from nature. "I remember sitting on top of a combine, drawing hens, horses, flowers. I'd study the creek, looking for spiders and minnows. Now, as a professional artist, one of my favorite subjects is my gardens."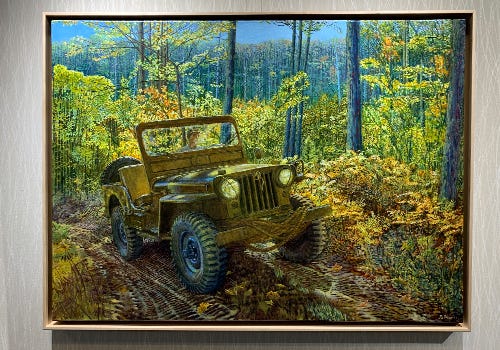 "Soldiering On: The Highlands of Grayling Michigan."
After earning a BA in graphic design at Detroit's Center for Creative Studies, Barbara worked at several design agencies as well as the in-house design group at the Ford Motor Company's world headquarters in Dearborn. There, she designed interdepartmental brochures, computer graphics and logos, and did some illustration.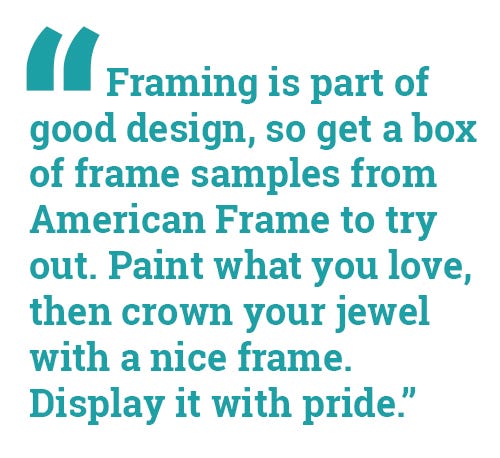 A quote from Barbara Plezia
"I always kept a sketchbook," says Barbara. "That certainly helped my transition to painting because I got a lot of my ideas down in countless thumbnails."

Her creative journey also included designing museum exhibits for a small, northern Michigan historical museum.

After Barbara and her husband raised three daughters, she went back to being a full-time artist. Today, Barb also teaches art privately and at local art centers in and around her hometown of Midland, Michigan.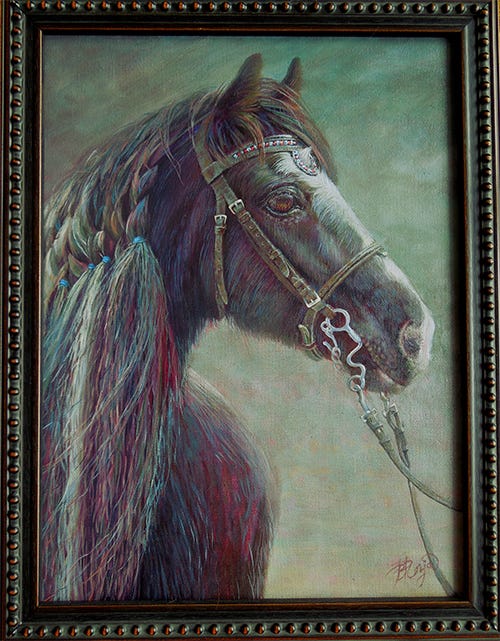 "Handsome Gypsy Vanner" oil and acrylic, in a frame from American Frame
American Frame: How would you describe your artistic style?
Barbara Plezia: Naturalism. My love is Michigan landscapes.

Your medium of choice?
Oil and acrylic.

Is being an artist your job or a hobby?
It's my occupation.

How do you make time to create?
Painting is important to me. Even with an outside job (teaching art), I need to minimize distractions or nothing gets done.

Your biggest influence?
The woods, the peace, the serenity and beauty I find here in northern Michigan. Creating a painting based on how light influences a scene or sensing a connection that makes my soul happy, that's what I'm going for. Also, my family are my greatest supporters.

If you could meet any artist ever, who would it be?
Aldro Hibbard. He was a plein air painter in the early and mid-1900s. He painted wonderful landscapes of Vermont, typically snowy landscapes. He worked in oils, and his composition and atmosphere was so striking and dramatic.

What is your biggest challenge as an artist?
Draftmenship. Color relativity. Self-doubt. That's three of 100 challenges I face.

Do you ever get creative blocks? If so, how do you overcome them?
Two things are helpful. First, I work on two paintings at the same time. Solving one helps with the other. Secondly, I'll tell myself that what I'm working on is just a study. It might be a 24" x 36" study, but that's OK. It's not about perfection. It's about the process, it's about doing. I play the piano, but I never sat down and thought, "This will be a concert to remember." It was always about practice and playing for the love of it. Some days, there's so much self-talk. So I got a dog.

When you're not creating your art, what do you like to do with your time?
I get outside. I sit on a folding chair and sketch my chickens, my horse, go riding on my bike and bring back eight-foot sticks, thinking they'd look good in a still life. When I fish, I take a waterproof camera along. And if you rock hunt along Whitefish Point (at the tip of the Upper Peninsula of Michigan), wear a belt because you'll fill your pockets. I certainly do.

What are you most proud of?
For years, I designed exhibits for historical museums, including several that were large interactive exhibits for a museum in St. Ignace, Michigan. The Smithsonian included the museum on their list of suggested tours of this region.

Also, last year, I entered a contest to design the trophy for the inaugural Great Lakes Bay Region Women's LPGA golf tournament. My idea was a 24" x 36" oil painting that would capture the Great Lakes, women, and teamwork. My idea was chosen, and I had less than six weeks to create three oil paintings. The committee thought it would be nice to make it an all-Michigan production, including the framing, but that didn't exactly work out.

And that's how you discovered American Frame?
It is. The media day for the golf tournament was moved up, so I had just a few days left to get my three oil paintings framed. Craig from American Frame met me in Ann Arbor, which is between Midland and Maumee, Ohio (where American Frame is headquartered) to give me the frames. I took them back to Midland. Beautiful frames, delivered on time. What great service.

What's your favorite American Frame frame?
It would have to be the Natural Maple Canvas Float Frame, which was used for the three golf trophies and for my landscape, "The Highlands of Grayling."

What advice would you give artists?
Number one, paint what you love. Number two, framing is part of good design, so get a box of frame samples from American Frame to try out. Paint what you love, then crown your jewel with a nice frame. Display it with pride.