Artist Profile: Athena Art Society
It's one of the oldest women's art organizations in the country.
The Athena Art Society was started in November 1903 by Nina Spaulding Stevens, the wife of the director of the newly created Toledo Museum of Art. Athena was formed to "assist and encourage women in all branches of the fine arts." The majority of the original members were painters, printmakers, musicians and writers. The group met for two sketch sessions a week, plus a monthly social evening during which artwork was displayed, readings were given, and instrumental selections.
Athena's mission has always been to promote and develop the visual arts, stimulate further community participation in art, sponsor demonstrations, seminars, internships, and exhibitions, and provide instruction for the members and the community.
Athena offers scholarships to young women in the arts. Each year, two scholarships are given to high school students, and two to college students.
Throughout its history, Athena membership has included many of the area's most well-known women artists. Athena members continuously receive awards for their work locally, regionally and nationally.
Today, the members of the Athena Art Society embrace and acknowledge the rich heritage of the society's past and share their creative gifts to keep the beauty of the arts for all.
We asked a number of current Athena members to tell us about their art, and their creative process.
The pandemic has freed up my time to experiment with my painting. I have time to play with different materials, try different techniques, and to be in touch with my inner self. Following art museums and artists virtually has been a valuable resource when I'm not sure where the next step in my painting should go—the hardest part for me. At the beginning, painting is automatic and comes easily. Then, my background knowledge takes over to pull the painting together. I build up layers of shapes and colors while I'm scraping into other layers. At the same time, I explore with mixed media in my artwork to add texture and dimension. Just recently, the Toledo Artist Club has opened. Having other artists around has energized my thirst for discussing art.
My love for American Frame has gone back to my days in art school. They've always been supportive and have suggested new ideas to showcase my art.
I have always enjoyed combining text and art, even as a kid writing horse stories with pictures. Later I branched out into note cards, brochures, t-shirts, a book of my dance poetry, and a children's book, "The Middle Princess." I pursued design at BGSU (Bowling Green State University) before the advent of computers. I used these skills in administrative positions in New York City years ago. I love color and texture. For a while I did my own version of macramé wraps, and I pursued pottery—hand building and extruding—studying with Julie Beutler, and others. When I got Lyme disease, the effects forced me to stop all of that. Now I love to create collage and alcohol ink abstracts and dreamscapes. I also seem to be going full circle to create new text and alcohol ink magic, including an art collage story and a book inspired by it.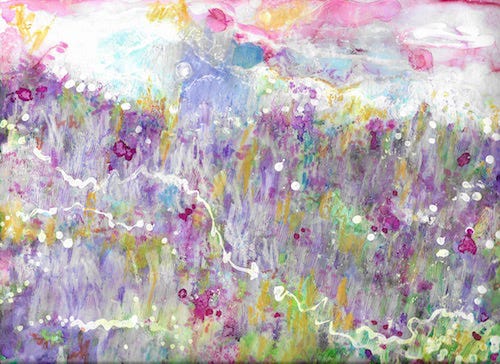 Field of Dreams by Melanie Stinson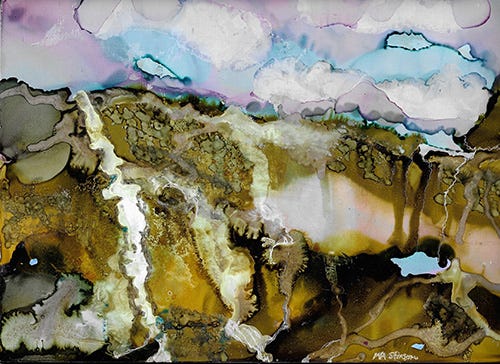 Dreamscape by Melanie Stinson
American Frame: How do you make time to create?
Melanie Stinson: I feel as though I don't think that way. I Zentangle when I'm on the phone. Ideas are always percolating. I work on a variety of pieces, going from one to the next.
How do you break through creative blocks?
Sometimes I recognize them as a time of rest—gestation—and allow them to be. Other times I use various energy psychology techniques, like tapping (EFT) to clear them.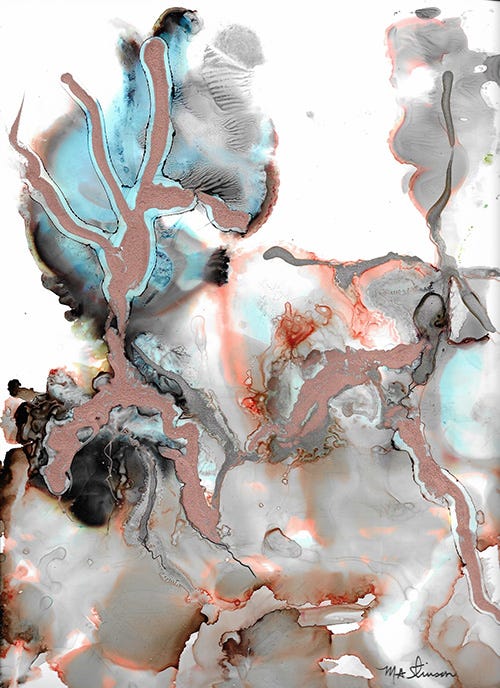 Treesong by Melanie Stinson
American Frame: How did you discover American Frame?
Melanie Stinson: Well, my father was an artist and professor of art and art history at BGSU. And when he didn't build his own frames, he used American Frame.
From crayons to natural bristle brushes, I have always had the desire to create beauty. My passion took root in the late 80's as I began painting murals, enhancing the atmosphere of a space, which led to full time work.
Deadlines and self discipline, not waiting for an inspiring moment, is my operation mode. Inspiration comes when I get down to business.
Client expectations and working within restrictions (color scheme, period design, space limitations and client desires) are my greatest challenge and greatest joy when a project is accomplished and all are happy.
When I have trouble with a creative block, it helps to look through my collection of art books. Art museums and gallery shows are ALWAYS inspiring.
As an award winner for one of my paintings, I received a gift certificate from American Frame. What a wonderful discovery it was! Every order has arrived on time or sooner. The professional expertise always leads to the best solution. The showroom displays are always worth stopping in for and the friendly service always makes the stop enjoyable.
Simply put, I love to paint. In my retirement from school counseling, I am able to paint in both southwest Florida and northwest Ohio and enjoy participating in competitions and exhibits in both of these areas.
I'm especially drawn to plein air painting, painting outdoors on location. Much can be learned about color and light in this process, plus it's always fun to meet the people of a neighborhood and enjoy the sights and sounds of your location.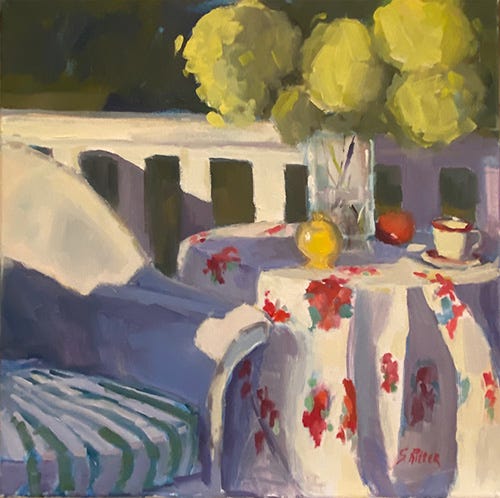 Green Hydraengeas by Susan Bunce Ritter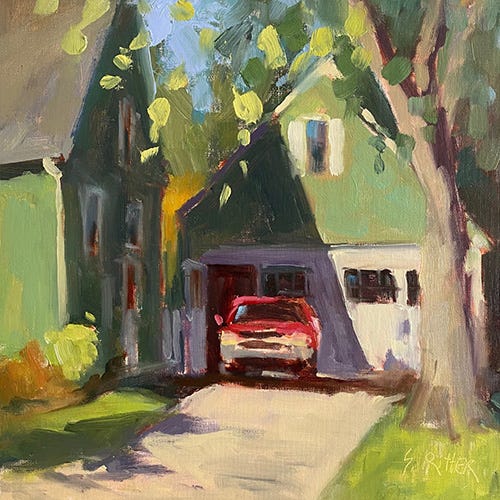 Red Light, Green Light by Susan Bunce Ritter
When painting en plein air as well as from photos, my subjects are often structures or scenes that have great light and shadow and color appeal. On a sunny day the choices are endless.
I first heard of American Frame through a Florida artist who purchases custom frames online for her watercolors. Now I'm a happy customer as well! American Frame has assisted me in many projects over the years.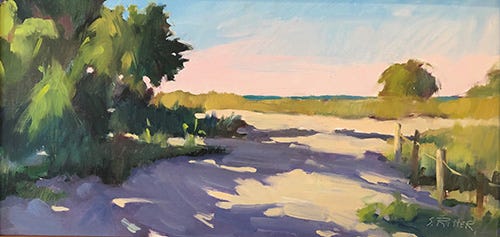 Lovin' The View by Susan Bunce Ritter
American Frame: How do you make time for art making?
Kim Sockman: I set a sunrise alarm clock for 7 a.m. I know I am retired and living through a pandemic but I have to set an alarm so there is time in my day for other interests other than art making. I work in my studio from 10 to noon and 2 to 4. Sometimes the sessions are longer. I walk one mile every day at 9 and take one photograph that will likely become a watercolor.
I am illustrating a children's book entitled "Aunt Mary's Pottery " that I work on in the morning studio session and my watercolors or mixed media pieces in the afternoon. A couple of times a month I use a simple computer program to create new designs for my line of greeting cards (Kimmer Cards) that I sell locally in two stores. Anything that I want to continue on from my studio sessions into the evening goes into a basket that I can work on from the sofa while watching Netflix. Can you tell I was a teacher before retirement?
What's your biggest challenge as an artist?
I get blocks and lengthy periods of procrastination. Sometimes the studio sessions are spent researching children's books, illustrators or watercolor techniques rather than actually producing art. I even procrastinate by reading articles on procrastination. I find consistency is the key to any success, so I just get up at 7 and plug along. I have started over on "Aunt Mary's Pottery" three times, with two completely different dummy books. The daily photographs have picked up interest on Instagram. They have morphed into a late summer exhibit hosted by a Bowling Green business downtown. My mixed media pieces will be displayed at ArtWorks in Bowling Green, also late summer. And lastly, finished illustrations for "Aunt Mary's Pottery' will be displayed at our local bookstore in September 2021. Maybe I better set that alarm for 6 a.m.
How do you break through creative blocks?
Creative blocks are soul crushing. They require a lot of tenderness and attention. The daily walk originally was meant to simply clear my head. As Julia Cameron writes in "The Artist Way," it is important to walk without the goal of fitness, just to get out there and think. I have done lots and lots of journaling, doodling. I'll visit the River House Arts or Hudson Gallery websites and I'll read Art in America. Even cleaning and organizing my studio is time well spent while I wait for the magic to happen. And it always seems like a surprise when it does. As if I didn't plan for it.
How did you discover American Frame?
When I was an undergrad art student at BGSU, our professors like Bob Mazur taught us how to build and stretch canvas for our paintings and introduced us to American Frame for our framing. I was fortunate to earn an American Frame award at one of our annual undergrad exhibits in the early 80's.
Later, when I was teaching art to high school students, I taught them how to order framing supplies from American Frame online in the classroom and I picked up the supplies. We would frame together after school in preparation for competitions like the Focus Exhibit held at the Toledo Museum of Art.
And, of course, now I use American Frame for my own work. I started a business, Sockman Paintings, a few months after retiring from 31 years of teaching. Christine set me up with a business account at American Frame and she has helped me get ready for quite a few juried shows. I use American Frame's photography services now. I've been able to send an oversized watercolor print directly to a buyer in Wisconsin. Putting my watercolors and mixed media pieces on a website with a shopping cart allows me to use American Frame's print service like that and just ship away.
Connect with Michelle on Instagram @paine.michelle
I made stacks of drawings from the time I could hold a crayon and took as many art classes at school as I could. My family traveled abroad a great deal and some of those trips (such as to English cathedrals) were seeds of my future creative work. I majored in English and Art History at Gordon College in Massachusetts, including a year studying art history in Italy. After finishing college, I returned to Italy to live and work for three years. In graduate school for painting at the University of New Hampshire, my experiences of sacred architecture from that time in Italy became a prominent theme of my paintings. I continue to explore imagery from the architecture and religious and art historical sites of Italy in my paintings.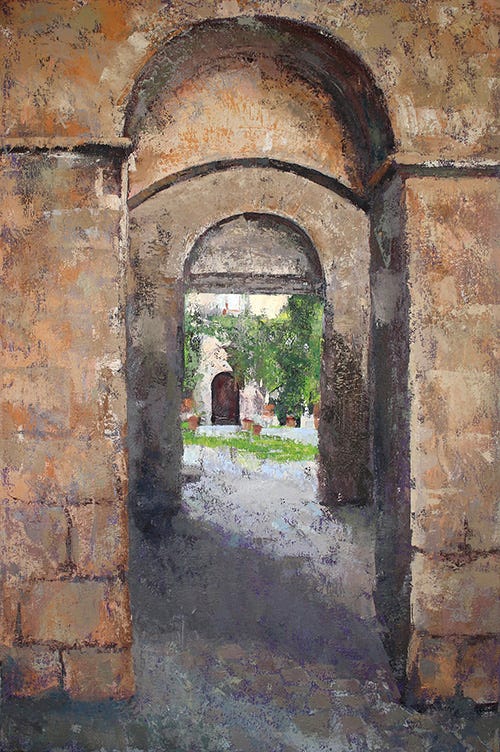 Courtyard Bagnoregio 2 by Michelle Paine
American Frame: How do you make time to create?
It can be a struggle. Last spring (2020), when it became clear that the children would not be returning to in-person learning before the end of the school year, I sat down with my husband and we worked out a schedule where I would start working in the studio early in the morning while he got the kids ready and then I came upstairs to work with them on school when it was time for him to go to work. The strategies to keep creating have changed over the years but I have always understood the need to plan and be intentional about creating time to create.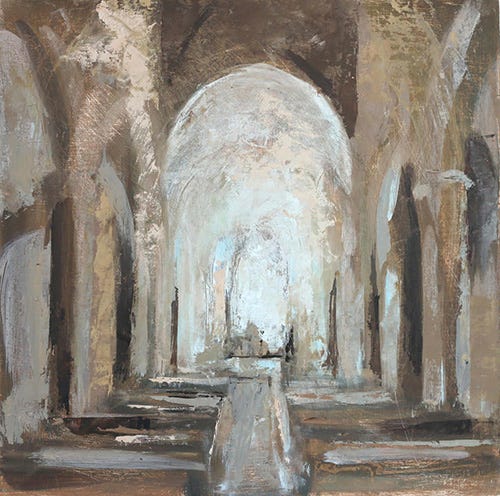 Revelation by Michelle Paine
What is your biggest challenge as an artist?
I have so many ideas. And now there are multiple themes I have been working with for many years. Knowing when to present new work and in what venues is always a challenge.
How do you break through creative blocks?
When I am struggling with a particular piece, I try and approach the image or subject matter in a different medium. If I'm having trouble with a painting, I make a drawing of it. If I'm having trouble with color, I switch to black and white. If a large painting is giving me trouble, I make a small study. The variety helps me approach the problem from a different perspective.
How did you discover American Frame?
When we first moved to the Toledo area from New England five years ago, the mayor of Maumee happened to be the lawyer reviewing our real estate transaction. When he found out I was an artist, he had to tell me about all the resources for exhibiting, framing and printing at American Frame.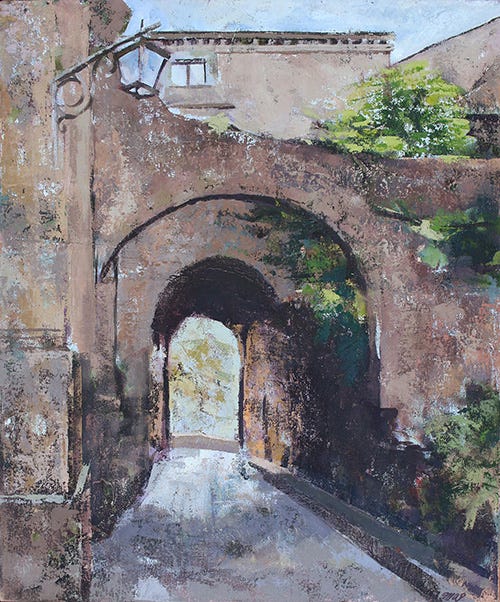 Passage: Bagnoregio by Michelle Paine