Artist Captures Famous Faces, Personalities
A gallery of John Kascht's work
There are very few places where you might see Abraham Lincoln, George Burns and Diane Keaton mingling with Prince and Edgar Allan Poe.

John Kascht's online gallery is one of them.

The Pennsylvania-based caricature artist's work has appeared in The New York Times, Entertainment Weekly, Rolling Stone, Esquire, GQ, Time, and countless other well-known publications. Two dozen of his works are currently featured at the Smithsonian National Portrait Gallery.

"It's not that hard to make a recognizable drawing of someone," he said. "But I want to really nail the person and the personality."

Though his work primarily focuses on the super famous, he said every drawing also contains a little bit of himself.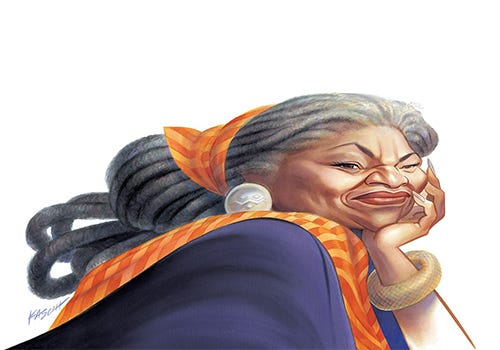 Toni Morrison
"To some degree, portraiture is self-portraiture," he said. "If a dozen portrait artists painted the same subject, they would all look different. Every artist sees through the lens of their own experience. They notice different things or notice the same things differently. That says something about the person doing the looking, not the subject."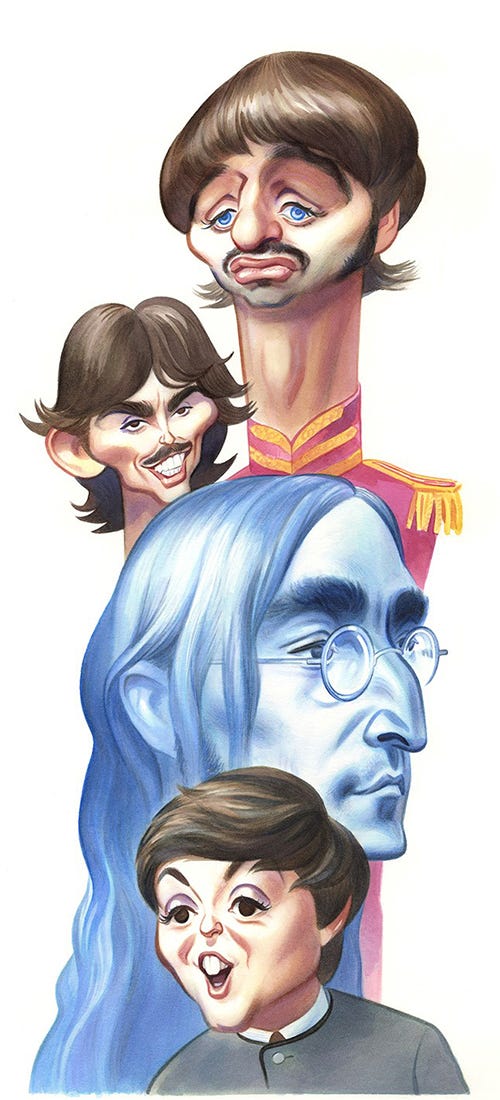 The Beatles
Kascht said that passion for observation has been with him since he was a child. He'd do impressions of everyone from family friends to his dentist to the celebrities he'd see on TV.

"When someone asks me how I got into caricature, I always say that it happened the other way around; caricature got into me," he said. "I've always been a rather obsessive observer of people and an exaggerator. Long before I drew caricatures, I was performing them."

In grade school, he paired his love of mimicry with his passion for drawing and started producing caricatures. At 14, he got his first paying job in illustration. Since then, he's never really stopped.

His work has led him to work closely with celebrities from Katherine Hepburn, with whom he spent a "magical, sweet and surreal" weekend at her home in New York, to talk-show host Conan O'Brien, who attempted to create his own drawing of Kascht.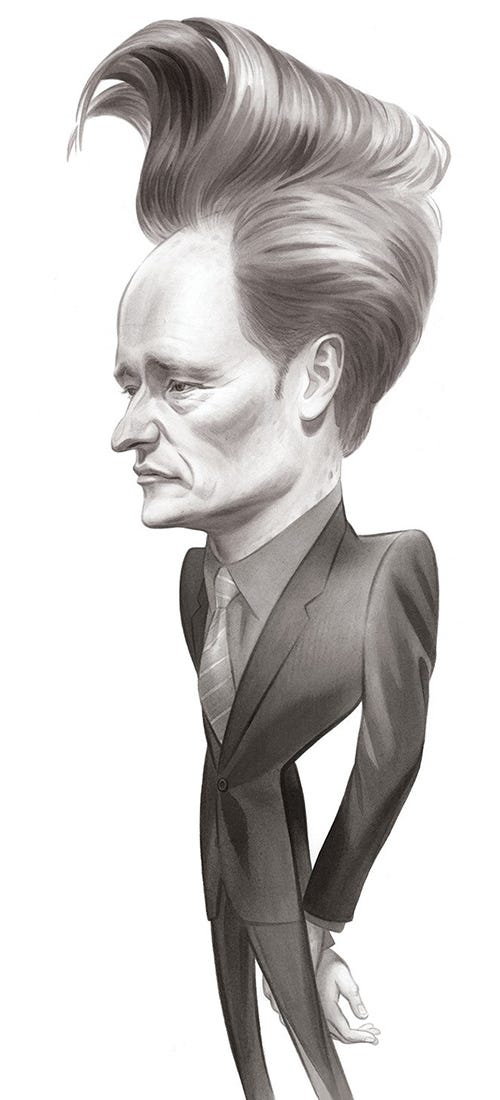 Conan O' Brien
"How do I put it – ok, it's bad – but I love the effort he put into it," Kascht said. "He really tried."
He said the biggest challenge of caricature is injecting the subject's personality into an instantly recognizable drawing.

"People would be surprised to know how much struggle can go into it," he said. "Some subjects are easy to caricature. Most aren't, for me anyway. I aim to incorporate something of the spirit of the person that underlies and informs the surface features. I want someone looking at my drawing of Jimmy Fallon to say 'oh my god, he really does have a mouth like that!' A totally successful caricature is a revelation."
He's been using American Frame's accessories and picture frames for years, and they're now gracing the drawings on his current show "Making Faces." The show is in Denver until August but scheduled to stop at Ohio State University's Billy Ireland Cartoon Library and Museum in February.

"I saved thousands of dollars by ordering the materials and framing everything myself," he said. "Out of 70 some frames I expected a few glitches, but there were exactly zero pieces cut the wrong size."
All images are the copyrighted property of John Kascht .