A Second Chance at Life
The Jabberwock Slayer by Jeff Echevarria
For artist Jeff Echevarria, every stroke of his charcoal pencil is a gift.
But then again, so is every single day.
In October of 2011, the New Jersey-based artist and his wife, Bonnie, were involved in a severe car accident during a snowstorm. Bonnie broke several bones throughout her body. Jeff was paralyzed from the neck down.
"I was told I'd never walk again, let alone draw," he said. "What followed next was months of blood, sweat, and tears. Tears of fear, joy, and of course, pain."
After months of intense therapy, Jeff regained his ability to walk. And his second chance at life renewed a lifelong love of art he'd put on the back burner while focusing on his recovery.
"About two years into my rehabilitation I heard a whisper from God, then a gentle voice from Bonnie, then a loving shove from family and friends…So, flanked by my heavenly angels and a canopy of prayers, I picked up my pencil (well I dropped it more times than I could count) and put it to paper," he said. "I learned to see things differently, which enabled me to draw differently and to feel things so much differently, to appreciate every aspect of my life anew."
Jeff's love of art first took hold when he was a child watching cartoons. He said they inspired him to start drawing his own imagined adventures, and he and a cousin would draw together for hours on end.
"I was forever getting sent to stand in the hall or sent to the principal's office for doodling instead of doing class work," he said.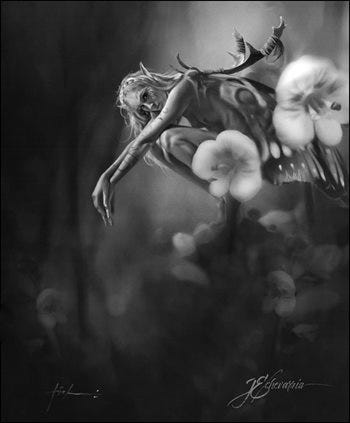 Tiana (Of Lammason Glen) by Jeff Echevarria
After his recovery, Jeff threw himself into creating art and looking for ways to repay the universe for his miracle. He's currently working on a series of drawings for Ladybug House, a Washington-based respite home for children with life-limiting diseases.
"I will be doing portraits of those children who have lost their battle with cancer and donating them to the families as a memorial," he said. "I am incredibly blessed to be a part of this, and it's another way for me to pay God's gift to me forward to others."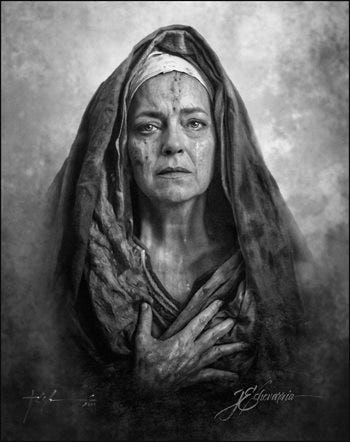 Mary Watches by Jeff Echevarria
Jeff said his lifelike drawings can take up to 60 hours to complete and often involve working through intense pain due to his spinal cord injury.
"The longer I sit without getting up and move around, the more severe the pain and spasms get," he said. "The more I get into my work, the longer I sit. It's a vicious circle."
He's been using American Frame for about four years, after they were recommended to him by fellow artists. Echevarria said he particularly loves this Black Wood Picture Frame from our Rustics collection, which gives his work a charming, weathered look.
He trusts our picture frames and accessories and said he loves the professionalism of everyone on staff.
"I've never felt more comfortable with an online company, ever," he said. "I recommend them constantly!"
He said he advises fellow DIY framers to lean on the expertise of American Frame's in-house framing experts whenever they have a question.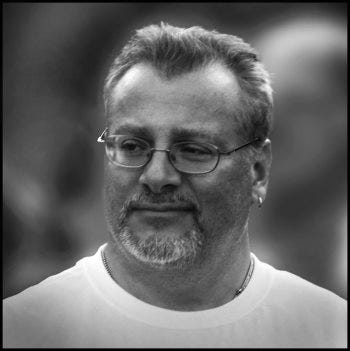 Jeff Echevarria