Dust Alert: How to Frame Works in Pastel and Charcoal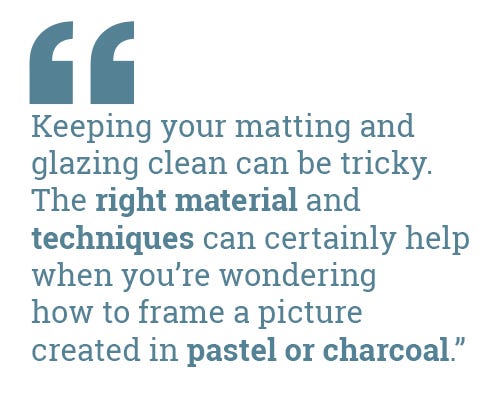 Pastel. Charcoal.

Both media are used to create wonderfully expressive, beautiful works of art.

But matting and framing those works can be challenging.

Pastel and charcoal – both are "dry" media – can dust, flake, and release powder during the framing process and well after.

Keeping your matting and glazing clean can be tricky. The right material and techniques can certainly help when you're wondering how to frame a picture created in pastel or charcoal.

Here are some tips:
Don't do anything permanent. Avoid gluing or sticking your original artwork to your backing or matting. Instead, mount your artwork with acid-free linen tape. To minimize the movement of your artwork, use T-hinges or acid-free mounting corners to your backing board.
Make a "dust trough." This is a space where excess dust can collect out of view. To create a dust trough, you can use spacers under your mat, or a double mat technique with a bottom mat that has smaller borders than your top mat.
Use a reverse-bevel mat. A mat cut with the bevel facing inward (as opposed to a standard bevel cut, which exposes the core of the mat board) will allow dust to settle behind the mat, clean out of sight.
Make plenty of room. Use EconoSpace Artwork Spacers to keep your glass or acrylic and your artwork safely separated. These picture framing spacers will promote air circulation, and prevent your artwork from making contact with the glass or acrylic, which can allow mold to grow and paper to crumple and wrinkle.
Use an anti-static brush and cleaner on your acrylic. The static electricity produced by acrylic can pull dust particles from pastel or charcoal artwork. The anti-static brush and cleaner will help minimize the particles.
Or, avoid static altogether. Use anti-static True Vue® Optium Museum Acrylic to finish off your framing so less dust is pulled from your artwork.
Shadow box it. Our Nielsen® Metal Shadow Box collection has been designed specifically for pastel and charcoal artwork. These shadow boxes have built-in spacers, which keeps the acrylic and artwork safely apart. They also create a dramatic, dimensional aesthetic. These museum-quality aluminum frames are clean, minimal, and oh, so easy to assemble.
Lineco Self-Adhesive Linen Hinging Tape is used for securing mats, artwork and photographs to backing boards. Linen is ideal because it is archival quality, pH neutral, and made from strong high thread count cotton. Because of its greater tensile strength and flexibility it is preferred for mounting heavier papers, such as watercolor papers, as it will resist tearing from the weight of the artwork.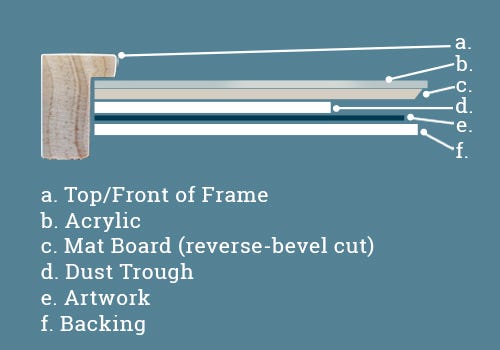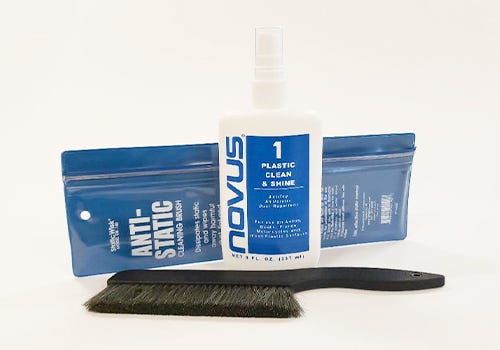 Need help or a few suggestions? Please contact us.

Order your samples of Tru Vue® Optium Museum Acrylic