The mighty oak: One of our many mighty good wood frames
At American Frame, we proudly provide picture framing supplies of all kinds. Our custom wood frames – including traditional, ornate, shabby chic, mid-century modern, and rustic frames, to name but a few – are some of our most popular.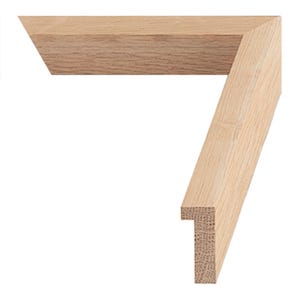 Nature plays a big role in creating some of our finest frames. This white oak frame is made in the U.S., from wood harvested in the Cumberland Gap of the Appalachian Mountains. It features a square profile, and its simple, transparent finish allows the beautiful subtleties and imperfections of oak to be seen and appreciated. Natural oak can have the occasional pinholes and knots of various sizes that contribute to its trademark "cathedral graining," those long, dramatic undulations in the woodgrain.

This frame's rabbet (or depth; the channel in which artwork, mat board and acrylic, or plexiglass, sits) is more than an inch, so it can accommodate stretched canvas or objects with more dimension than typical artwork or photos.
(When using this frame to present works on paper, consider adding mounting board or using brand points to immobilize your art within the rabbet.)
White oak is one of more than a dozen selections in our American hardwoods collection. See them all
here
.