The DIY Details of Self-Adhesive Mounting Board
Mounting board plays a vital role in supporting and enhancing the overall appearance and longevity of your framed pieces. In custom framing applications, achieving a flat, clean appearance for mounted art, photography or other medium is crucial. While there are various techniques available, one convenient and effective option is the use of self-adhesive mounting boards.
A self-adhesive mounting board is a practical and efficient solution for DIY custom framing projects that involve a mounted application. It is an extruded polystyrene mounting board with a memory foam center. One side is a smooth, clay-coated paper, and the other is a pressure-sensitive adhesive covered by a protective release liner. From art representations to printed photos—and even puzzles, these boards are a reliable option for certain types of displays and pieces. Let's take a look at when and how to utilize self-adhesive mounting boards for various framing projects.
A Flawless Finish
When framing printed photos or particular types of artwork, it's important to maintain a seamless and professional presentation. The nature of these boards allows for a secure attachment without the need for additional adhesives or tapes. This means there are no visible marks or residue that could compromise the overall aesthetics of the piece. The clean, flat surface offered by self-adhesive mounting boards keeps the artwork undistorted and allows for a pristine display.
By opting for https://www.americanframe.com/self-adhesive-mounting-board-fcsa, DIY custom framers can ensure that their pieces are flawlessly displayed. These backing boards provide a solution that enables a smooth surface, eliminating the risk of unsightly blemishes that can detract from the visual appeal of the piece.
Permanent Adhesion
The permanent adhesion inherent in self-adhesive mounting boards is a crucial aspect to consider when deciding whether to use them for your framing projects. While this characteristic makes these boards an excellent choice for items that can be easily reproduced, such as prints or duplicates of original artwork, it is important to exercise caution when considering their use with original works of art.
When a self-adhesive mounting board is attached to a piece, it forms a strong bond. This means that once the work is mounted, the board becomes an integral and inseparable part of the piece. Removing the mounting board from an original work of art is likely to result in irreversible damage. The adhesive used in these boards is designed to provide a secure and lasting hold, which can make it challenging to detach without harming the piece.
In addition, self-adhesive mounting boards are not considered archival. If preserving the long-term quality and integrity of your artwork is a priority, alternative archival mounting methods should be explored. For temporary displays or projects where archival preservation is not the primary concern, however, these boards offer an ideal solution.
Various Applications
While their permanence may not render them suitable for original works of art, self-adhesive mounting boards still have a wide range of applications, making them an excellent choice for various framing needs.
Self-adhesive mounting boards are particularly well-suited for framing puzzles, as the adhesive backing firmly holds the puzzle pieces in place. In combination with a thin coat of clear-drying craft or puzzle glue on the puzzle surface, self-adhesive mounting boards allow DIYers to transform their completed puzzles into captivating wall art. By securely attaching the puzzle to the board, the artwork remains intact—and every piece in its rightful place. The result is a visually stunning and durable display that not only preserves the puzzle, but also creates a unique visual centerpiece.
In addition, self-adhesive mounting boards are an excellent choice for displaying printed photographs. Whether it's a collection of personal snapshots or professional prints, these boards simplify the mounting process and provide a reliable means of showcasing photographic moments. With the adhesive backing, framers can easily attach the photographs to the board without the need for additional adhesives or tapes.
The self-adhesive boards offer an alternative to dry mounting techniques, providing a comparable effect that gives the impression of the piece being professionally dry mounted. This allows DIY framers to achieve a polished and professional look for their prints or photographs.
Ease of Use
The functionality of self-adhesive mounting boards lies in their straightforward application process. Each board comes equipped with a removable liner that exposes the adhesive surface. To attach artwork or photographs, simply position them above the board and gently press them onto the adhesive, ensuring a smooth and secure bond. The process resembles having an even layer of glue applied to the back of the piece, simplifying the mounting procedure for DIY framers.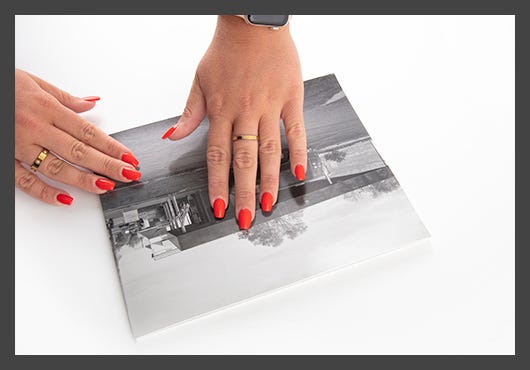 Self-adhesive mounting boards from American Frame are adaptable and can be custom cut to the nearest 1/16th of an inch (up to 32 x 40 inches), but it's worth noting that they are better suited for smaller items than larger ones. Mounting larger pieces requires more precision and alignment, which can be challenging. In such cases, alternative mounting techniques may be more appropriate to ensure a seamless process.
Additional Considerations
For those looking to achieve a cleaner, more modern aesthetic with their framing treatment, self-adhesive mounting boards work well in combination with spacers. Allowing for a gap between your work and the frame's acrylic, spacers feature a stylish accent and help protect against issues that can negatively impact your piece, such as mold growth, image transfer and adhesion to the acrylic. Self-adhesive mounting boards are a great way to secure and display your piece while utilizing spacers.
And if you're mounting a piece but prefer not to use a self-adhesive mounting board, the best alternative option is linen tape. Linen is ideal because it is archival quality, pH neutral and made from strong, high-thread-count cotton. Linen tape provides a secure method of mounting artwork without the need for adhesives that may be damaging.
No matter your mounting method, it's essential to use a sturdy backing board. The backing board provides support for the artwork and ensures its stability within the frame. Opt for a one that is strong and durable, as this element plays a crucial role in preserving the overall integrity of your framed piece.
If you are unsure about the suitability of self-adhesive mounting boards for your piece, consult with a custom framing professional who can provide expert guidance based on its specific nature. You can always contact our knowledgeable in-house framing experts, who are well-versed in framing techniques and will provide valuable insights and guidance to ensure your work is properly protected and beautifully displayed.