Shop World-Class Art in NYC, Save on Frames
At American®Frame, we love art fairs. They're a great place to see a diverse collection of art, chat with artists, and find a few favorites to take home, all at prices that won't put a strain on your wallet.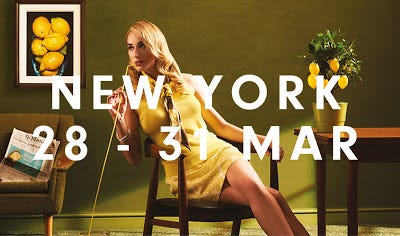 Affordable Art Fair date announcement
That's why we're excited to announce our first year as an official framing partner of the Affordable Art Fair Spring 2019 Show. Scheduled for March 28th to 31st in New York City, the Affordable Art Fair showcases a carefully curated collection of the best original contemporary work from hundreds of artists across the globe, all in one place. It draws up to 15,000 visitors and offers art priced between $100 to $10,000, so attendees can find the perfect piece for their budget.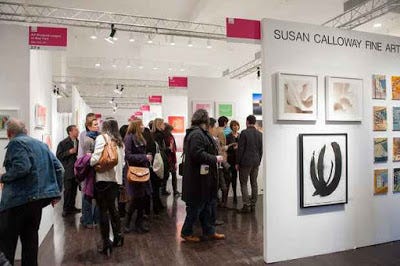 People perusing the Affording Art Fair
Taking place twice a year in March and September, Affordable Art Fairs happen all over the world and boast a friendly and relaxed atmosphere filled with hands-on-workshops, kids' activities and personal shopping experiences. You'll also find thousands of hand-picked original paintings, sculptures, editioned prints, and more. And at a wide range of prices, there's something to fit every taste and budget.

Art on display
This year's fair includes an exhibition by breakout NYC-based artist Mónica Hernández, who will showcase her oil-on-canvas works centered on the female form. Guests can also enjoy a snack in the immersive Pigeon Café, featuring an installation of lifelike pigeon sculptures and quirky, limited-edition paintings featuring food and animals. Budget-conscious collectors will want to visit the Under $500 Wall for a collection of creative works all under $500. March 28th from 6 PM to 9 PM, the Affordable Art Fair will host a multi-sensory performance by Philadelphia-based painter and musician, Vessna Scheff and her collaborators.
If you're planning to be in Manhattan that weekend, be sure to stop at the Metropolitan Pavillion in Chelsea for the art fair. At the fair, you'll receive a discount code good for 20% off your next American Frame purchase.
Want to make the most of your visit? Read this Affordable Art Fair blog post packed with helpful tips for visitors before you go.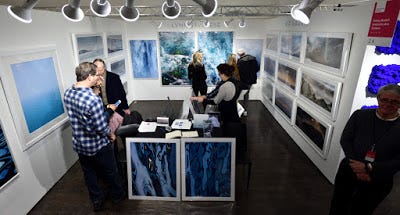 Art Fair patrons purchasing art
We hope you enjoy the art fair, find some treasures there, and then save on the perfect companion frame and accessories for your new art when you return home.
Affordable Art Fair General Admission tickets can be purchased here. Enter the code 10GAAmericanFrame to save 10%. Multiple ticket options are available here.
Have framing questions? Contact us.