Protect Your Art From UV Rays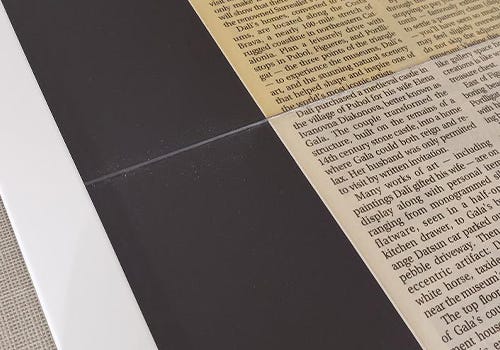 The effect of UV-light on a newspaper
You know ultraviolet light from sunlight can fade artwork. But you may not know the same UV-light can also be present in artificial light, from the halogen lamps in your workspace to the fluorescent bulbs in an office building where your work may be displayed.
Framed works of art, photographs, and fabrics should be protected from ultraviolet light. Though undetectable to the eye, the high energy of UV light is more damaging than visible light and can fade and yellow the paper and weaken the structure of fibers. One effective way to protect artwork is by using UV filtering acrylic glazing.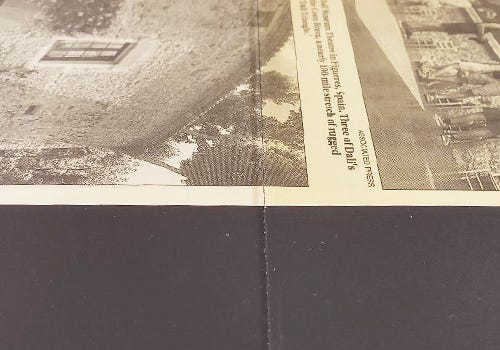 A closer look at the light damage
UV filtering acrylic, manufactured by Acrylite®, offers the highest protection from the irreversible effects of UV damage, protecting your artwork from both natural and artificial light. This 3/32" thick framer's grade acrylic is acid-free, distortion-free, shatterproof, and lightweight with maximum UV resistance for conservation projects, as it filters out 98% of the harmful UV rays.
Tru Vue® Optium Museum Acrylic® meets the toughest conservation standards and is recommended for professional presentation and preservation framing of artwork, photography and other works on paper. Preferred by galleries and museums everywhere, this lightweight, acid-free acrylic filters out 99% of harmful UV rays. It's also shatter-resistant, anti-static, and anti-reflective. Best of all? Its crystal clear appearance makes it virtually invisible to viewers.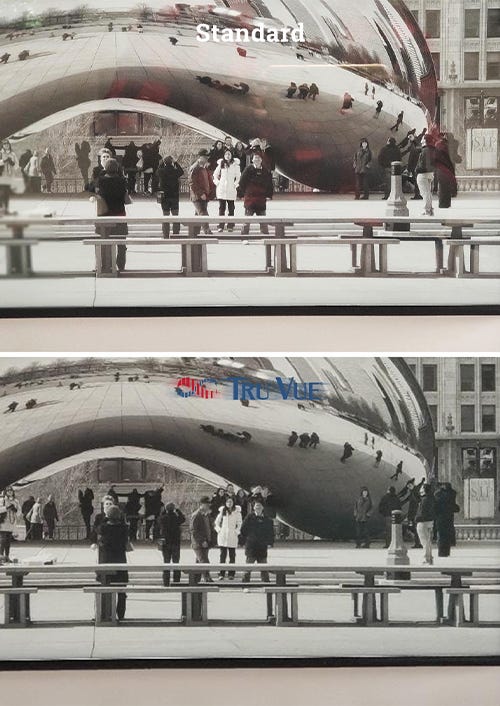 Tru-Vue acrylic
These UV-protected acrylics are continuously manufactured sheets specifically formulated to offer museum-quality UV protection. UV absorbers are added to the liquid acrylic before it is extruded, so the protection is permanent and will never wear off. The UV protection is built-in, rather than a coated surface that could potentially scratch off.
Our UV-resistant acrylic glazings are specifically designed to meet the unique needs of picture framers, museums, galleries, and artists. They provide the highest protection against damaging UV light on the market today. American® Frame custom cuts acrylic glazing to the nearest 1/16" with our PrecisionCut™ technology.
Considering acrylic glazing for your next project? Order a free sample today. Or, consult our in-house framing experts to help select the right acrylic glazing for your needs.