Introducing Paper Sample Kits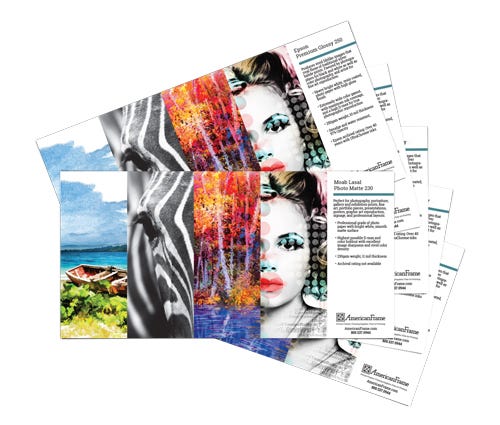 Choosing the right paper or substrate for printing your work is critical to the design process.
Papers absorb inks and reflect light according to their physical properties like brightness (warm to cool tones), core material (cotton rag vs. coated paper) and surface (smooth vs. textured). A coated photographic paper, for example, will display color much more vibrantly than a cotton rag fine art paper, which absorbs more of the ink for a softer feel. So knowing as much as possible about how paper will affect the presentation of your work is paramount to achieving your desired look.
We offer multiple resources to help you with the paper selection process, from tutorials on soft-proofing and monitor calibration And now, we're adding another resource.
Our new printed paper sample kits make selecting the perfect paper simple. Each kit contains one of each of our professional-grade papers with a pre-selected sample image printed on it. Paper specifications are listed on the back of each sample. This lets you compare between papers to help narrow down your selection. If you're looking for watercolor-like results from a printed reproduction, for example, you might find that Somerset Velvet is the best option to achieve that look, while Canson Baryta Photographique 310 might work better for your black and white photography.
The final step we recommend when choosing a paper for an important work is to see your image printed as a proof before placing your final order. Proofs can be ordered in the 'print & frame' workflow.
The American Frame team understands the difference a paper makes. We know the ins and outs of printing and are constantly on the lookout for better ways to present artwork. In 2003, we were the first online picture frame company to offer fine art and photographic printing in 2003. Rely on us as your single-source solution for professionally reproducing, exhibiting, and selling your art. Have questions? Contact our in-house experts.