Earth Day 2023: Exploring How American Frame Invests in Our Planet
Every year on April 22, entire communities of people come together to advance sustainability and climate action in commemoration of Earth Day. Earth Day 2023 invites entities around the globe to "invest in our planet," from citizens and governments to businesses and organizations.
With the keen understanding that supporting a sustainable and equitable future for our planet is in all of our hands, American Frame prioritizes this responsibility across various aspects of our operations. In the spirit of Earth Day, we're taking a deep dive into the numerous ways our company continues to be part of the solution.
Cultivating Sustainable Product Offerings
For 50 years, American Frame has proudly offered high-quality custom picture frame products and services. The standards to which our company holds itself integrate not only excellence in materials and workmanship, but also an eye toward sustainability. Many of our product offerings bring eco-consciousness into the fold.
Our complete selection of Nielsen metal frames is fully and infinitely recyclable. These frames are made entirely in America, all from 100% recyclable aluminum, which makes them inherently earth-friendly.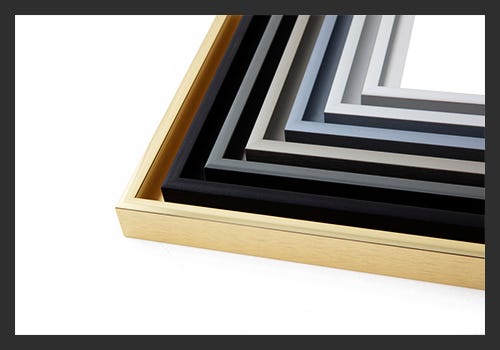 Nielsen metal frames are made in America from 100% recyclable aluminum.
In addition, all of the frames included in our American Hardwoods collection are sustainably grown and harvested. We carry two distinct lines, the first of which is through a partnership with Larson Juhl, a long-time respected manufacturer. These products are grown in the Cumberland Gap of the Appalachian Mountains. Our other line, American Frame Exclusives, has been specially designed by us and provided through an FSC-certified local partner. The Forest Stewardship Council offers the highest standard of certification, one that designates the wood as being harvested in an environmentally safe manner. Each frame in the American Hardwoods collection retains this FSC designation and is completed with a water-based finish, a greener option for minimizing environmental pollution.
Finally, our new line of Ready-To-Ship frames is manufactured using byproduct material from the custom frame operation. With the reuse and repurposing of these materials, we're able to offer these products at a discount while supporting a process that reduces unnecessary waste.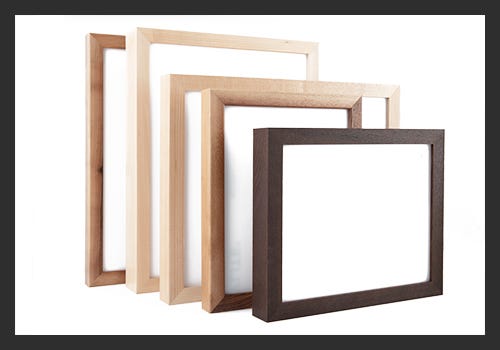 Our American Hardwoods frame collection is sustainably grown and harvested.
Applying Reusable Packaging
For professionals who have a need to ship their work to clients or other destinations, packaging a framed piece can require excessive packaging materials. After all, it's critical to ensure there's adequate packaging to safeguard the work while in transit.
At American Frame, we've upgraded the integrity of our boxes to support customers with a need for gifting or re-shipping their framed pieces. So in addition to our shipping boxes offering greater thickness and ease of opening, they support reusability for artists to send their framed work on to the intended recipient. The reusability component—and our white-label shipping option for having pieces framed and shipped directly to clients—cuts down on the amount of packaging required for sending a work to its final destination.
Continuously Prioritizing Recycling
The environmental benefits of recycling are significant and widely recognized. By conserving energy, reducing air and water pollution, minimizing greenhouse gasses and conserving natural resources, a strong and consistent recycling effort is one of the best ways an organization can fulfill its commitment to investing in the planet.
In 2022, American Frame played its part in the movement by recycling:
Over 18,000 pounds of cardboard
Over 1,200 pounds of paper
Over 33,000 pounds of acrylic plexiglass
Over 13,000 pounds of aluminum shavings and cuttings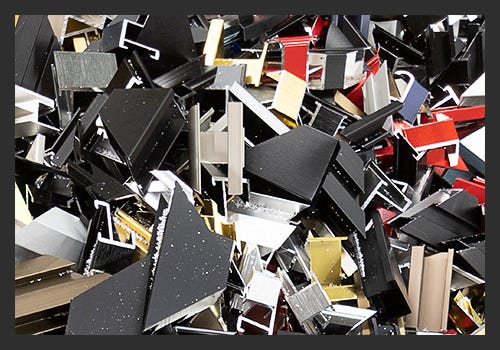 Last year, American Frame recycled over 13,000 pounds of aluminum shavings and cuttings.
Nurturing Values-Driven Partnerships
American Frame works with high-quality brands that also support the mission of investing in our planet. One of the best examples is our partnership with Nielsen, which runs a manufacturing process that leaves the water being expelled even cleaner than how it began.
All of the water Nielsen uses for manufacturing is treated right on site. The process neutralizes and precipitates the solids in the water back to levels that meet or exceed EPA standards. Nielsen maintains an NPDES permit to recycle all its water back into the river by its plant. The solids remaining from this process are approved for disposal in the local landfill. And whenever possible, the company uses its own well water to ease its dependency on city water.
This is just one of the many ways our product partners have committed to protecting and preserving the Earth with the same level of dedication as American Frame. These partnerships, in conjunction with our own efforts to invest in our planet, honor the worldwide movement so importantly recognized and celebrated this Earth Day.
To stay up to date on all American Frame news, announcements and more, be sure to sign up for our newsletter.